PRO CYCLING TRUMPS


Jim McLeman/

Pro Cycling Trumps, United Kingdom, 2014-
Another "highest values" british game. This one comes in different flavours. Eight so far (plus a couple of variations). I love them all. The "CLIMBS" deck is so high in my appreciation scale that it is the first card "pure" game (as opposed to a game that represents a cycling race by the means of cards) to be presented in this site with its own page.




From left to right:Track Edition (2016), 2015 Women Edition, Legends, 2014, 2015 and 2016 men decks

2014 pack, the one who started it all. A collectors' item now.

2015 pack. Of course, just a few changes away from the 2014 pack.

Legends deck, 1st edition.

2015 women deck



2016 women deck
Releasing a women's set, let alone two, takes some courage. Sadly, there are not many games featuring women's sport.
Track edition





The track deck not only features riders past and present, but it is mixed, as you can see, featuring men and women. It could/should be bought just for that. By the way, there are two versions of this deck, with eight different cards between them. The first version includes more British riders, the second includes a few more current riders who might be competing in the olympics. I would love to see a "track legends" deck, featuring more past riders. Maybe someday.





Legends deck, 2nd edition.

The decks released in 2016 have a slightly different design (the riders jerseys have sleeves, now). The Legends deck has been reissued accordingly, though there are not too many changes besides rthe jerseys.

Thanks Jim for sending all the deck variations, and the goodies along with the cards.

UPDATE (2017)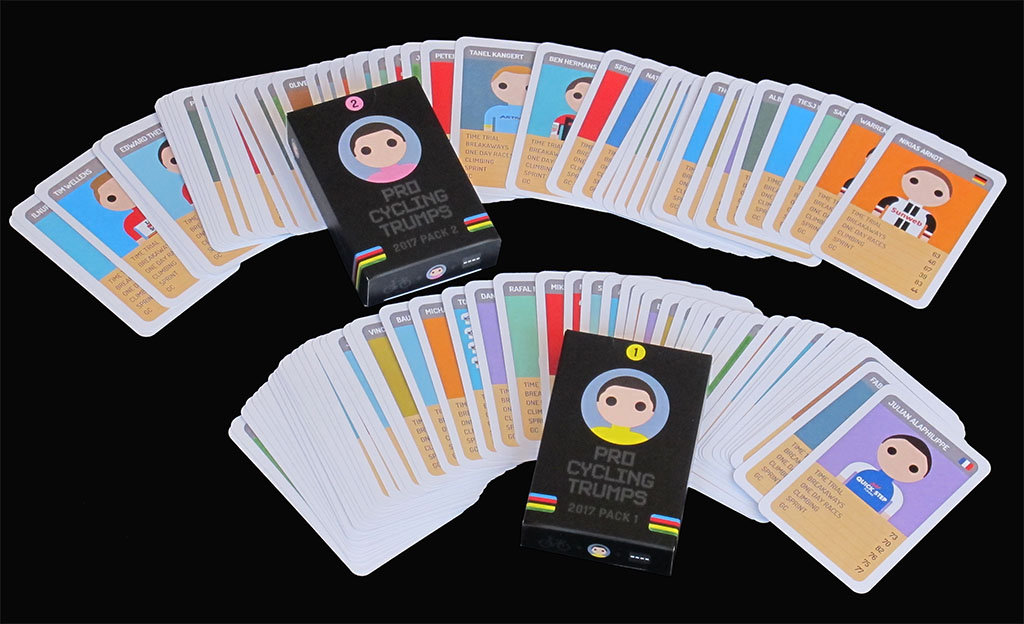 The 2017 edition is composed of two (!) decks, which can nevertheless be purchased separately. With 108 riders in the peloton, all with their individual strenghts, one can think of devising a board game to play with them. (Now that I think about it, it would not be so different from Tour Cycle Free).

UPDATE (2018)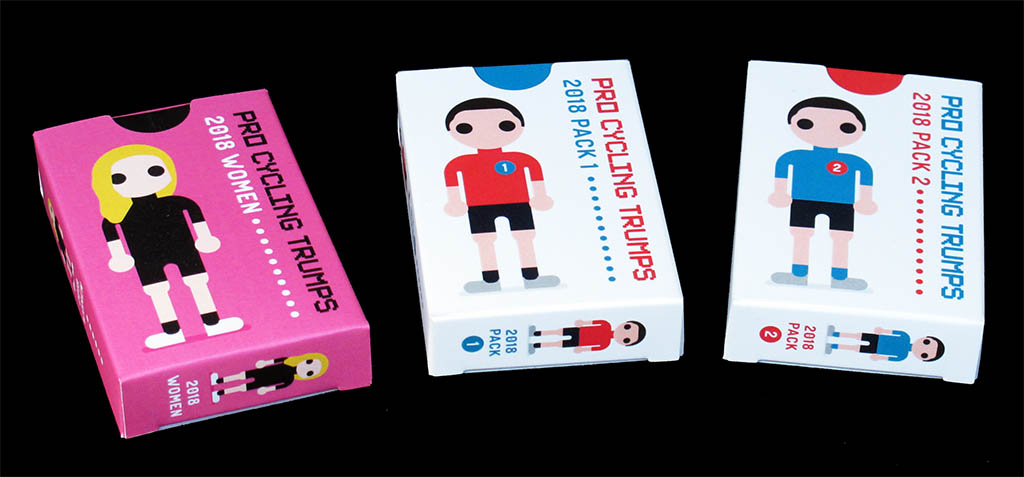 In 2018 there are three different decks to be purchased, two for the men's peloton and one for the women's.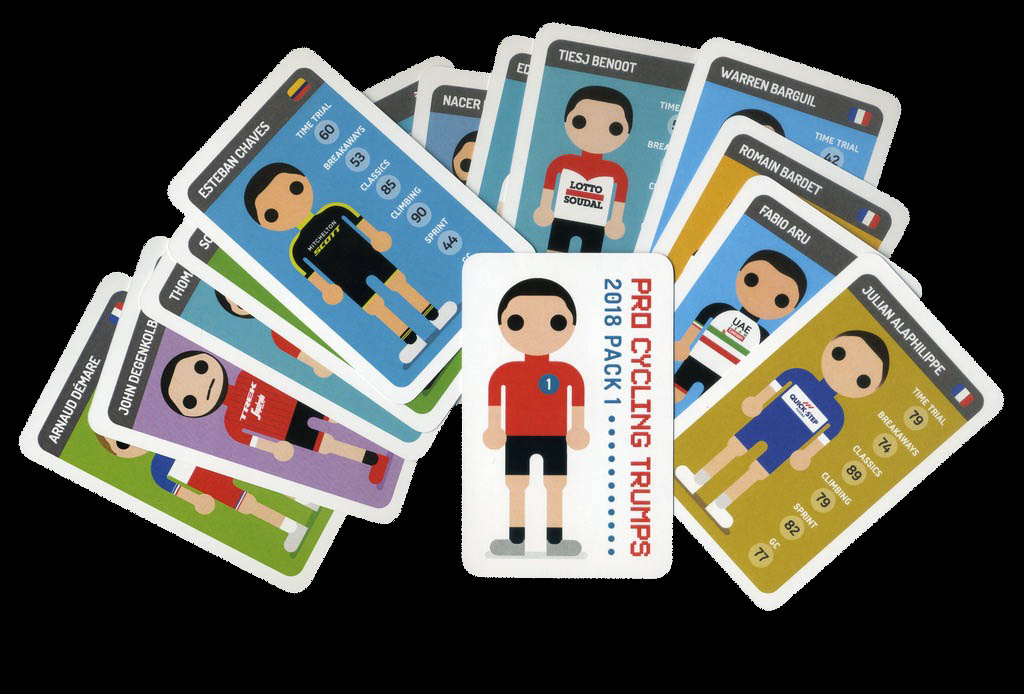 This year the categories are called "Time Trial", "Classics", "Climbing", "Sprint", "GC" and we have a new category called "Breakaways", which replaces "GT Stage Wins". Note that all categories are subjective. The values are decided by the game designer (hi, Jim!) and you may or may not agree.
Whaddayamean, Sagan sprints better than my nephews' favourite rider Marc Soler???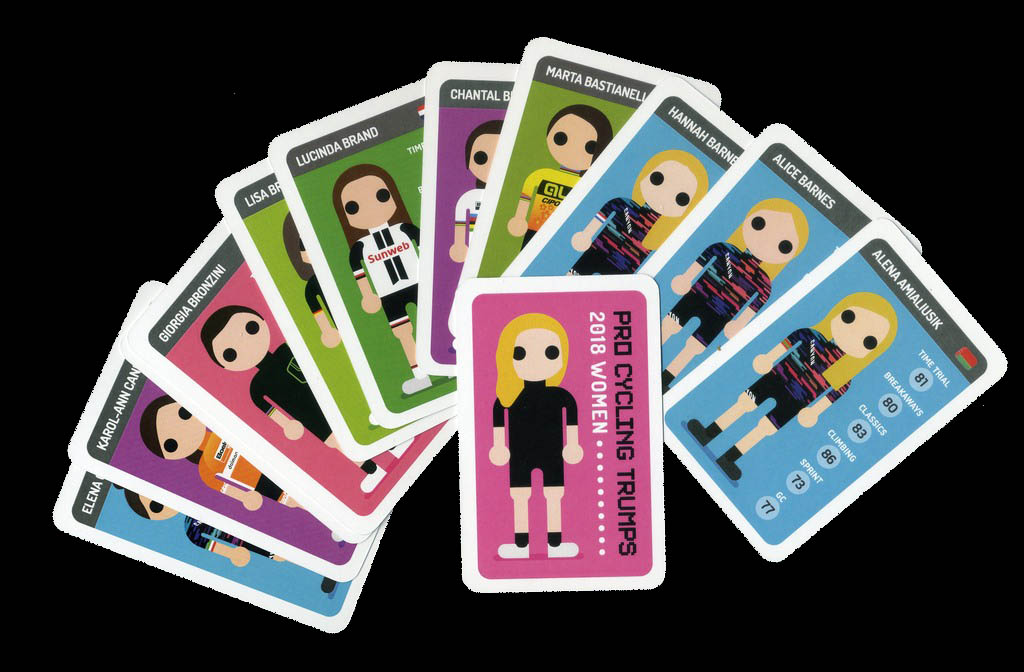 It's nice to have the women's deck back in the series after not having it in 2017.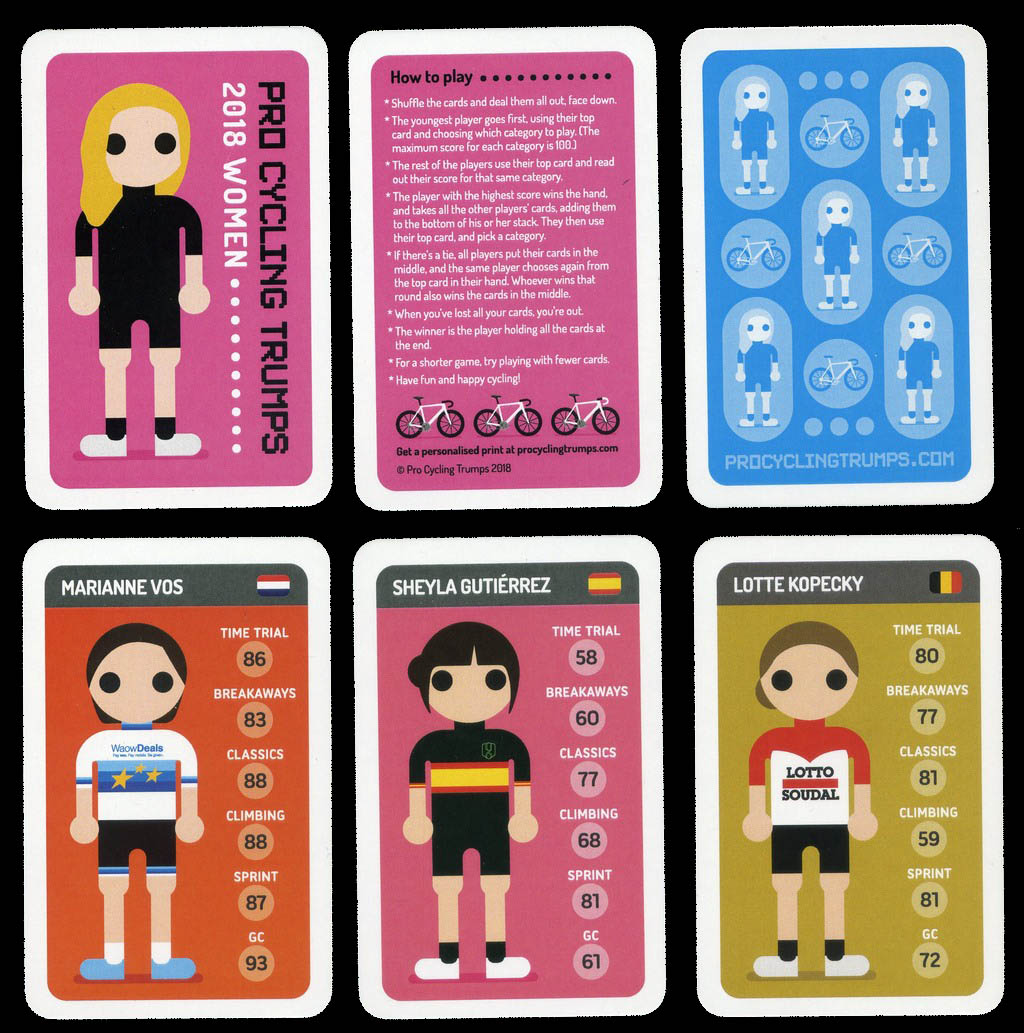 The categories being the same (and the back of the cards not so different), I guess you could mix the three packs to make a big long game. Of course, comparing male and female values may seem fair or unfair. But that is up to you.
Check the Cycling Pro Trumps official website to see all the cards and keep up with the new releases.
Back to the card games section
| | | | | |
| --- | --- | --- | --- | --- |
| | | | | |
| INDEX (MAIN) | ALL THE GAMES | ALPHABETICAL | CATEGORIES | WHAT'S NEW |