VUELTA CICLISTA, EL JUEGO CON KELME
Multijuegos Bacare, Spain
early 1990's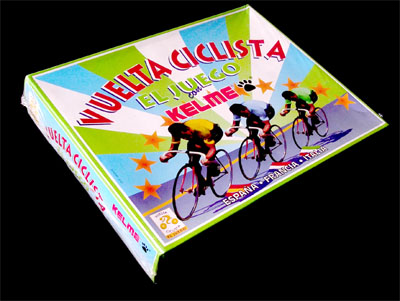 Beautiful Spanish game, endorsed by the Kelme team. The game has three different levels of play, including one in which you manage your team buying riders according to your budget (it's the only cycling board game that I know to include such a thing).

The game has three gorgeous boards in which you can play the Vuelta, Giro or Tour. Each of these races consists of three stages plus a time trial. (Except for the basic level, in which you use dice, the time trial consists of Trivial Pursuit-like questions. Since I hate this, I always play the time trial with the simple set of rules).

The teams consist of three cyclists (a leader, a climber and a rouleur) and this game has everything a cycling game should have (mainly: mountains, intermediate sprints, drawing from other riders; this one also has falls, punctures, exhaustions... even an antidoping test). Even though the mechanichs of the game are not particularly interesting, it still remains one of my favourites for its completeness and for the beautiful boards.
Vuelta, Giro, Tour...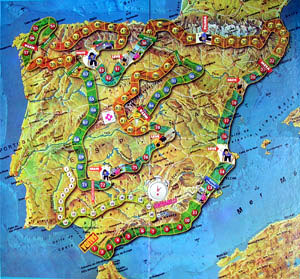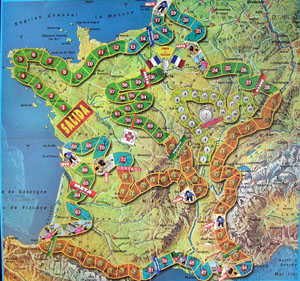 Climbing the Alpes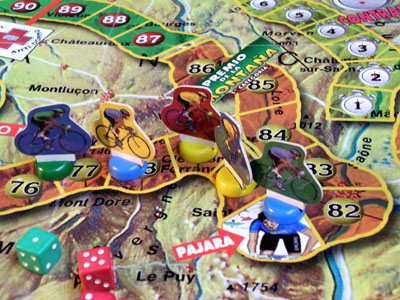 Lots of cards and materials!




This reissue the game was also endorsed by Miguel Induráin (bottom right) though he never ran for the Kelme team:



| | | | | |
| --- | --- | --- | --- | --- |
| | | | | |
| INDEX (MAIN) | ALL THE GAMES | ALPHABETICAL | CATEGORIES | WHAT'S NEW |