LA VUELTA (MORTADELO Y FILEMON)
F.Ibañez/Ediciones B, Spain, 2004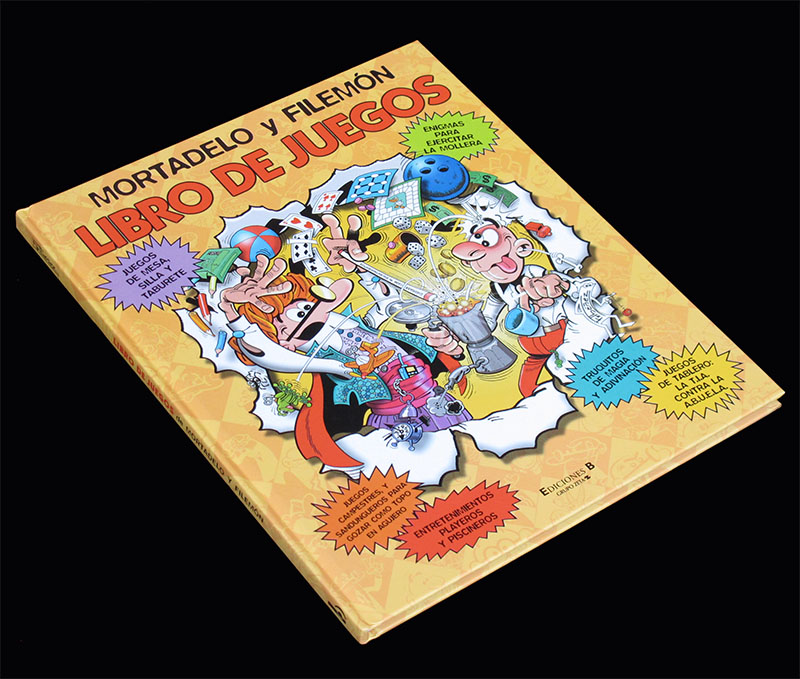 Mortadelo y Filemón is one of the most popular Spanish comics series, introduced in 1958 and alive and well almost 50 years later. Apart from the comic books, the characters have appeared in countless other formats, including films, TV series, songs, videogames... even a musical. They have been translated to a dozen languages, but nowhere else have they reached the huge popularity they have in Spain.

In the year 2000, they appeared in this "Book of Games", in which all the games are themed around the characters in the comic books. One of the games is a cycling themed game of goose calle "La Vuelta" (or "La vuelta ciclista", depending on what page of the book you look at).

Spanish freakish sense of humour in the rules.

I quote from the wikipedia: "One of the main features of the series is its extremely slapstick humor, so that the characters constantly suffer mishaps such as falls from heights, explosions, being crushed by all kinds of heavy objects (pianos, safes, etc..) without the consequences lasting more than one panel." As you can see the game is not too different.




This game is not the only cycling-related instance of Mortadelo y Filemón. They were official mascots of the 2000 Vuelta a España, and a comic book called "La Vuelta" was issued that year.
| | | | | |
| --- | --- | --- | --- | --- |
| | | | | |
| INDEX (MAIN) | ALL THE GAMES | ALPHABETICAL | CATEGORIES | WHAT'S NEW |