PARIS-BREST-PARIS
Audax Club, France, 2003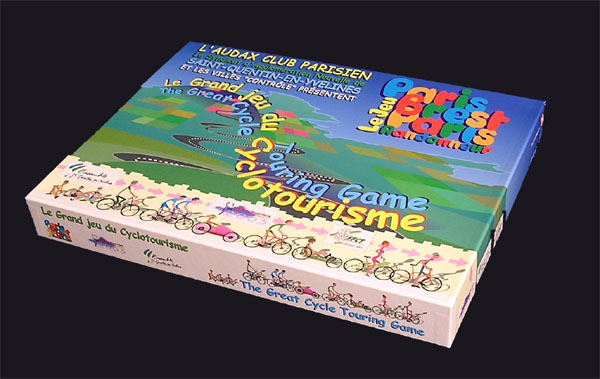 Lost of titles or subtitles for this game: Le Jeu Randonneur", Le Grand Jeu dy Cyclotourisme"... I have decided to stick to "Paris-Brest-Paris". Another feature of this game is that it is not easy to find. It was supposed to be sold on line, but they never answered emails (!). Anyway, their website is not online anymore...

The game is a gentle one, much in the cyclotourist spirit. (I like it when games represent what they are supposed to represent!) It is not a highly competitive, and you just spend a nice time rolling dice (3 D12, by the way) and moving cyclists around theboard. Not for manic gamers.

The board is a big one (78 x 58 cms), and it is reversible, the other side featuring a track for the time-trial prologue.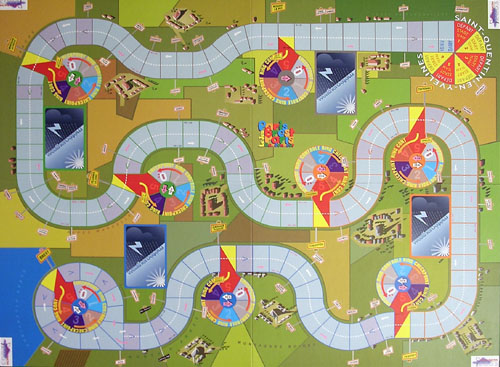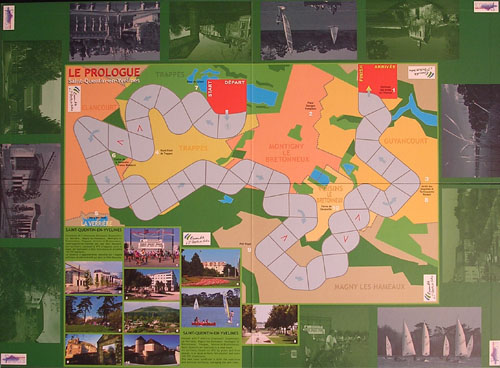 The game features lots of cards, divided in 4 categories: chance, weather, control and joker. As you can see, these are nice cards with instructions in French and English. The rules of the game are also in both languages.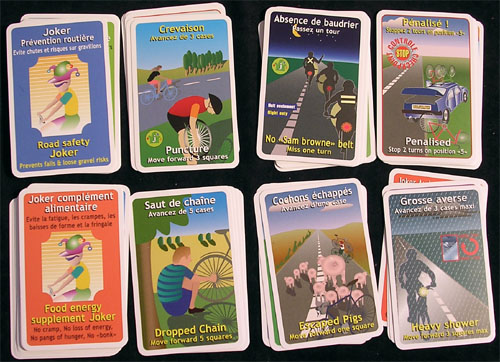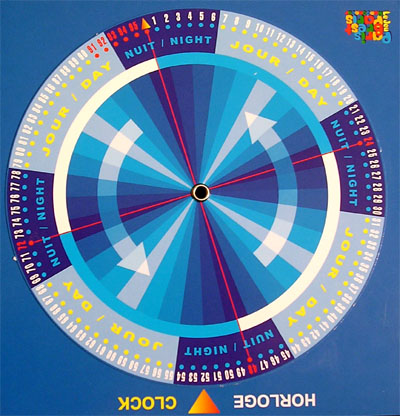 The game also features a timer clock. There is a set time by which riders must reach each control point. If a cyclist arrives outside of this time he is out of the race. Nevertheless, being a cyclotourist game, the deadline is not too difficult to meet.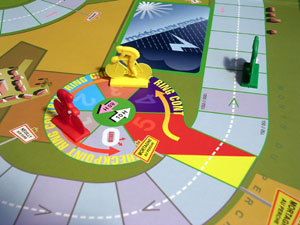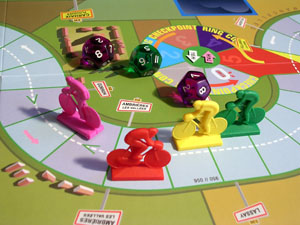 The game goes from Paris to Brest and back to Paris (Saint-Quentin-Sur-Yvelines, actually, not Paris), of course, so it is easy to have riders going in the two senses of the road!
| | | | | |
| --- | --- | --- | --- | --- |
| | | | | |
| INDEX (MAIN) | ALL THE GAMES | ALPHABETICAL | CATEGORIES | WHAT'S NEW |