JEU DE CARTES PUBLI-STAR
Publi-Star / Miroir Sprint, France, ca. 1960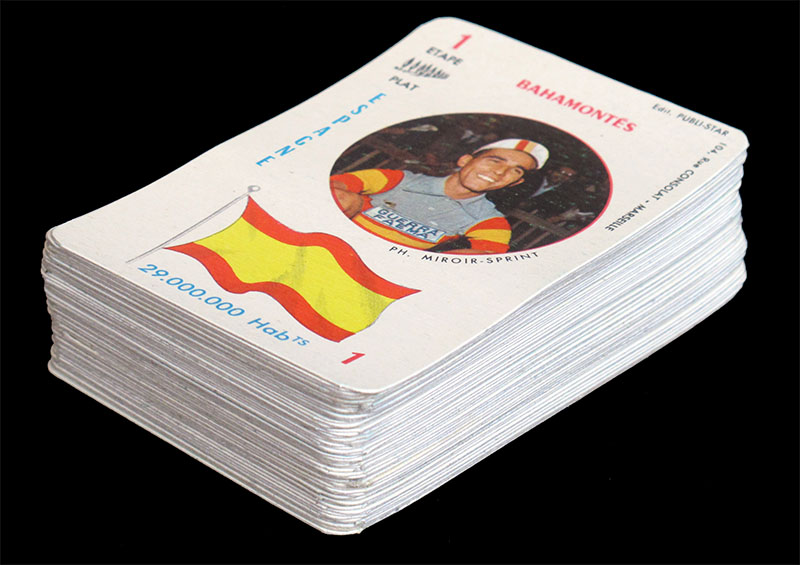 This is a hard-to-find card deck issued by Publi-Star using pictures taken from Miroir-Sprint. It features 4 categories (suits) of 13 cards, in which we have the portrait of a cyclist, a big flag of his country (remember the Tour de France was contested by national teams until 1961) and the country's population (unless someone has a set of rules that proves otherwise, a most irrelevant piece of data).

I am not sure if this one can go under "cycling-related standard card games" since it does not have standard suits and the cards are numbered from 1 to 13 (there are no kings, queens or jacks), but it does not look like a "happy families" game either.

This game does not have a box (it was probably wrapped in paper, as most decks were at the time) nor any indication of its date of release, and of course there may have been more than one companies named "Publi-star".





While dating the game approximately is not hard (most of the cyclists were active in the second part of the fifties), being precise is more tricky.

On one hand we find some younger riders like Rudi Altig or Robert Cazala who turned professionals at the end of the fifties and did not have serious results that would have them included in a deck like this until, at least, 1960.

On the other hand, a couple of the riders present were past their prime or almost retired by 1960, like Louison Bobet or Rik Van Steenbergen. Of course, being such famous riders, they could have been in the deck even after their retirement. But this is not the case of a cyclist like Bruno Monti, who was not so famous, not even French, and who did not have remarkable results after 1959.

However, the crucial point for dating this deck is the presence of Roger Riviere. It is not probable that he would have been included in the deck after the crash which put him on a wheelchair for the rest of his life. Since that unfortunate accident happened during the 1960 Tour de France, I think it is safe to believe that this deck was designed before that Tour.

The four categories/suits are "Étape Montre", "Plat", "Montagne" and "Étape Circuit", though the distribution of cyclists between these categories is somewhat haphazard. Bahamontes in a flat stage???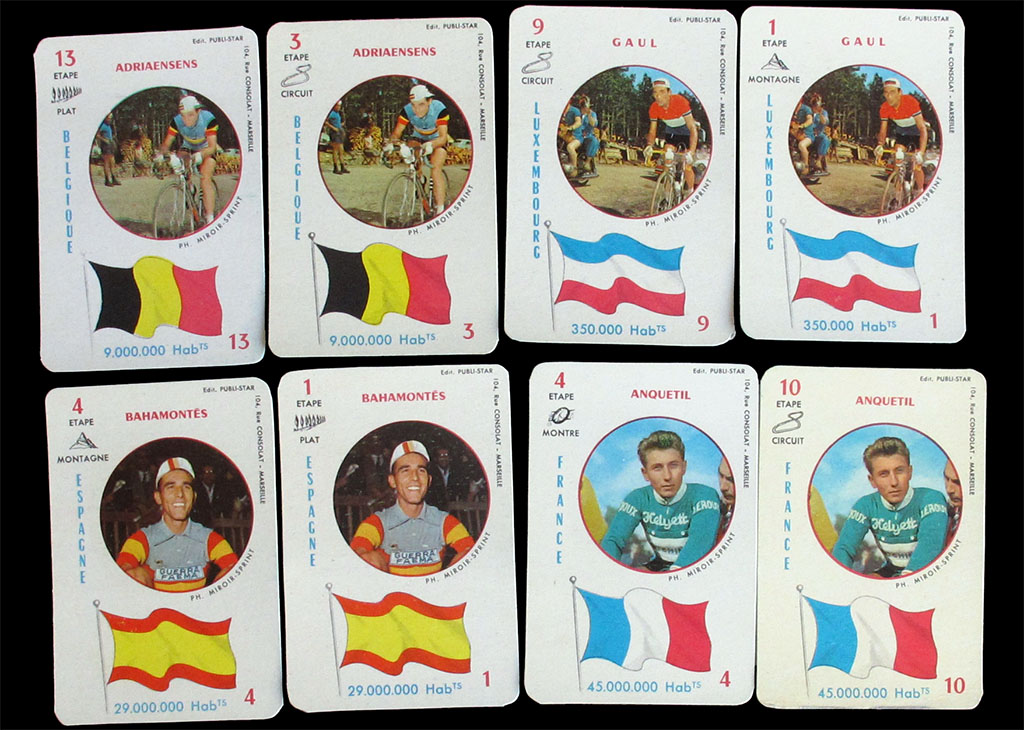 Furthermore, a dozen riders are represented (with the same photo) in two different suits/categories. Apart from the ones depicted above (which helps to explain the Bahamontes mystery), the riders represented twice are not only stars (Bobet, Anglade, Darrigade, Van Steenbergen, Nencini) but also lesser known riders as Graczyk, Anastasi or Wagtmans.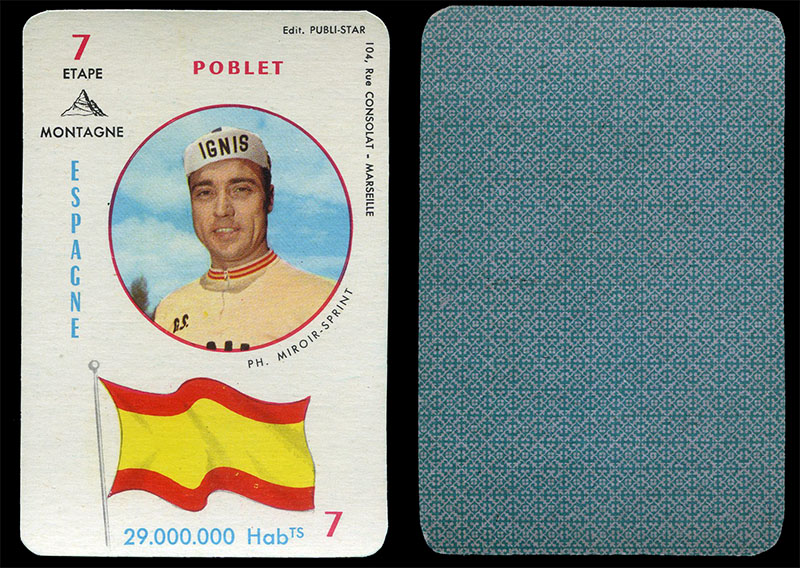 Left: my all-time favourite cyclist is represented only once. Right: back of the cards
Description written in December 2019.
| | | | | |
| --- | --- | --- | --- | --- |
| | | | | |
| INDEX (MAIN) | ALL THE GAMES | ALPHABETICAL | CATEGORIES | WHAT'S NEW |