OTHER CYCLING FIGURINES
PORTUGAL, ITALY, UK, BELGIUM, GERMANY...

Besides France and Spain, other countries have manufactured cycling figurines, but the information I have is not always complete, so let me tell you what I know (or think I know) and take it with a pinch of salt.

PORTUGAL

Here are a couple of pictures I took at the Museu do Brinquedo in Sintra.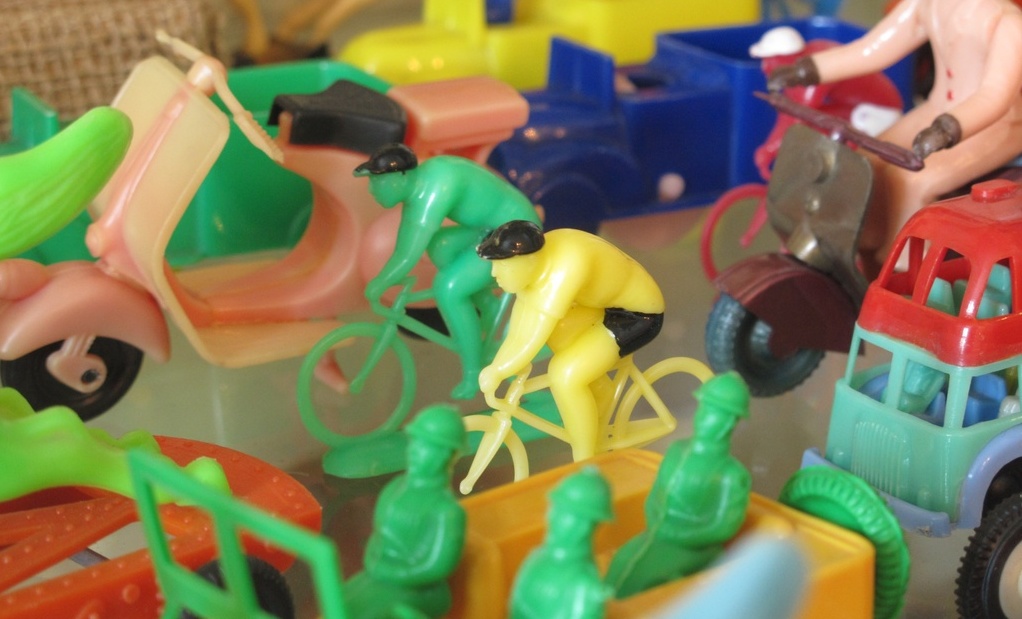 These riders were made by OSUL in Porto. My friend Ricardo Ferrand remembers playing with them when he was a kid.
Naturally, I could not measure them at the museum but my guess is that they are about 4 cm long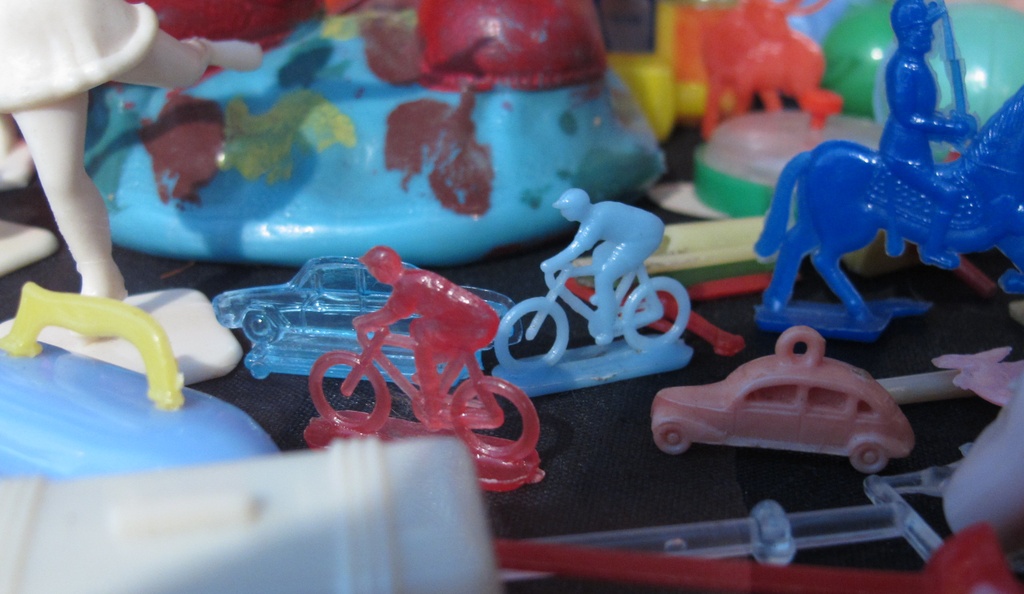 These are smaller (I would say around 2 or 2.5 cms), and most probably also purtuguese. Brand unknown, though.
ITALY

I don't know much about Italian cycling figurines. While Italian kids used to play with marbles and crown caps rather than cyclists, there was a fair number of Italian board games, some of which had their custom made figurines, so there is no reason to think there aren't Italian figurines.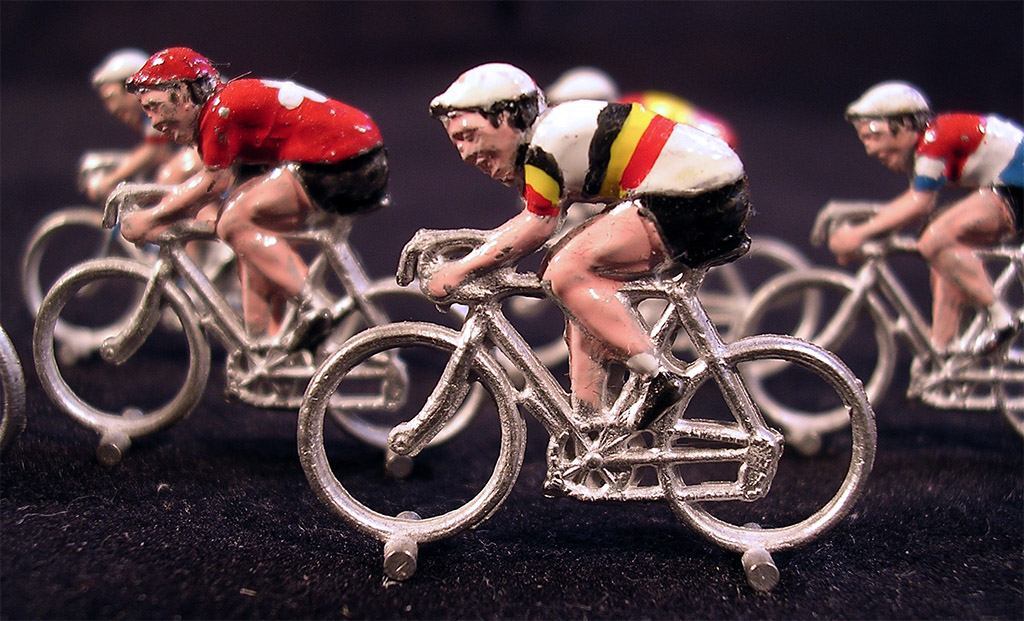 Small (3cms) Italian metal riders. Notice the "italian" base of the riders. I have not seen this tipe of base in any other country, but there is at least one italian game which features riders with this (very unstable, by the way) type of base.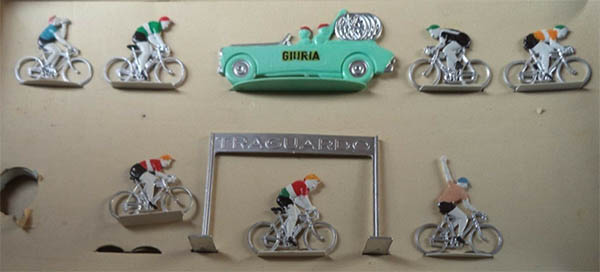 Giuoco del giro d'italia ciclistico (Italy, ca. 1960s)
I do not have this one, unfortunately, and I do not have a better picture.

GERMANY

Here is an incredible peloton of 30+ heavy metal riders unearthed in Germany by François Cardinet (and presently split between some friends. Thanks François!). Some of the riders have names of 1950s 6-day-race painted on their backs (ARNOLD, STROM, DERKSEN, ROTH, SCHLIEBENER, BOUVARD, COPPI...). The names, though, may have been painted on earlier riders, I am not too good dating figurines. Any information about them will be warmly welcome.

This fantastic set (over 50 cyclists, all different ) was sent from Florida by Michael McKale, to whom I am eternally grateful.

These cyclists were made by Preiser in 1993 for train modelling dioramas (25000 series, in case you wonder). They are 1:87 (HO) scale, some 20 mm long from wheel to wheel. They are the smallest cyclists in my collection (too small and fragile to play with) and among the cutest too.

UNITED KINGDOM

These beautiful were manufactured in the 1960s by Britains, one of the oldest figurine manufacturers still in business. They are the ones included in Fernel's Tour de France game, but they also were sold as stand-alone figurines. The ones in the picture above are from François Cardinet collection.






Corgi Toys Gift Set 13 (1968). I do not have this one, I took the picture (and the information) from the internet.





BELGIUM


I am not sure whether these cyclists are actually Belgian, nor I remember where I got them (if YOU sent them, please forgive me, and email me to let me know it was you). On the other hand, the wheels remind me of the ones included with the game Fiets Veilig, which is actually from Belgium.

Modern (I mean, made in the XXIst century) Belgian riders. All of them made from metal. From left to right, promotional rider for the film Le vélo de Ghislain Lambert (2001), one from Bernard & Eddy (2020s), a set by Flandriens (2010s).
Description written in December 2022.
| | | | | |
| --- | --- | --- | --- | --- |
| | | | | |
| INDEX (MAIN) | ALL THE GAMES | ALPHABETICAL | CATEGORIES | WHAT'S NEW |