4 JOURS DE DUNKERQUE
4 Jours de Dunkerque, France, 1998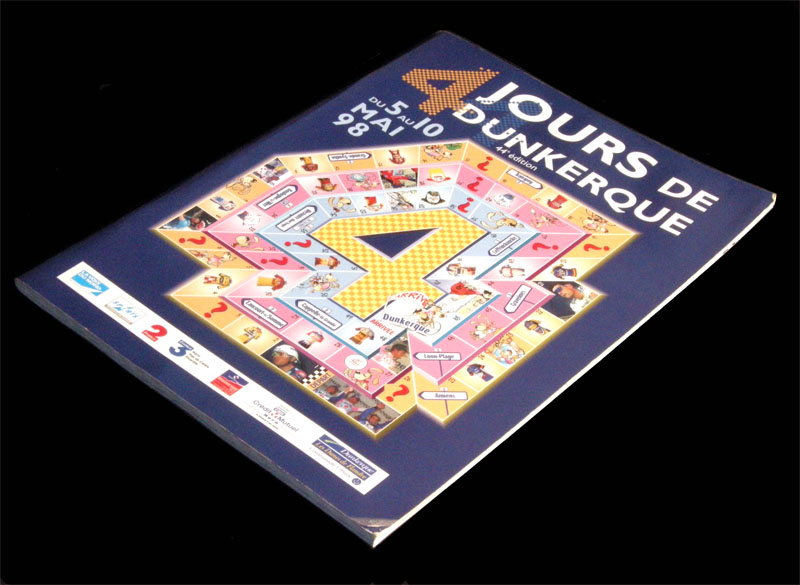 I do not really know if this can be considered a game, since it does not have rules and probably was never meant to be played. It is just the design to promote the 1998 edition of the 4 Jours de Dunkerque race. They made at least a poster (40 X 55 cm, I am told) and they also printed it on the cover of the race program (which is a nice glossy 90 page magazine, actually).

But since it is a game of goose, even if not meant to be played, I will consider it a game.
In what would be goose squares in a normal game of goose, we find a dog here (probably a symbol for the race, we also find it in almost every page of the race program).

Most of the squares marqued with a question mark are special squares in a classic game of goose (6-bridge, 19-inn, 26-dice, 31-well, 42-maze, 52-jail, 58-death), but square 53 (second dice square in a game of goose) is not marked , while squares 3, 15 and 39 are marked but do not correspond to special squares.

Of course, there are many game of goose variations. Maybe in Dunkerque there are special rules for these squares. Or else there was a set of rules attached somewhere and I do not have it.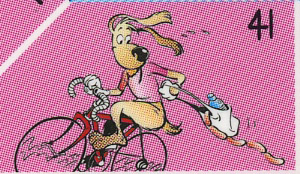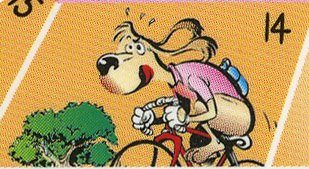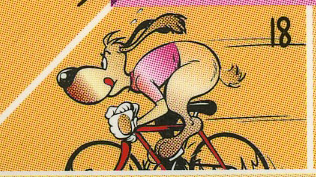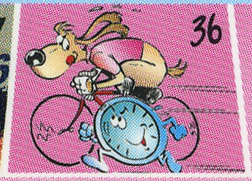 | | | | | |
| --- | --- | --- | --- | --- |
| | | | | |
| INDEX (MAIN) | ALL THE GAMES | ALPHABETICAL | CATEGORIES | WHAT'S NEW |