FRÖHLICHE FERIENFAHRT MIT DEM BLENDAX-MAX
FAHR IHR MIT?
(Blendax, Germany, 1954)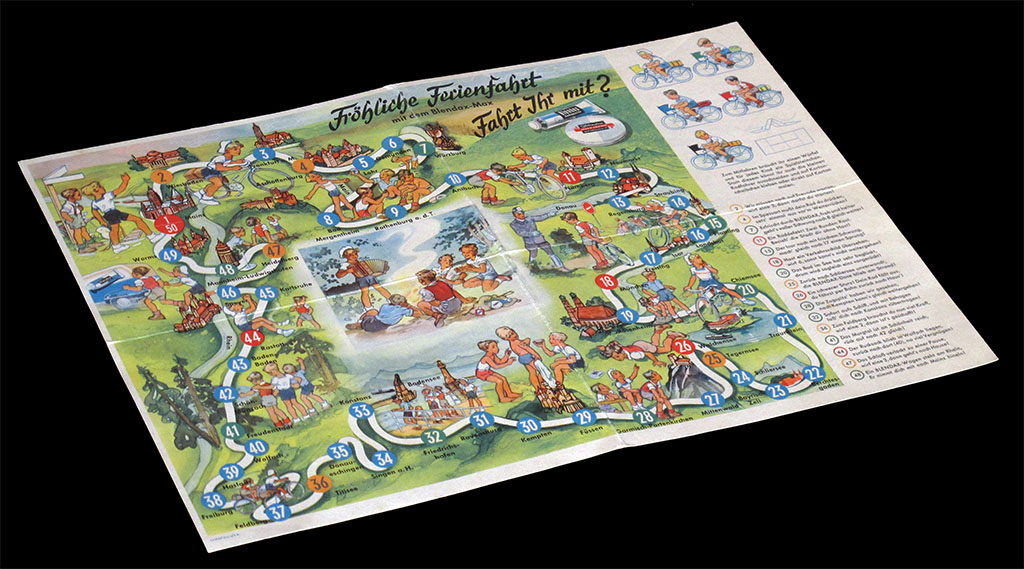 The title of this game translates as "Happy holiday trip with the Blendax-Max. Are you travelling with me?" and represents a travel around Southern Germany. This game was a promotion for Blendax toothpaste, and was apparently given as a consolation prize for a competition (the main prize being a book).
The board, made of light cardboard, measures 42 x 29.5 cms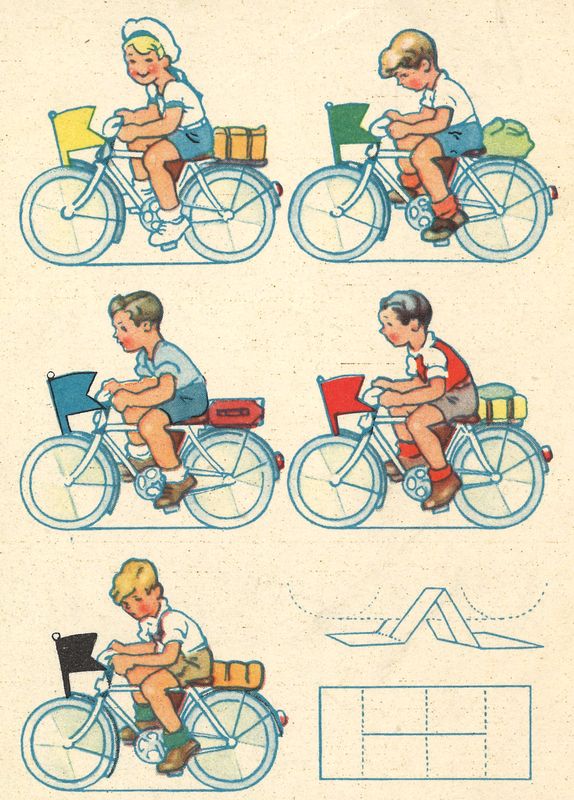 Cut-up riders are provided.

You have to provide your own die, though, and it is specified that you can also use your own counters if you do not feel like cutting the provided cyclists. It also says that you can paint your own riders directly on cardboard. These kind of unnecessarily detailed explanations are quite common in German games.
Green fields are moderately good (move one or two fields field forward), while orange and red fields are not-so-moderately bad (go back four squares, miss one or two turns, stay until you throw a given number, even go back to start). Ere are some examples (...excuse my German...)


2 (orange): We still have to wait for friends, you cannot move until you throw a 3.
4 (orange): You have to push your bike in the Spessart mountains, take a break -miss a turn- before moving on!
7 (green): Refreshed by Blendax, happy and cheerful, go to 8!
11 (red): A problem with your wheel. Miss two turns. Visit the city without haste!
20 (green): You enjoyed very much the bath in the lake. Move 1 field forward.
26 (red): A serious fall! Your bike fails, you take the train back home!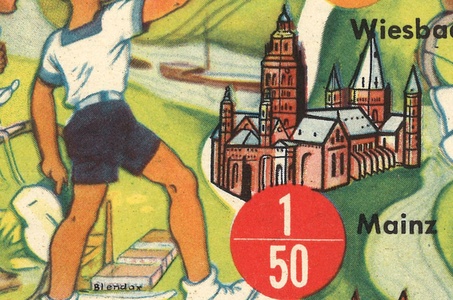 The game course starts and ends at Mainz which is where the Blendax GmbH company was located. The company was founded in 1932, and produced personal hygiene products and toothpaste until 2002.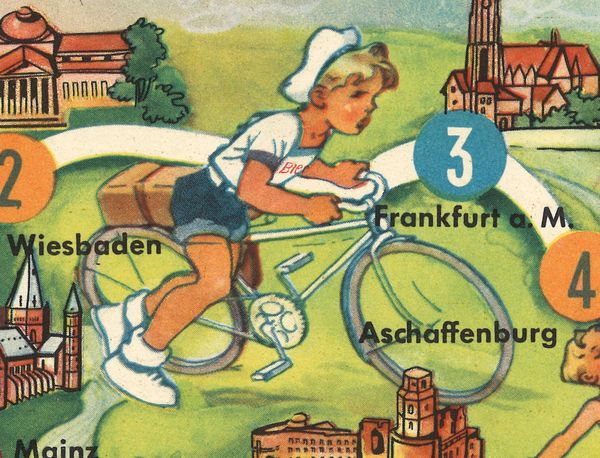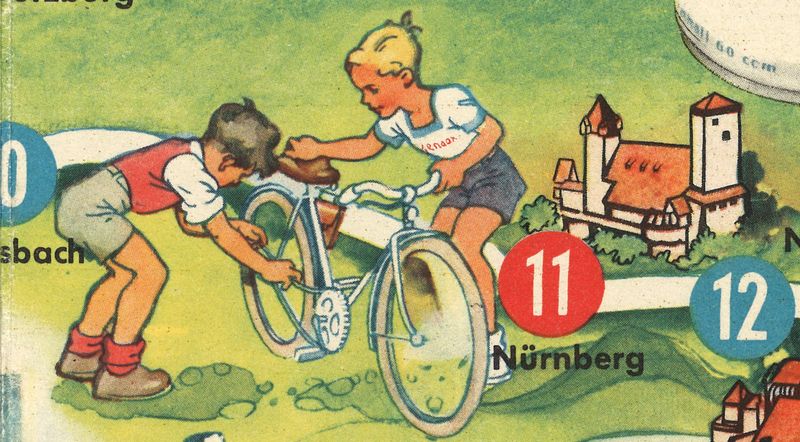 A problem with your wheel (looks like the chain actually). Miss two turns. Visit the city without haste!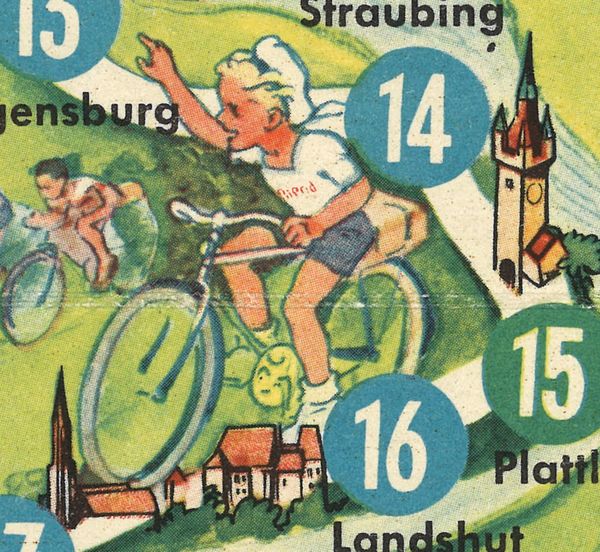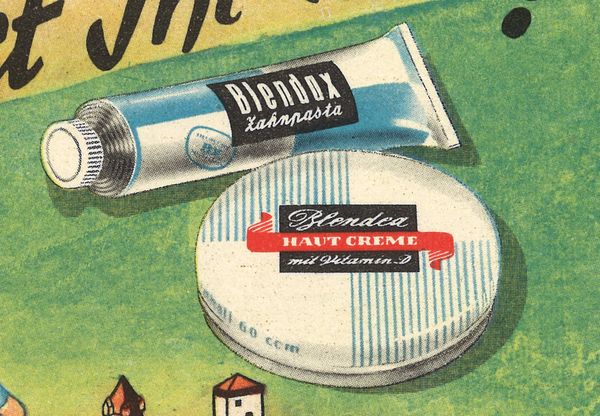 Blendax products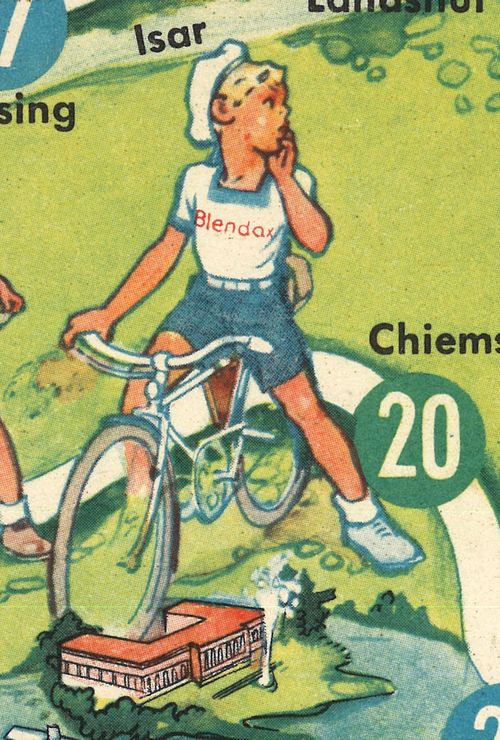 Blendax T-shirt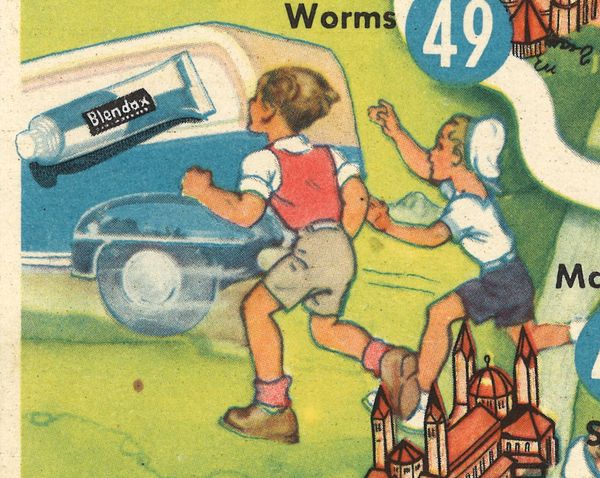 Blendax van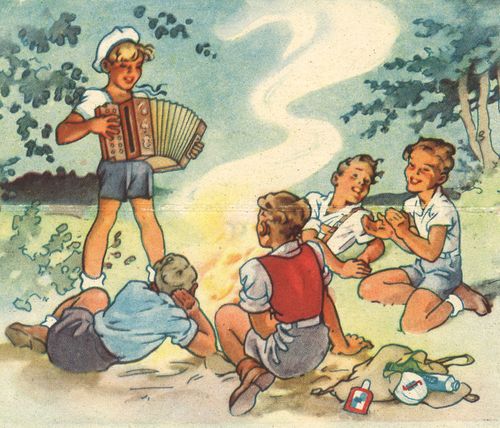 Playing accordion. Notice the toothpaste tube sticking out of the bag.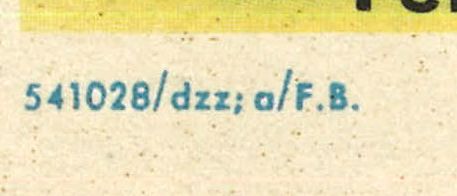 This means that the game was made in 1954.
This "poem" (well, it rhymes) is printed on the back of the board. Quick translation: "You solve the prize problem well and you will now receive this consolation prize today, because you should not remain unrewarded, I hope that you too will be pleased. You probably hoped to win a book award this time? However, thousands are thinking the same thing, your mail came en masse. Maybe next time."

Thanks Laysvidas for the tip.
Description written in October 2020.
| | | | | |
| --- | --- | --- | --- | --- |
| | | | | |
| INDEX (MAIN) | ALL THE GAMES | ALPHABETICAL | CATEGORIES | WHAT'S NEW |