CYCLING MISHAPS
FAMOUS CYCLISTS
TOUR DE FRANCE
Brainy Bikers, UK, 2020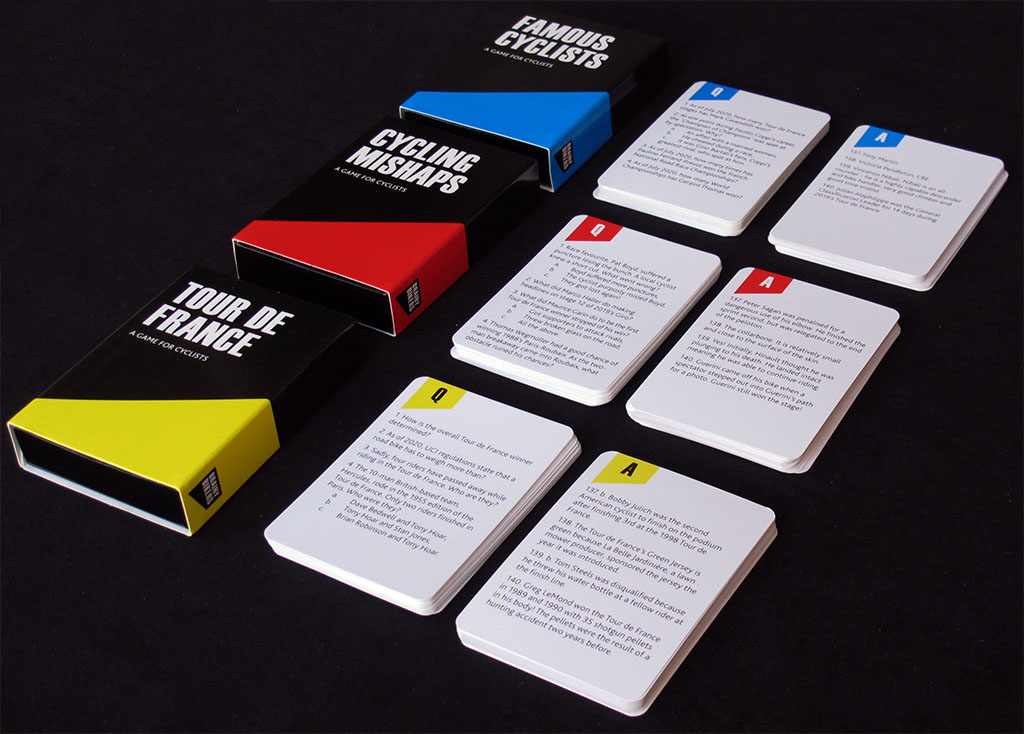 And all of a sudden I realized that there wasn't a single English language game in the quiz/trivia/q&a section of this site (nor in my collection). About a dozen French games an Italian one and even a Dutch one, but not a single one in English. Surprising, if you think about it. I do not mean to say that there were not such games, I simple did not know of any. Fortunately this has changed with the releases of not one but three (!!!) games by Brainy Bikers.

However, in my head I consider these a single game in three parts, not the least because you get a discount if you buy the three of them. (Yes, I know, trivia games are not among my favourites and I let it clear every time I get a chance, so I am not suggesting you should buy these... However, if you are the kind of people that does like, and play, trivia games, if you were looking for an English language game with which to test your knowledge about pro cycling, then I strongly suggest to buy the three decks).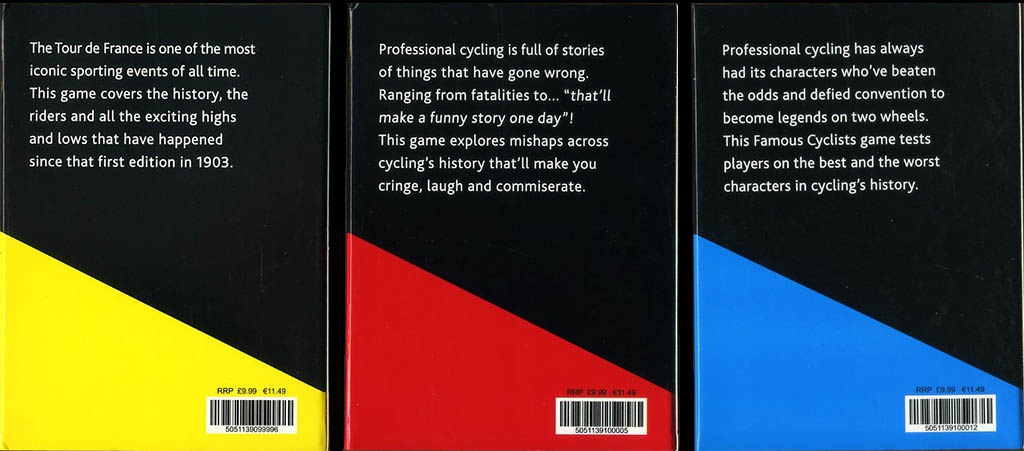 Each pack features 140 questions with the usual arrangement with questions on one side and answers on the back. The suggested (not really needed, are they?) rules of the game are not included with the decks but found on the maker's website. Since Grand Tours are raced over 21 stages, they suggest asking only 21 questions per quiz. And they add "Grand Tours also have two rest days - one after stage 7 and another after stage 14. You can also include a comfort break after question 7 and 14". Wise suggestion, I would say.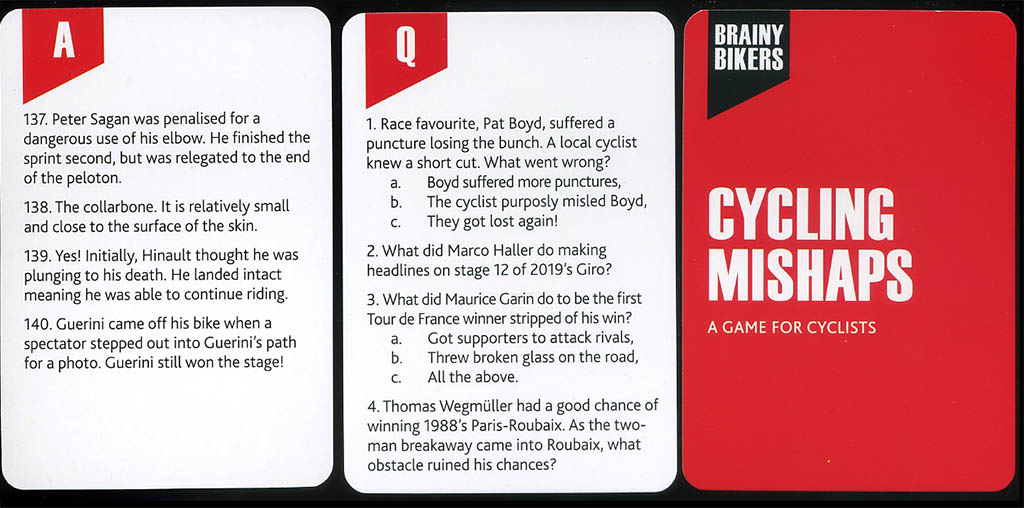 My favourite set is "Cycling Mishaps", of course. Most of the existing trivia games are explicitly based on the Tour de France and "Famous Cyclists" is not an unusual subject either, but "Cycling Mishaps" is unexpected.

Besides, in case you had not noticed it, I tend to overdisplay cycling mishaps -falls, punctures...- when they are depicted on game boards, so how could I not prefer this set ;-)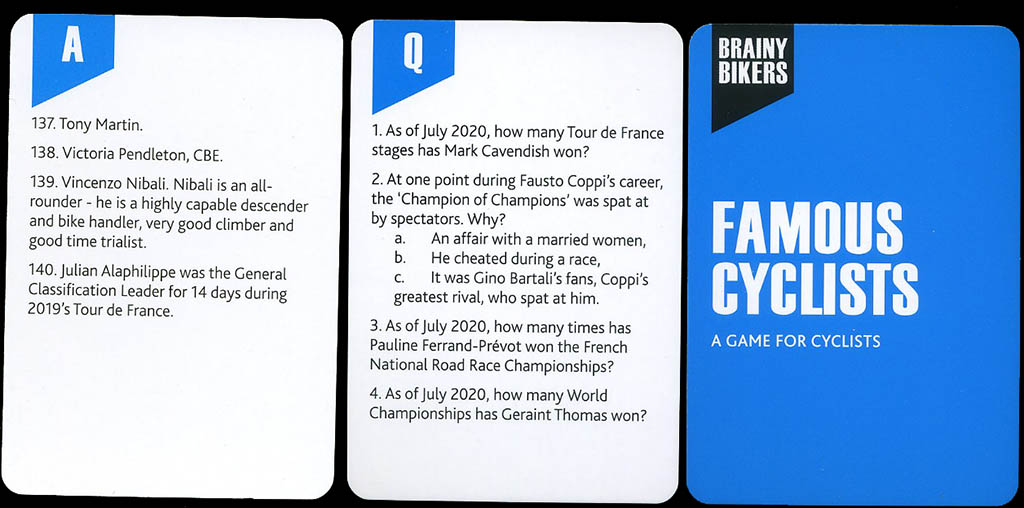 Some of the questions are (quite) obvious, but some are tricky!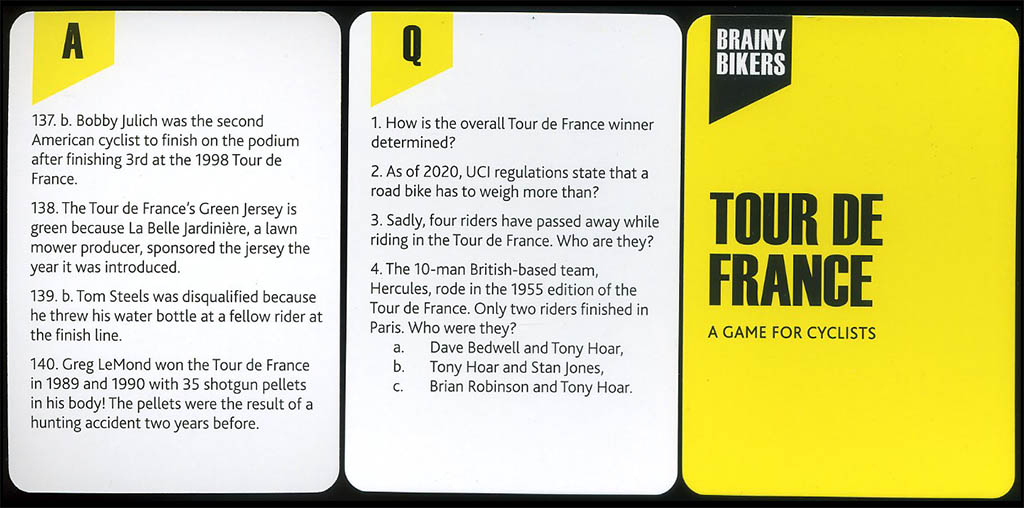 I hope this is not a spoiler. I am not revealing the answers to the questions I show
(and then you can always try to play the other way round: once you have the answer, try to guess what the question was).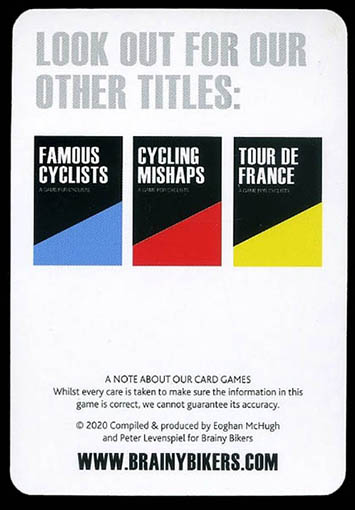 Thanks Eoghan for sending these decks.
Description written in December 2020.
| | | | | |
| --- | --- | --- | --- | --- |
| | | | | |
| INDEX (MAIN) | ALL THE GAMES | ALPHABETICAL | CATEGORIES | WHAT'S NEW |