CHILDREN BICYCLE RACE
Blue Ring Education Pte Ltd, dreamstime.com, first accessed august 2021
This is a game I found on one of the myriad stock image sites on the web .It is advertised as "Royalty Free", but of course they ask you for your credit card number, even for the free trial. (Generally, "royalty free" means "we do not pay royalties but ask for your money nevertheless". That's the world we live in). However, you can download a mid-sized watermarked image of the game. Not that the game has any interest whatsoever (or rules, for that matter), I just include it on the site because, after all, it is supposed to represent a cycling race.

By the way, I will put this one in the "roll-and-move games" category (even if it has no rules), in the "other countries" list (Blue Ring Education Pte Ltd is apparently from Singapore) and even in the "print-and-play games" collection (though printing this one is probably a waste of time, paper, and ink).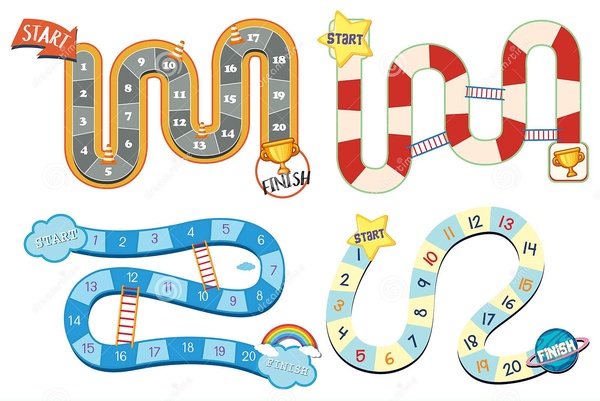 A few other racing tracks you may find on the same website
Description written in August 2022.
| | | | | |
| --- | --- | --- | --- | --- |
| | | | | |
| INDEX (MAIN) | ALL THE GAMES | ALPHABETICAL | CATEGORIES | WHAT'S NEW |