CICLISMO DE MESA
Azul 4 Juegos, Spain, 1990s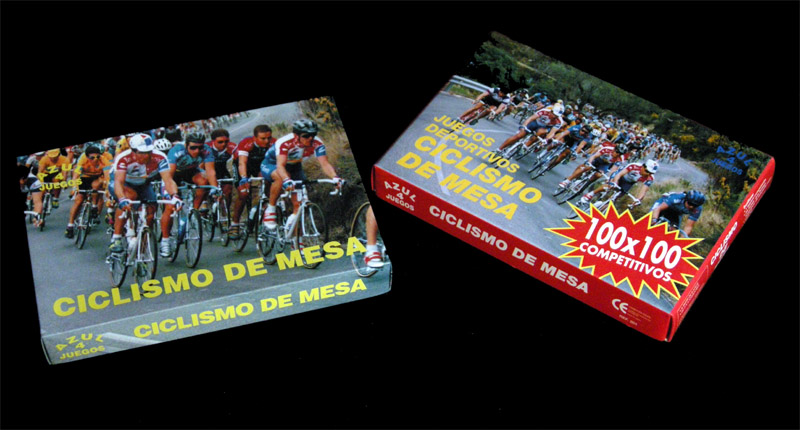 Azul 4 Juegos was a small brand which published 5 sports games (the others were: Atletismo De Mesa, Motociclismo De Mesa, Regatas De Mesa and Africa Raid). Of these, only the cycling game was released first on his own (box on the left) and later as part of the "Juegos Deportivos" series (box on the right). The rules of the cycling game are in Spanish, English, French and Italian, while the rest of the series has the rules only in Spanish.

The game consists of a one-day race, but the rules offer the possibility of playing a five stage race (In fact, nothing prevents us from playing three or twenty stages...)

Although the game is quite simple, there is some ambition in it. The teams are composed of four riders (well, counters), one of them being the leader. The leader has the privilege of something called "turbo", which is not more than throwing two dice instead of one. This can be done four times during the race.

The riders are supposed to climb the Tourmalet, Lagos de Covadonga and the Mortirolo. As the rules say: "It's a utopian cycling race, but if it existed it would be really impressive". Indeed.
| | | | | |
| --- | --- | --- | --- | --- |
| | | | | |
| INDEX (MAIN) | ALL THE GAMES | ALPHABETICAL | CATEGORIES | WHAT'S NEW |