COBBLED CLASSIC
Chris Dickason/Rapha, UK, 2019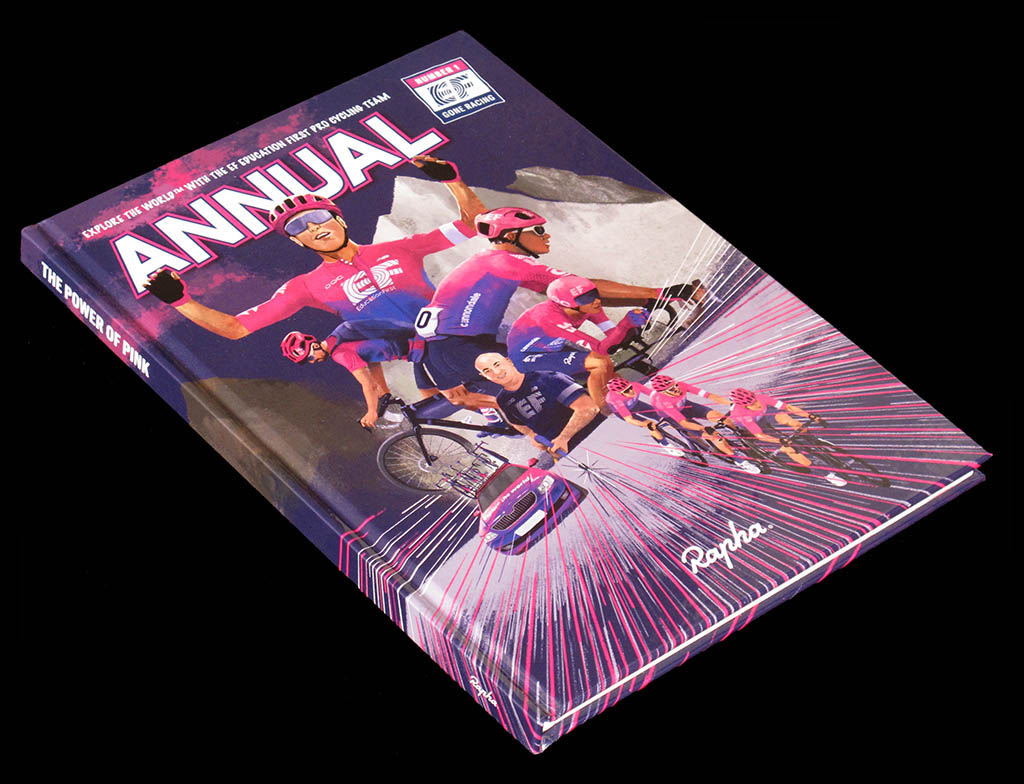 British cycling clothing manufacturer Rapha has recently issued a cartoon-formatted annual called "The Power Of Pink" to commemorate American cycling team Education First's 2019 season (or maybe, more accurately, Rapha's and EF's partnership). In this book, among cartoons, puzzles, quizzes and various pieces of trivia, we find this beautiful board by illustrator by Chris Dickason, supposed to be a game representing a classic cycling race.

And I say "supposed to" because it is difficult to believe that this game was ever meant to be played.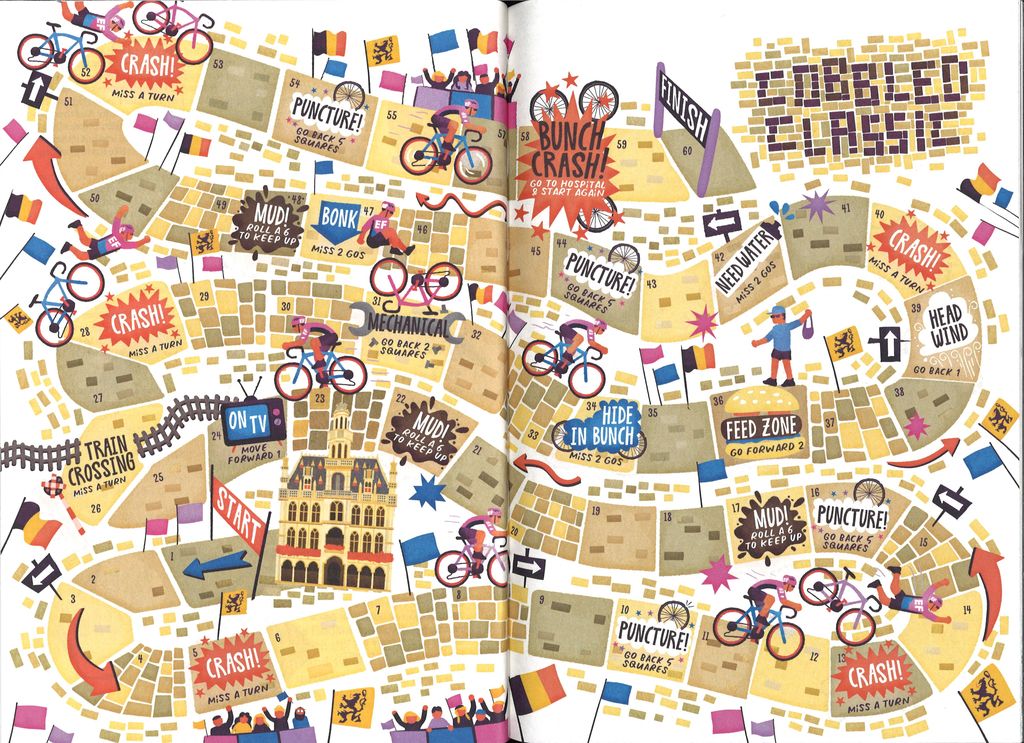 There are two main reasons for which I think this game is not meant to be played. The first is that, although it may not seem so in the picture above, it is impossible to get the board flat enough to play the game without tearing apart the book, which would be a pity. See the picture below to see what I mean.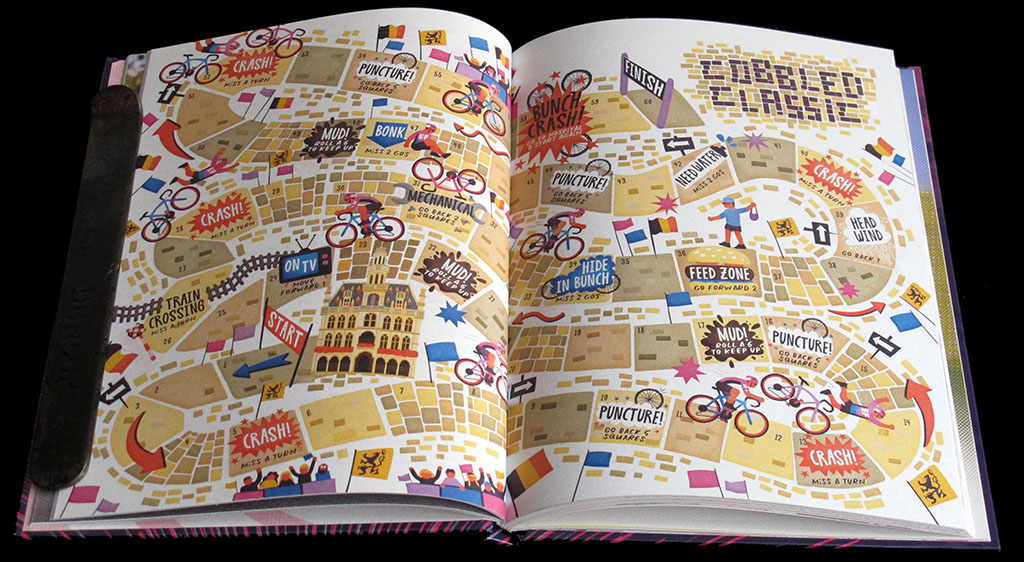 You may argue, and I concede, that this is not the only game included in a book/magazine/annual which is hard to play without destroying something. And of course it is not the only game that forgot to include counters and dice.

But, as far as I know, this is the first game that did not even care to include the rules. Ooops!

However, I am not including this game on my list of "games for which I do nor have the rules" (though I might), since the rules are not difficult to figure out. The game, of course, are of the game-of-goose type: Roll, move, follow the instructions if any. That is clear, but some questions arise. To name just a few:

How many players can take part in this game?
How many dice should I use?
What happens if two cyclists fall on the same square?

A part from the dice question (see below) I am afraid that the answer to these questions is "use your own house rules".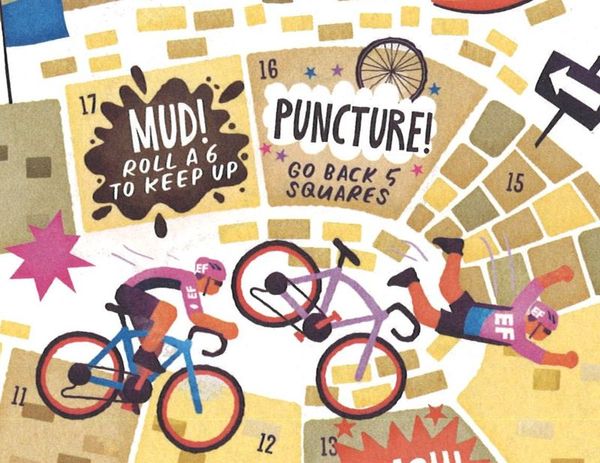 In case of falling on one of the "MUD!" squares, the legend says "Roll a 6 to keep up". Furthermore, the instructions for the different game incidences are never higher than six ("go back 5 squares", "go forward 2"...). Though this is not conclusive evidence, I think we can safely deduce that the game is meant to be played with only one die.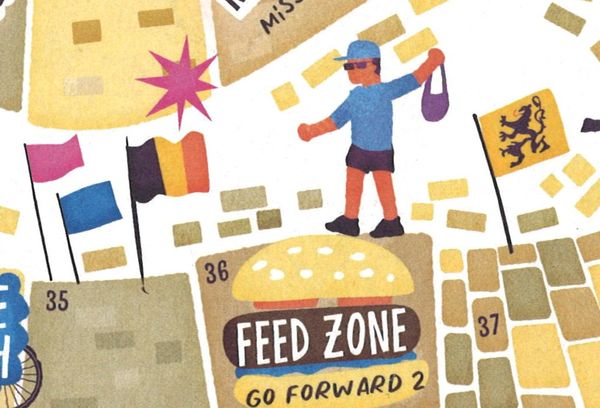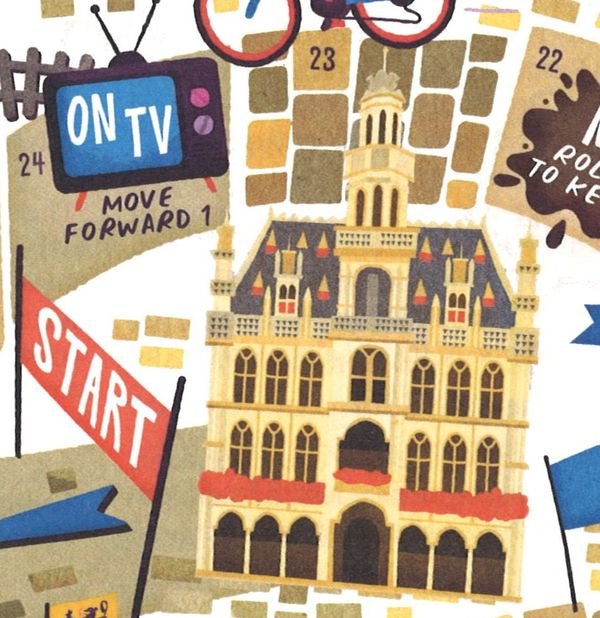 This game does say to not represent a particular race, but the building near the start square is the Oudenaarde City Hall (click here to see a picture and compare). Oudenaarde is the finishing point of the Ronde Van Vlaanderen since 2012 (and also the starting -and finishing- point of the women's race). We have at least five Lion of Flanders flags on the board. No to say that the 2019 edition of De Ronde was won by Education First's rider Alberto Bettiol.

I think it is clear which race is represented here.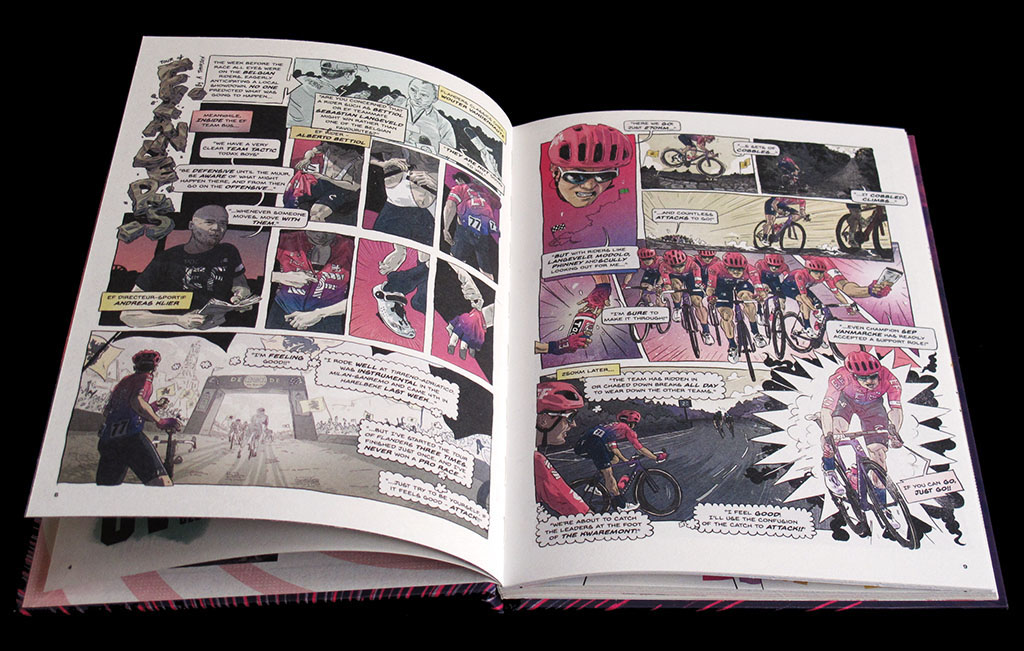 Bettiol's win is also represented in a six-page story in the book.
Check the annual at Rapha's website
Description written in December 2019.
| | | | | |
| --- | --- | --- | --- | --- |
| | | | | |
| INDEX (MAIN) | ALL THE GAMES | ALPHABETICAL | CATEGORIES | WHAT'S NEW |