COURSE MICHELIN
Genilloud / Michelin, France, 1894 / reprinted in the book Il Gioco dell'Oca, 1981 / reissued by Michelin Collector's Store, 2021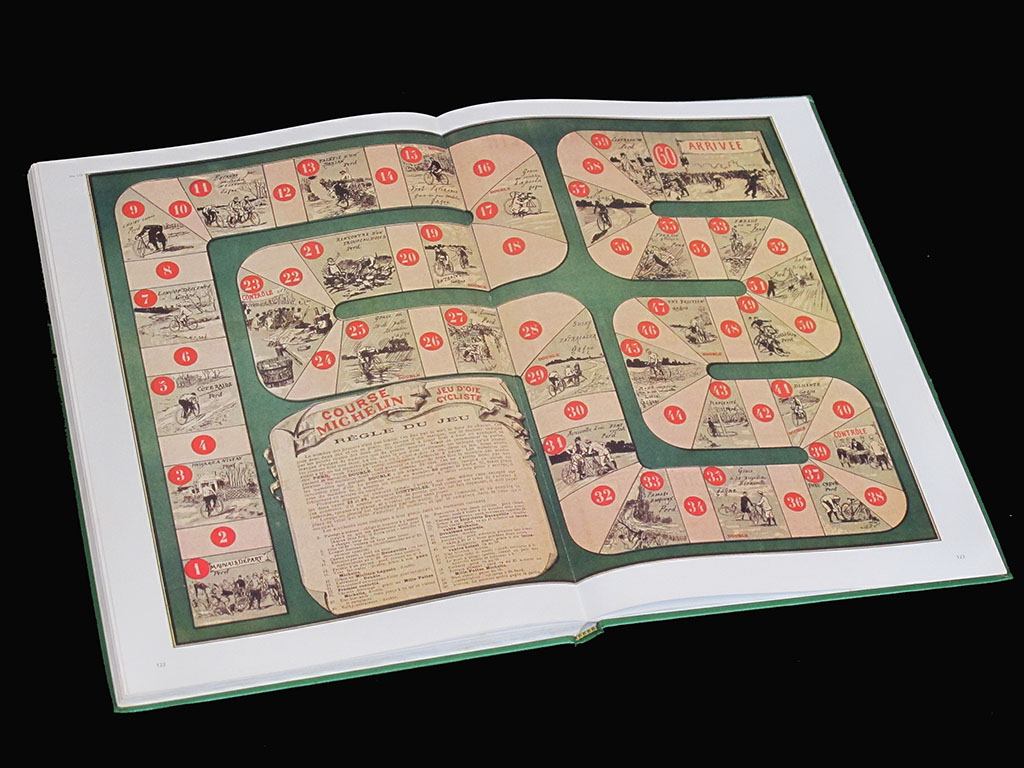 This is an old game from 1894 which is reprinted in the 1981 book Il gioco dell'Oca; Un libro da leggere, da guardare, da giocare (see bibliography). I am not breaking my rule of featuring only games that I have in my collection, since this is a large (37 x 25 cms) book that reproduces the games in a playable format. The original game measures 53 x 41 cms, so the double-page game as featured in the book is just a little smaller than the original size. (By the way, you can see the original game in the giochideloca.it website).

Being from 1894, this is one of the oldest cycling games. It has recently been reissued in a limited edition of 500 copies (scroll down to see it).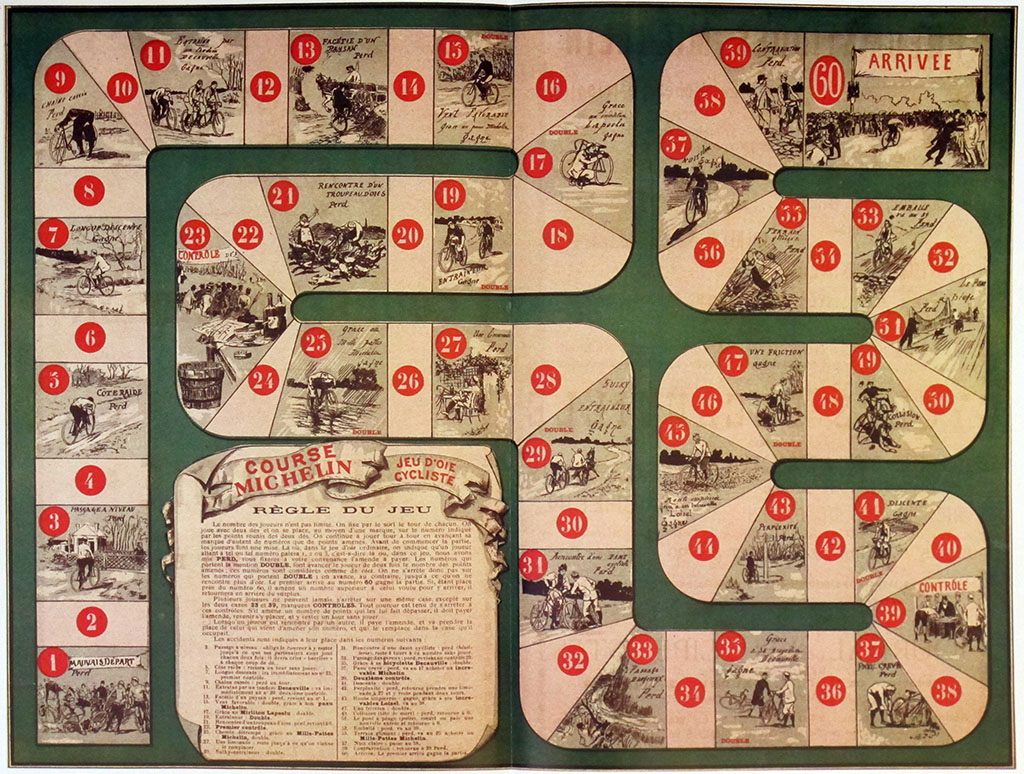 The game was included in the Revue Encyclopédique in May 1894, and is a promotion for Michelin tires and other related products.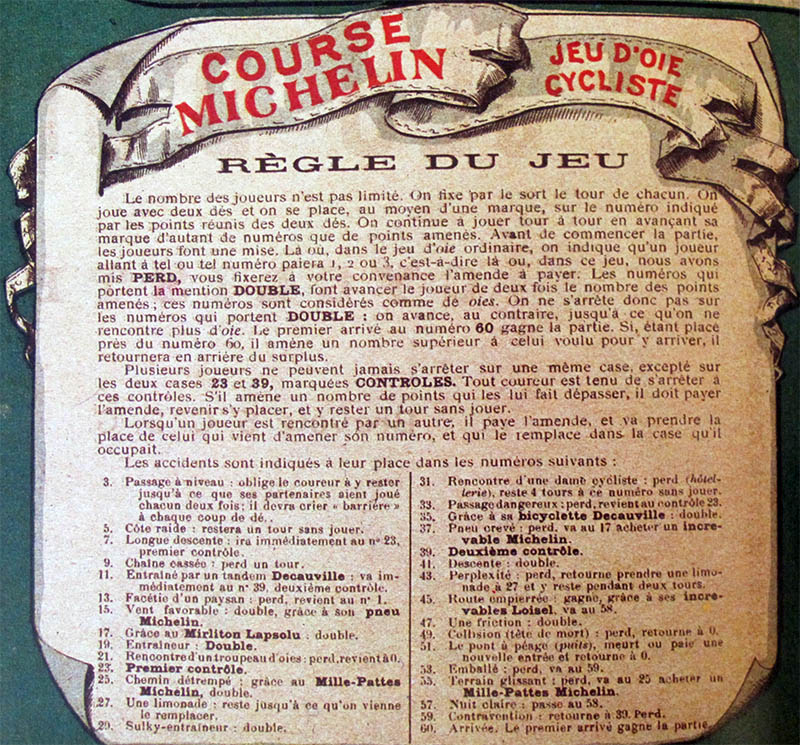 Every other square has a race incident, half of them good and half of them bad. Most of the positive squares are so because of the endorsed products (in bold type in the rules so you can't miss them).


Some of these rules make more sense than others. While "entrainé par un tandem DECAUVILLE" is OK, "vent favorable grace au pneu MICHELIN" is quite weird. How is that? Does the tire cause the tailwind?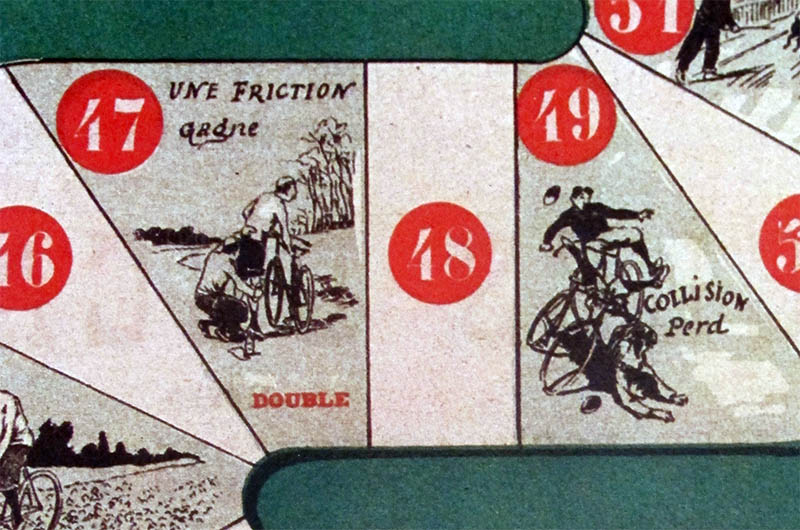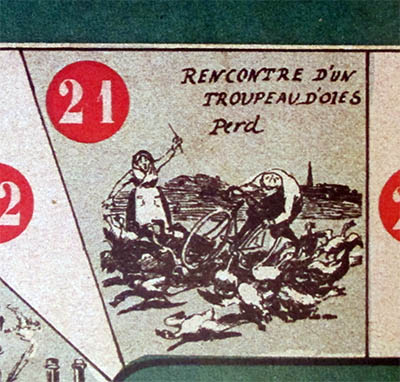 In 1894 there were geese on the French roads... or maybe it's that this is a game of goose.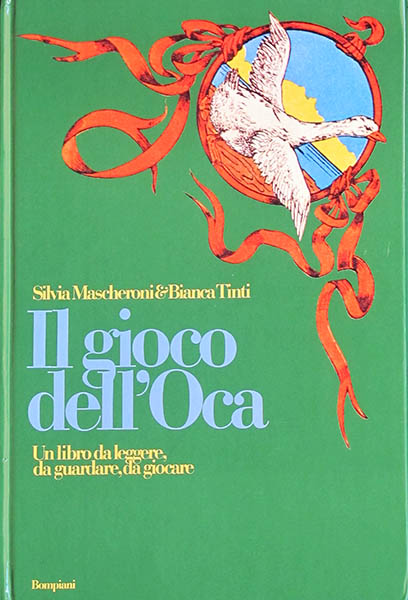 This is the cover of the book where the game is featured (see bibliography).
UPDATE 2021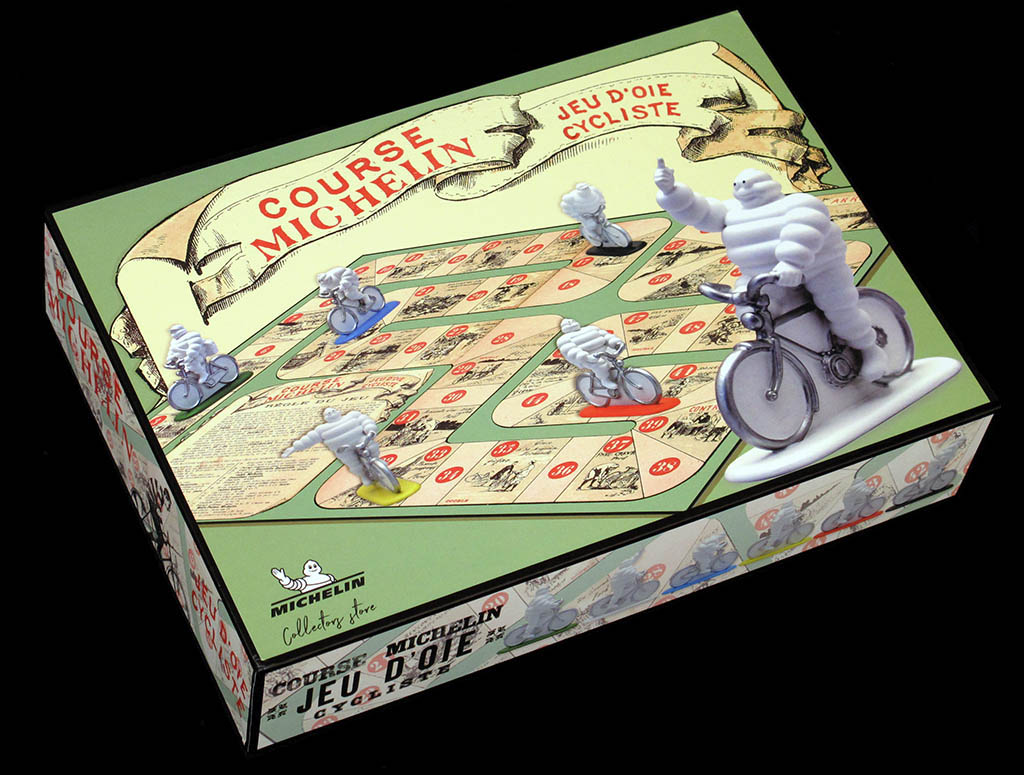 This game has been recently reissued by Michelin themselves in a limited edition of 500 copies. The figurines (and the box) are obviously anachronistic as Bibendum was not created until 1898 while, according to the reissue's website, this game was offered with March 1st, 1894, issue of the "Revue Encyclopédique".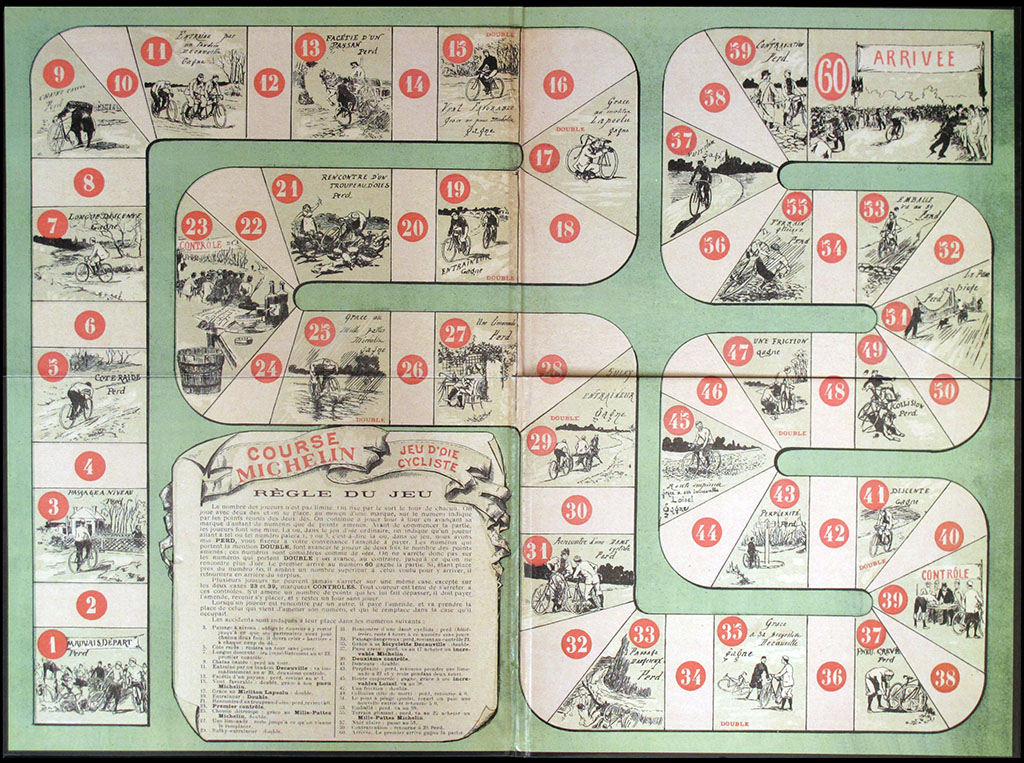 The board measures 52 x 39 cms, which is the size of the original, though depending on where you read it can vary some millimetres up or down: the guichidelloca website, for instance says "400X530 (415X545)". The box measures 33 x 23 x 7 cms.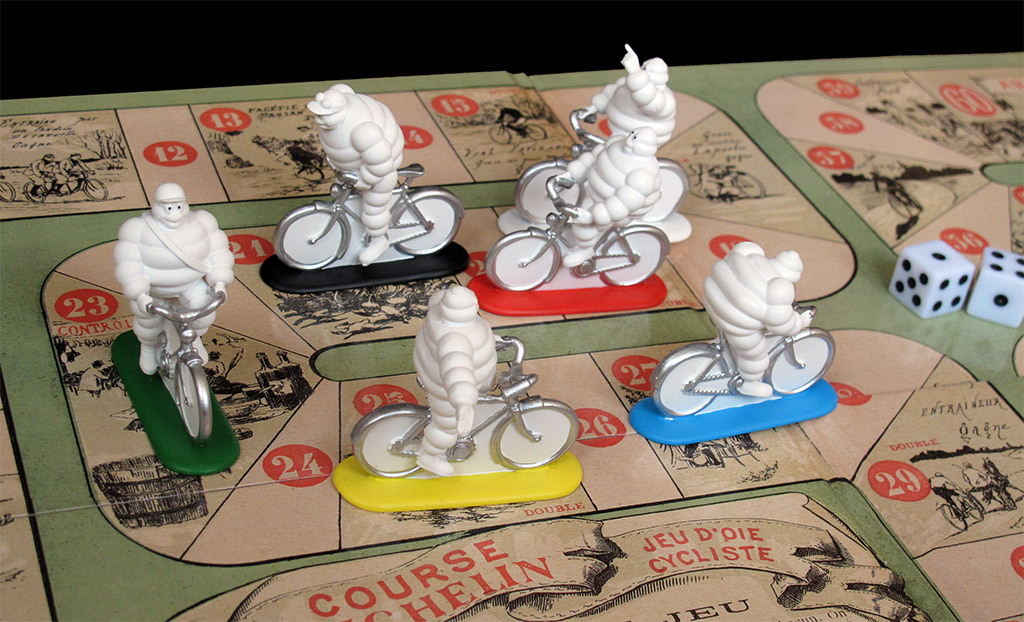 The cyclists, which have been specially made for this reissue, measure 53 mm from wheel to wheel (the base is 55 mm long) and are somewhat big for the board, though the game is playable. Anyway, I do not think it is meant to be played. My personal opinion is that this game appeals more to Michelin collectors (a mostly French species) than to cycling game's collectors.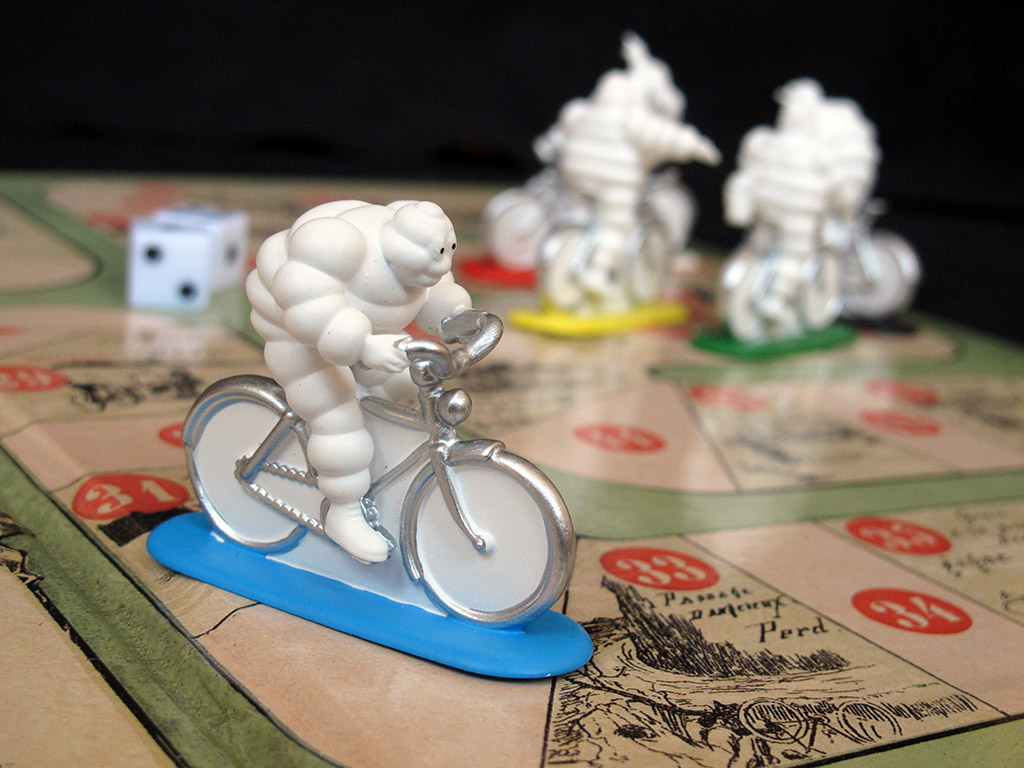 When I first saw it I thought that I was not specially interested in buying it, though I was perfectly aware that I might (and probably would) change my mind sooner or later. Maybe even too late, when the limited reissue was sold out. However, I did not have the chance to change my mind since a dear friend of mine has sent this game to me as a present.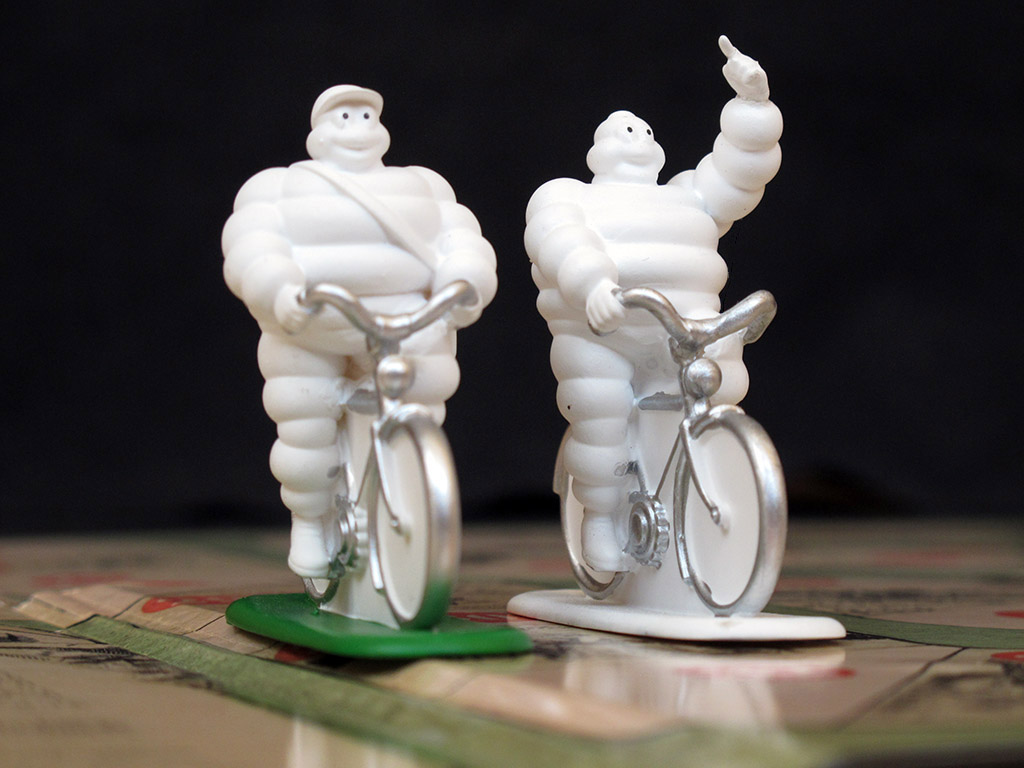 Or, put it in another way, I did change my mind when I saw the Bibendum figurines.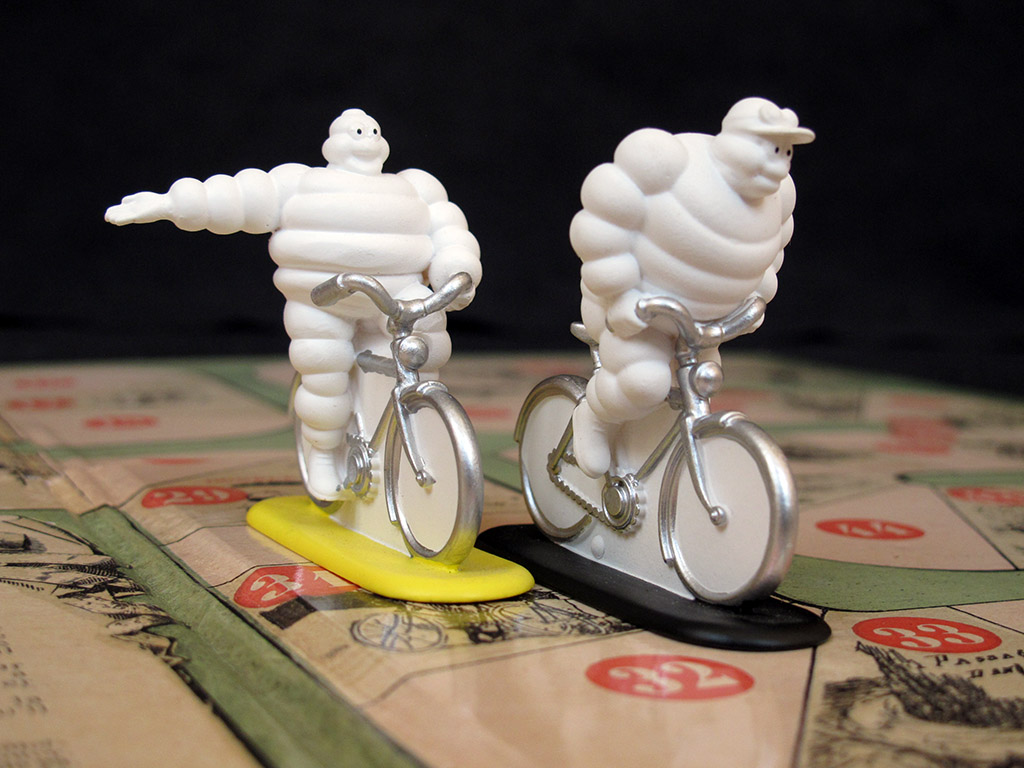 They might be anachronistic (and the bicycles nowhere near a 1894 bike), but they are gorgeous, aren't they?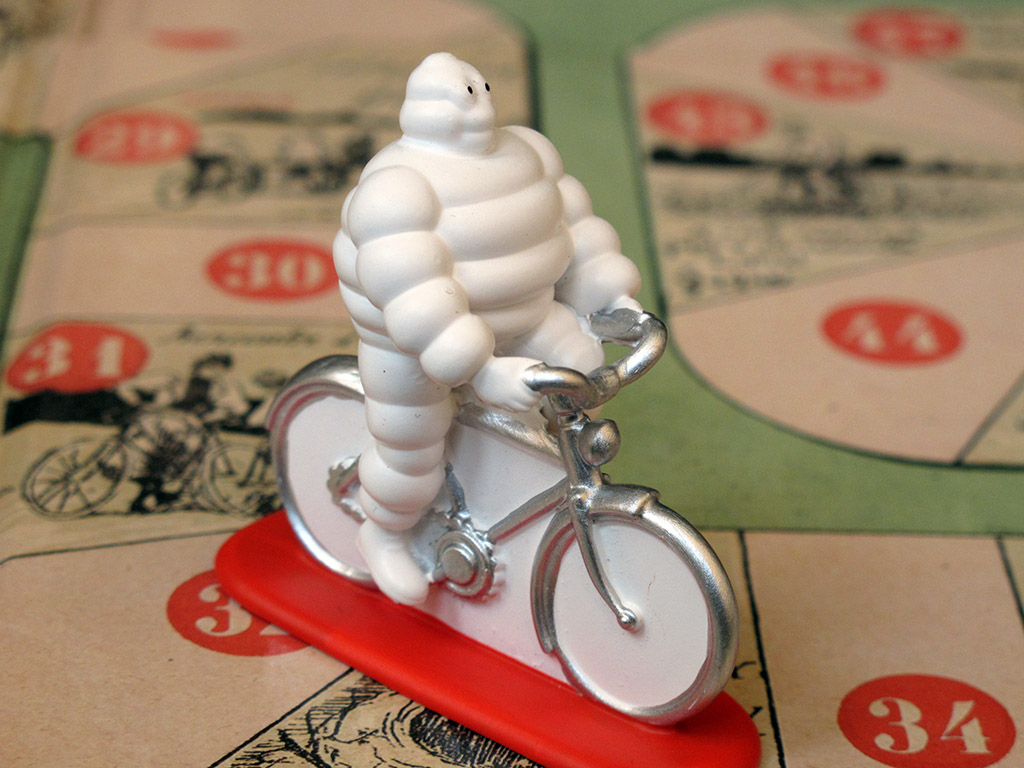 Six different figurines, and it's hard to tell which is my favourite. Which is yours?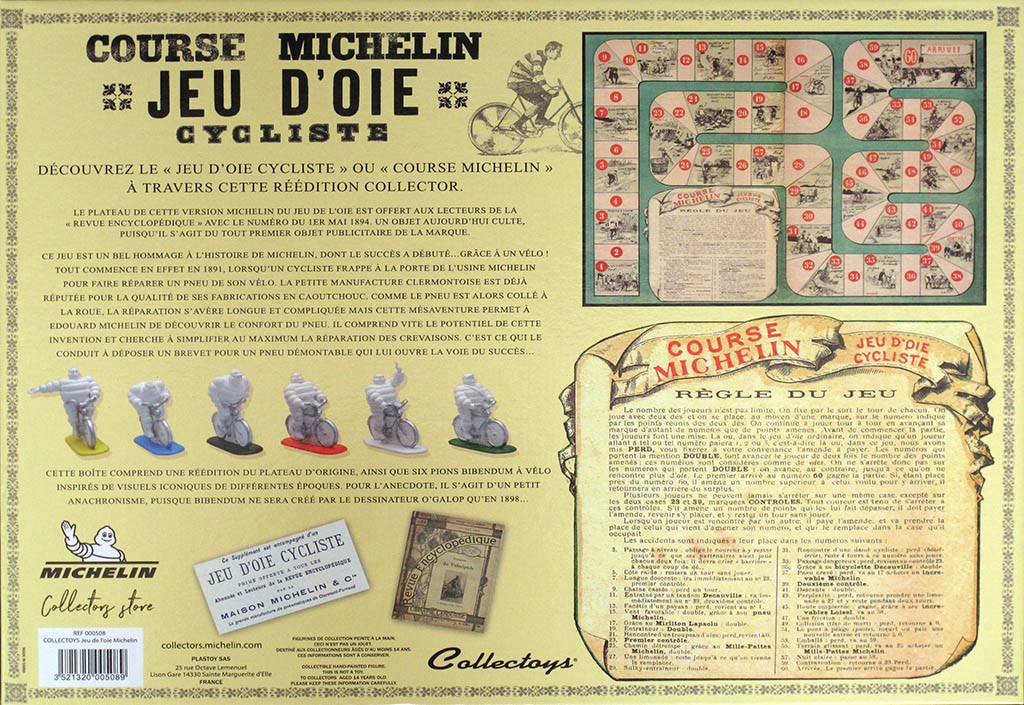 Back of the box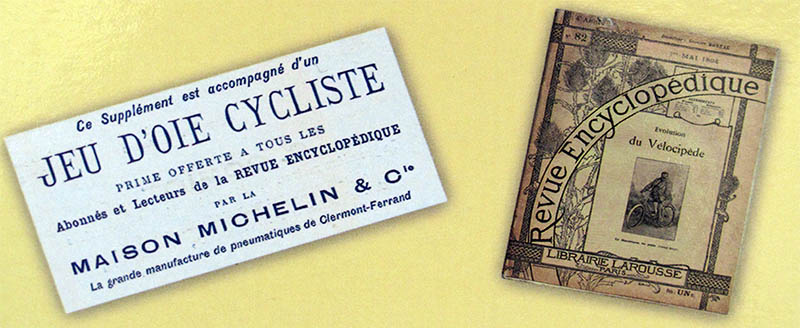 March 1st, 1894, issue of the "Revue Encyclopédique" featured on the back of the box.
Thanks François for this game!
| | | | | |
| --- | --- | --- | --- | --- |
| | | | | |
| INDEX (MAIN) | ALL THE GAMES | ALPHABETICAL | CATEGORIES | WHAT'S NEW |