IL GIUOCO DEL GIRO D'ITALIA
E.R.P., Italy, 1950
This an European Reconstruction Plan (aka plan Marshall) propaganda game and was offered on the occasion of the Giro d'Italia in 1950. It measures 66 x 43 cms (counting the leftmost strip with the riders faces, which is missing from most copies of the game).

As you can see, this is a cycling-themed game of goose.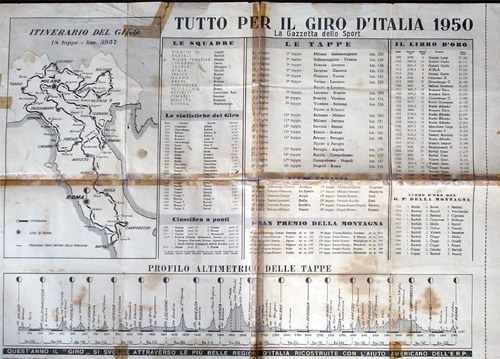 A closer look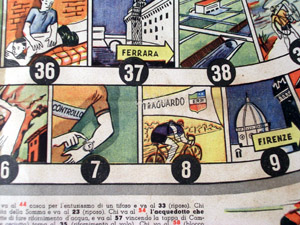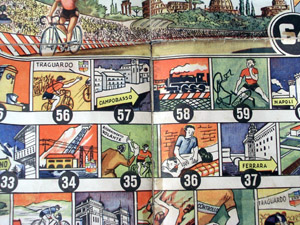 The italian heroes (The other cyclists featured are Lazarides, Ortelli, Fornara, Dupont, Lauredi, Cerami and Bresci)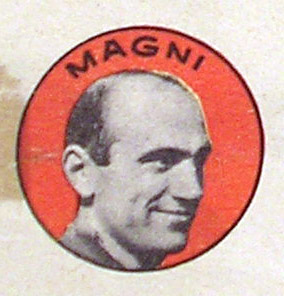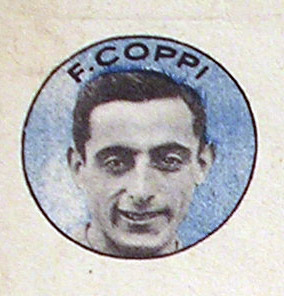 UPDATE december 2020:

When I first described this game (some 15 years ago) I wrote that it was offered with "La Gazzetta dello Sport" for the Giro of 1950. I just took it from the Gazzetta mention on the back of the board (and by analogy with French games regularly being offered with newspapers and magazines). I should have known better, anyway. Recently, (prompted by a question by our common friend Adrian Seville), Luigi Ciompi has corrected me. He wrote:

"This game is an ERP propaganda game and was offered on the occasion of the Giro d'Italia in 1950. It is true "La Gazzetta dello Sport" organizes the Giro but this game was not attached to the newspaper. The ERP funds to rebuild Europe were managed in Italy by the Christian Democracy party which financed various ERP advertising games. The text reads: 'This year the Giro takes place through the most beautiful regions of Italy rebuilt with the American help of the ERP'. We can say that the propaganda game is directly carried out by the ERP and indirectly by the party of the Christian Democrats which governed the country and which managed these American funds".

Thanks Luigi for sharing your knowledge!

--------------------------------------
Thanks to Giuliano Traini for sending this one.


| | | | | |
| --- | --- | --- | --- | --- |
| | | | | |
| INDEX (MAIN) | ALL THE GAMES | ALPHABETICAL | CATEGORIES | WHAT'S NEW |