MAILLOT JAUNE, LE JEU DE BERNARD HINAULT
LE JEU DE L'EQUIPE LA REDOUTE MOTOBÉCANE
Fenwick/Mako, France, 1977
This game was commercially distributed by Mako and also used as you can see, as "Le Jeu de L'Équipe La Redoute Motobécane", maybe as a promotional game. As far as I know, the contents of both boxes were exactly the same (if you do not count a little extra copyright inscription on the board featured on the La Redoute version, which is redundant anyway). However, my "La Redoute" copy is incomplete, so I cannot check all the components.

In 1985 the game was reissued as "Les Géants De La Route" (for just 6 players instead of 8), and there is an american copy, "Winning".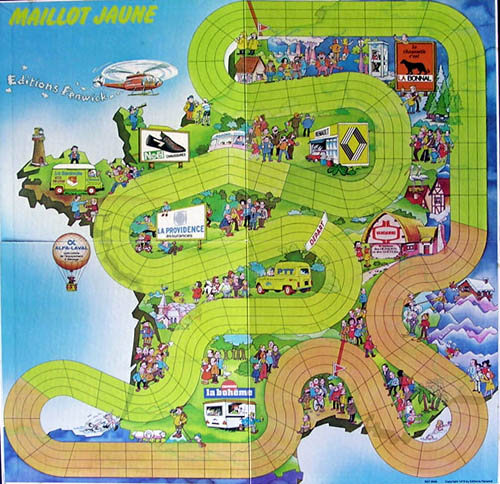 The game consists of three stages with three different types of road (flat, uphill, downhill), two of each are featured on each stage. The game is thus completely balanced between the different riders, who are specialists in one type of road.

Though some people appreciate this game, and mention the fact that it does not use dice or other randomizer (making thus a strategy game), I never really liked it that much and tend to think that most people who like this game do it because they played it in their youth.
click here for more info on this one:
jeuxsoc.free.fr (includes French rules)
| | | | | |
| --- | --- | --- | --- | --- |
| | | | | |
| INDEX (MAIN) | ALL THE GAMES | ALPHABETICAL | CATEGORIES | WHAT'S NEW |