ITZULI MITZULI
Seaska, Euzkadi
1970's



Beautiful rare game produced in the Basque country in the 1970s, with an important nationalist reivindication component. There are six boards representing the seven territories (Behe Nafarra and Xiberua share a board) reivindicated by Basque nationalism. The rules are in Euskara (Basque), Breton, Spanish, Catalan, French and another language I have not been able to identify, but is probably Corsican. The components of the game are quite geometrical: triangular wooden pegs represent the riders and the graphics on the cards are almost abstract. The rules, though, are disappointingly simple.





Close up (nice beach)




Wooden pegs and strange cards!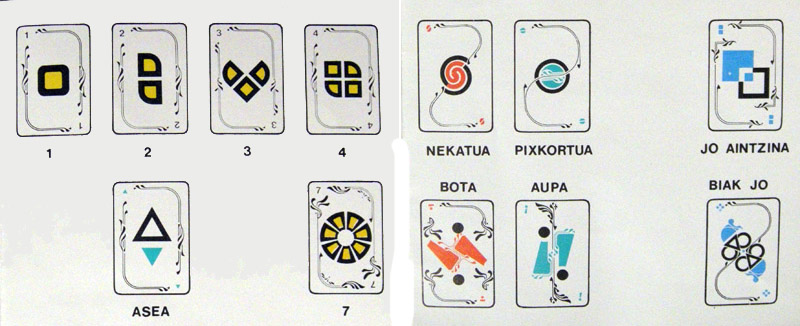 In case you wonder what the basque language (Euskara) looks like, here is a sample.

(The rules, by the way, are a variation of "1000 Bornes")
Is the 5th language Corsican?
| | | | | |
| --- | --- | --- | --- | --- |
| | | | | |
| INDEX (MAIN) | ALL THE GAMES | ALPHABETICAL | CATEGORIES | WHAT'S NEW |