LA COURSE
Agence Artifice, France, 2021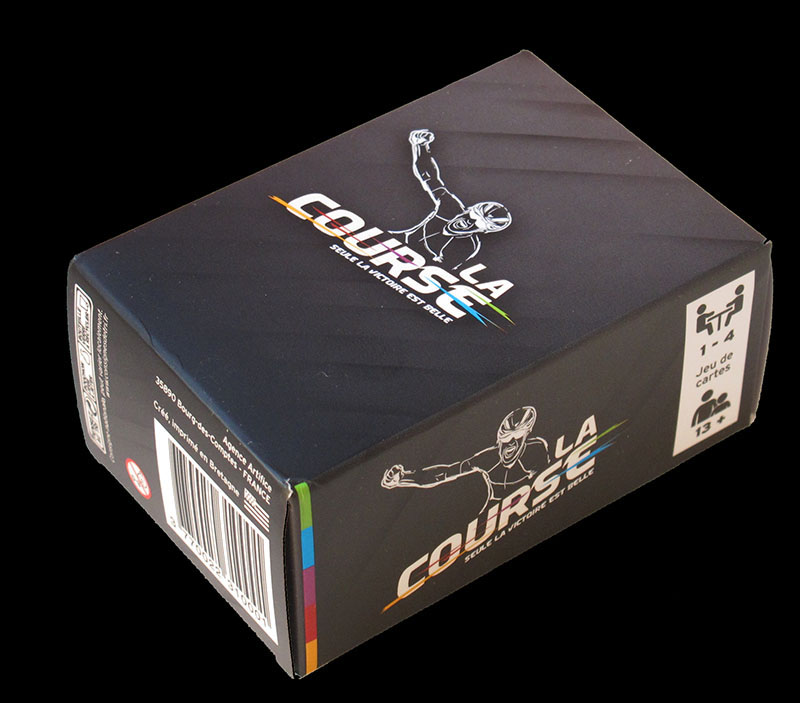 Here is another game contained in a card deck that is not a card game in the sense of the games included in the "cycling-related card games" section but rather a game that represents a cycling race but is not technically a race-game, and therefore I include it in the non-race games section. Sorry for the technicalities.

This game was released as a crowdfunding (on French Ulule) and, once the goal was reached, now has its own website where you can buy it cheaper than it was when you supported the crowdfunding (ouch!), you can rad the rules (French only) and find some alternative ways of playing the game.

This game has been released by enthusiasts, and has the usual pros and cons of such games. To make a long story short, among the positive things in the game is the quality of the cards. They are nice ,sturdy, laminated cards, quite better than you could expect. They are also nicely illustrated (well, most of them are) as you can see in the pictures below.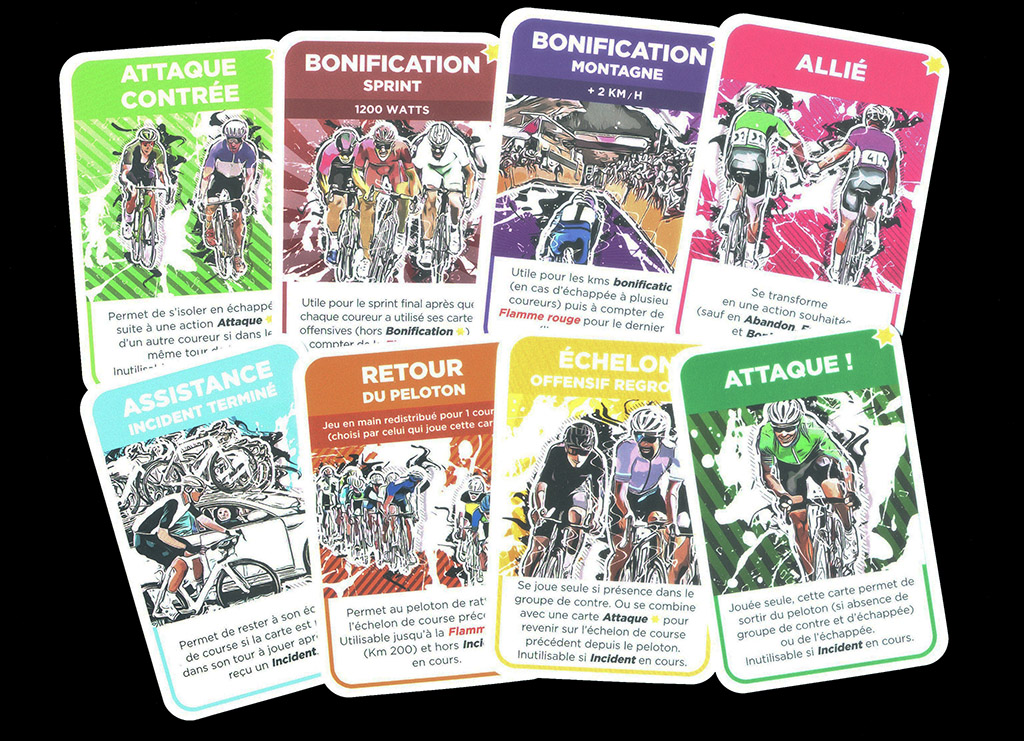 Among the less good things, that are also usual in non-professionally designed games are some awkward design decisions. The most obvious to me is that not all the cards should have the same backs. There are different types of cards (riders -and peloton-, attacks and bonuses, the ones called "compteur kilométrique") that are used for different things in the game and that should have had different backs.

Another awkward decision is that the "compteur kilométrique" cards, which represent the course of the race, have to be turned 90º to know where you are. I am not sure that players will remember where they are after a few turns (pun intended). I understand that the idea is that all elements of the games have to be in a deck of cards but I am sure there were other options.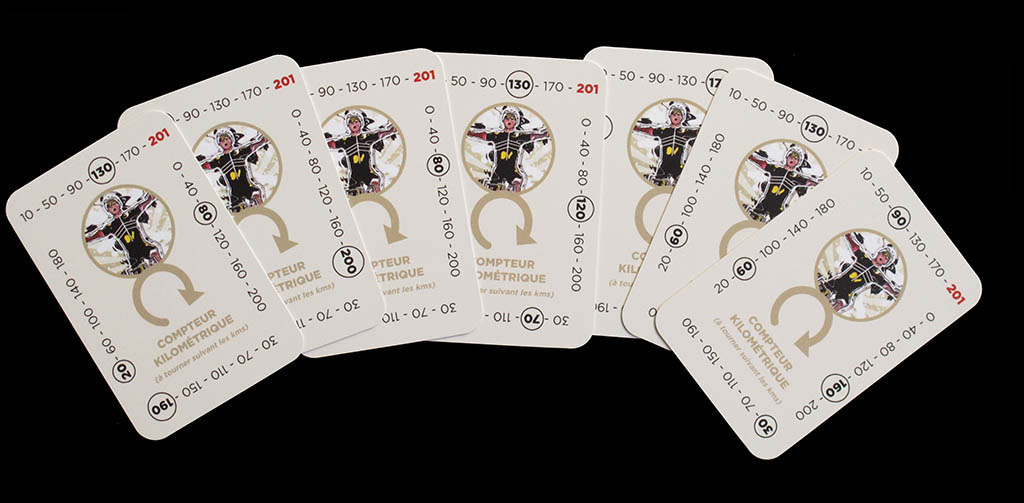 And then, of course, as with most non-professional games, there is the issue of uninviting rules writing. As you can read the rules by yourselves on the games' website (as long as you read French, of course), you can judge by yourselves. All I can say is that I tried to read them three times and three times I got tired of reading without reaching the end. Which is a pity because there are some interesting things that I liked in the rules. Of course, the fact that I was not going to play immediately played a part in me not finishing to read the rules, but I am supposed to be a fairly expert game rules reader.

One thing I am not sure of about these rules is if the game ever ends. I mean, the race is supposed to be 201 Kms long. These 10K cards are those that, when played, advance the race by 10K (or minus 10K in some cases). It is not mentioned in the rules but I suppose that when you have exhausted the deck you will have reached the end of the race. However, there are only 20 such cards (of which two may double the distance to 20 Km) and three minus 10K. I do not see how you are going to reach the 201 Km mark in most cases. Of course, if I had read the full rules and played the game a couple of times maybe I would understand it.

By the way, there are rules for solo playing among the extra game modes in the website. I was tempted to try them, but then I am afraid you would still be waiting for this review.

An interesting feature of the rules is that it is possible that no one wins the game. Players may be forced to abandon the race, but even then they are not out of the game. From that moment on they play against the surviving riders, they try to make things difficult for them.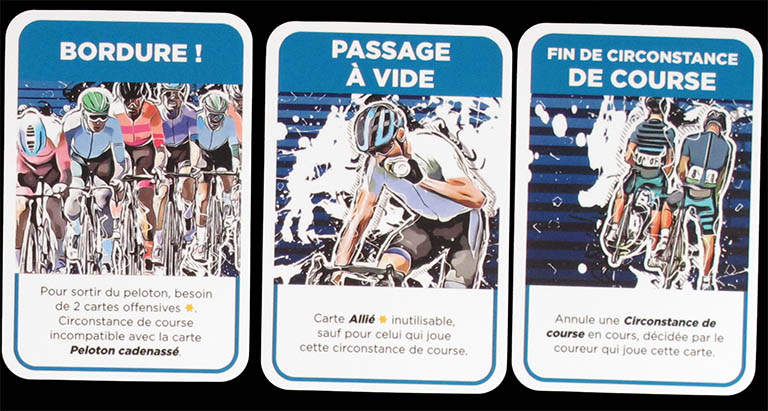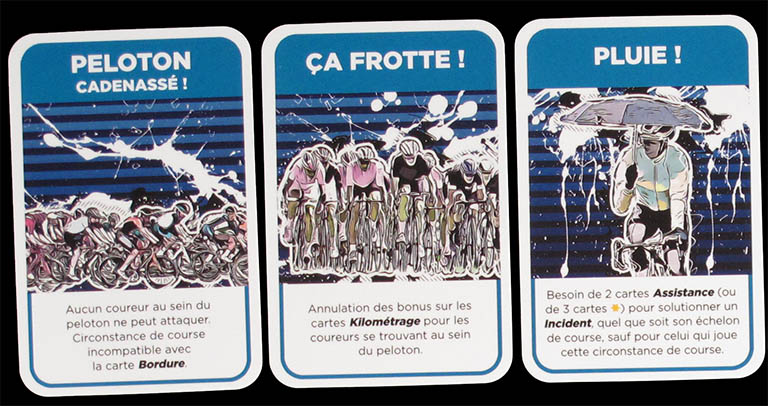 In the end I feel a little guilty for not having given this game a real chance. Next time I go on a weekend with a few people who enjoy cycling games, this is one of the games I might take. It is small and, as I said above, the cards are sturdy. It is a game you can even take when you go camping.

Proud to be made in Bretagne.
By the way, Agence Artifice also works for the Arkea Samsik cycling team.
UPDATE 2022:

A new version of the game called LA COURSE VTT XCO has been released. I cannot say much more about it except, of course, that it represents a VTT race.
Click here to check the game's official website.
Thanks Didier & François for the tip that allowed me to buy this game.
Description written in August 2021.
| | | | | |
| --- | --- | --- | --- | --- |
| | | | | |
| INDEX (MAIN) | ALL THE GAMES | ALPHABETICAL | CATEGORIES | WHAT'S NEW |