LES AS DU TOUR
François Allaigre / Neurovia, France, 2023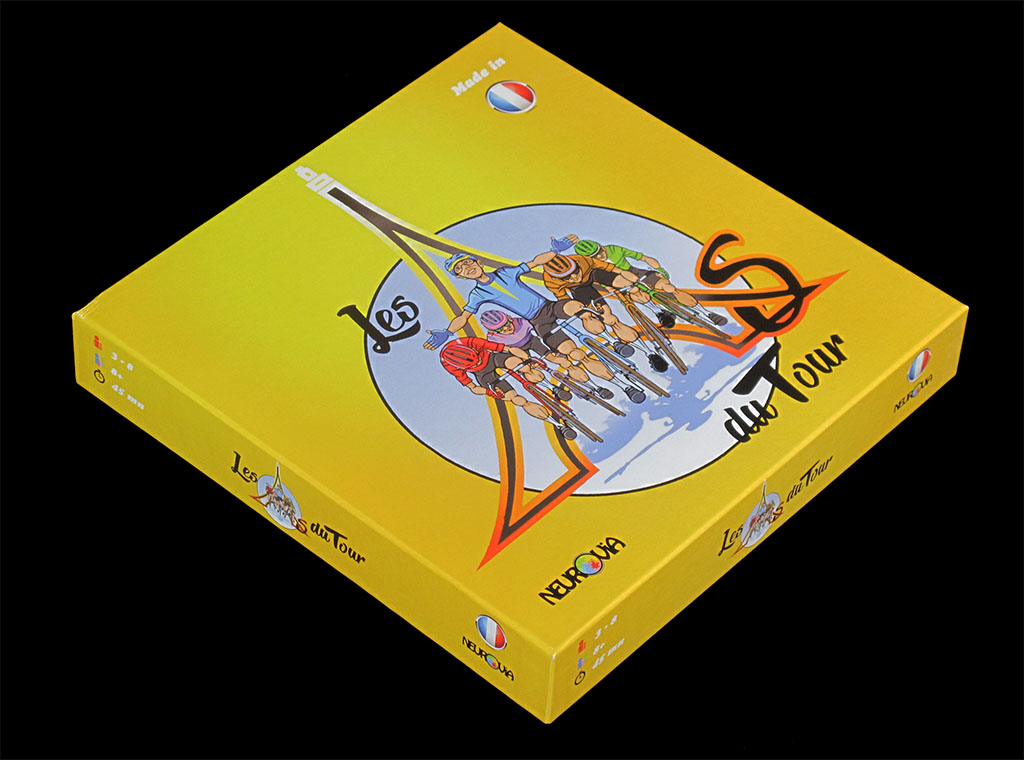 Here is yet another new game with which you can play either a one-day race or a longer stage race. It therefore falls under the "long stage race games" category. As you may have noticed, I tend to discuss less and less the rules of this type of games, unless they are unavailable online, and I tend to focus on the particularities of the game. In this case, the rules can be found here, though it is not the game's official page, which, I am sorry to say, is quite underdeveloped.



As you can see, the race track is modular. It is assembled with elements that represent different types of terrain (in case you wonder: green is flat terrain, red is uphill, and blue is for sprint sections). This game includes 75 track elements with which you can have endless stage variations. I guess you could have endless variations with fewer elements, but it never hurts to have a lot of them. Myself, I sometimes buy two copies of games with modular tracks, just to make sure I will have extra tracks if needed. With this game, I do not think I will need a second copy.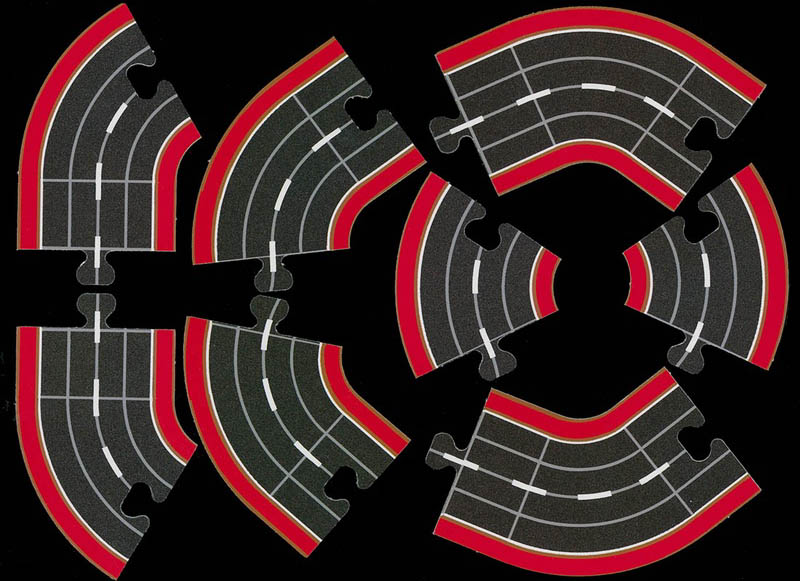 Different, and quite subtle, variations of the curves. Eight different curves, each in three different colours.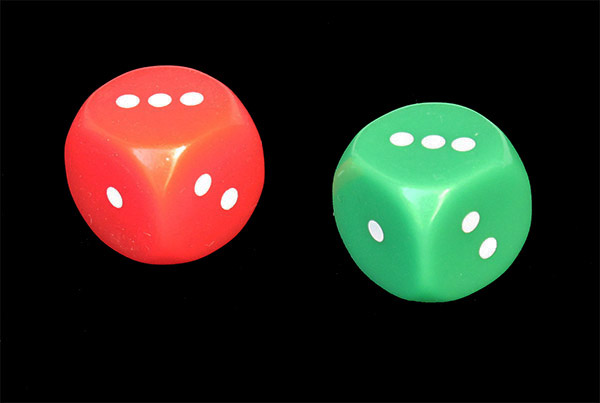 A distinctive feature of this game is the pair of coloured dice. While the green die (used on flat terrain and sprint sections) is a regular D6, the red die (used on uphill sections) has three custom faces.

The game includes 24 riders, divided into 8 teams of 3 specialist riders. Therefore, up to 8 players can take part in the game. The riders in each team are distinguished by the background colour of their numbers (green for rouleurs, red for climbers, and blue for sprinters, matching the colours of the road segments). Just by the number of riders and game tracks, this game is a good option for game developers to consider. I mean, you could buy it regardless of the rules.

But, of course, this game has rules, the most distinctive of which is that the movement of the riders is based on the concept of peloton. Most of the time, most riders move together. That is why the game includes metacrylate bases on which up to four riders can be placed. I am not sure I like those, however. As you can see in (most of) the pictures below, I am not using them.
Start of the race. Notice the riders are placed on their metacrylate bases.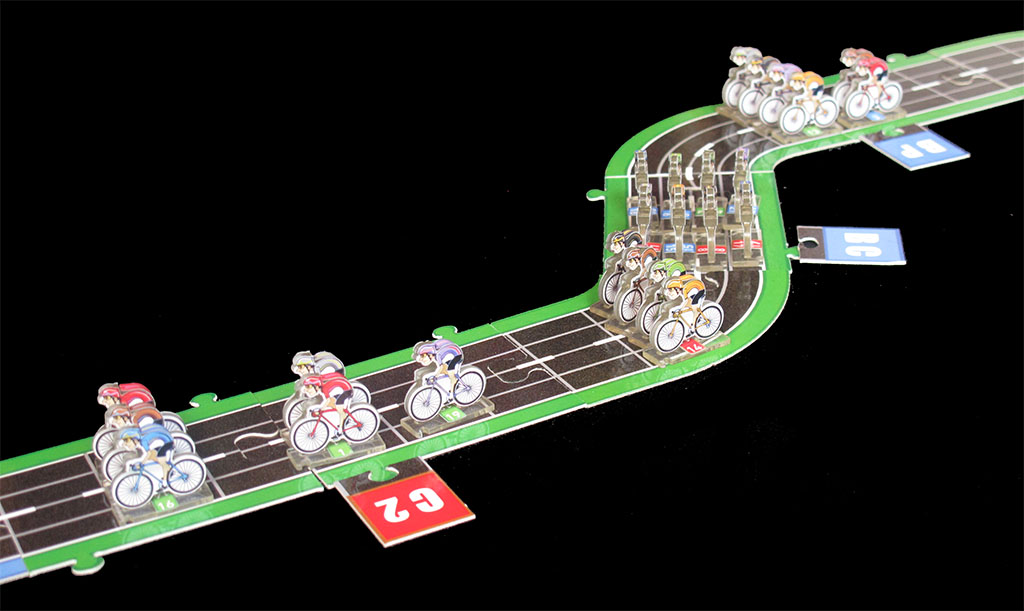 Mid-race. Notice the riders are NOT placed on their metacrylate bases anymore.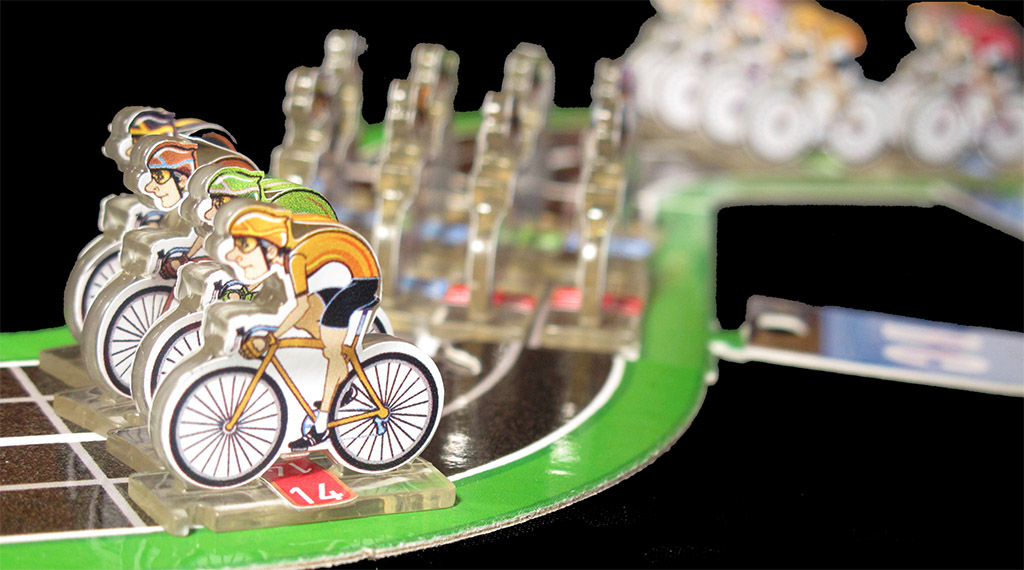 Whether placed on their bases or not, the riders are nice to photograph, though they are smaller than you would say by looking at the pictures. They just measure 25mm. The game box measures 26 x 26 x 4.5 cm, by the way, and the track measures whatever you want it to measure, of course, but you need a big table to assemble it.

Included in the box are scoresheets to keep track of the results in case you want to play a stage race.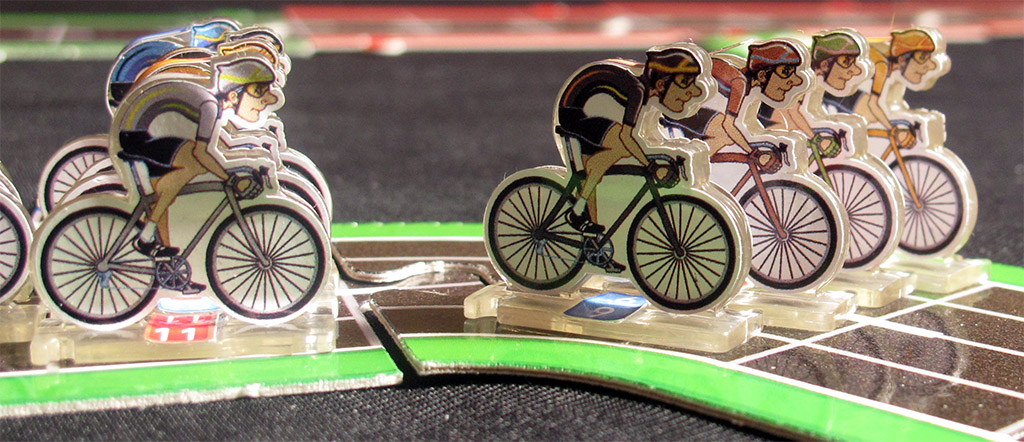 According to various websites (but, again, not on the official website, though I have no doubt that this information comes from the game author himself): "François Allaigre created this game when he was only 14 years old because disappointed by a game that his parents had given him, he couldn't find anything that allowed him to revive this race. He therefore invented a product that allows him to recreate the situations he could see on television (presence of a peloton, breakaways, race tactics... in short, everything that makes up Le Tour). For lack of time, the concept remained 'in a drawer' for several years. In 2017, he created the company Neurovia to develop the marketing of a game on memory, Starmaster and thus, having a legal structure suitable for the creation of other products associated with the passage of the Tour in 2022 in Saint Etienne, its place of residence, he considered the manufacture of the cycling game."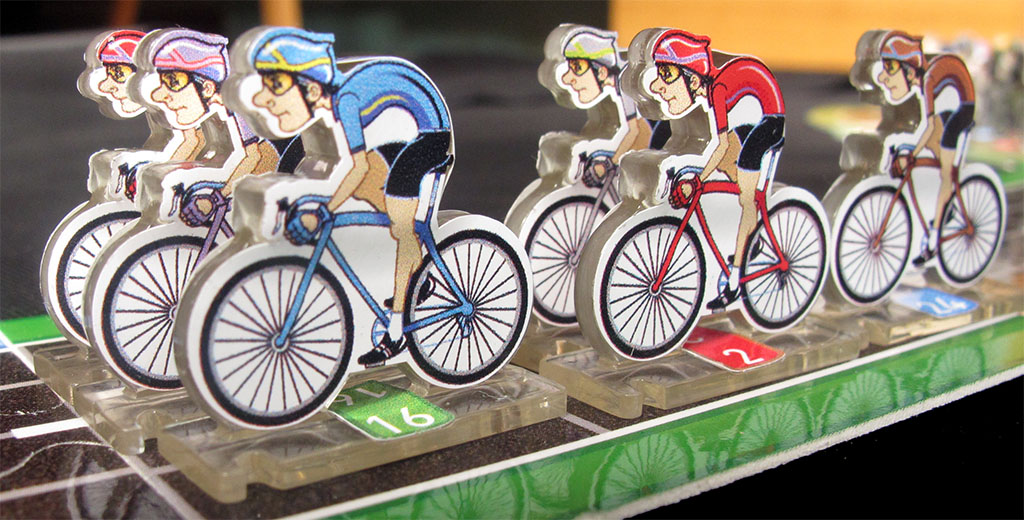 So all I can say is that this is another honest attempt to make a game that represents all aspects of a cycling race. Whether it is the best option, a good attempt, or just another attempt, is up to you to decide. I admit that I have not played the game, so I cannot really say if the only disctintive rule of the game (the concept of peloton as opposed to the movement of isolated riders) works smoothly enough. But you have enough elements to judge for yourself, don't you?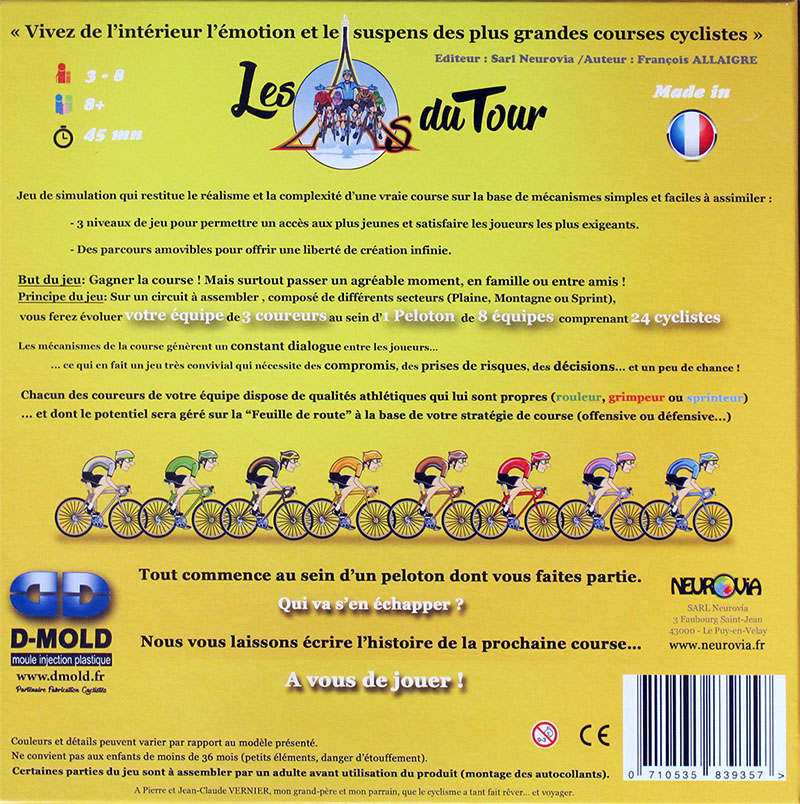 Back of the box
Thanks, François C., for this game
Description written in October 2023
| | | | | |
| --- | --- | --- | --- | --- |
| | | | | |
| INDEX (MAIN) | ALL THE GAMES | ALPHABETICAL | CATEGORIES | WHAT'S NEW |