LE TOUR, DE RONDE, IL GIRO, LA VUELTA
Belgium, early 70s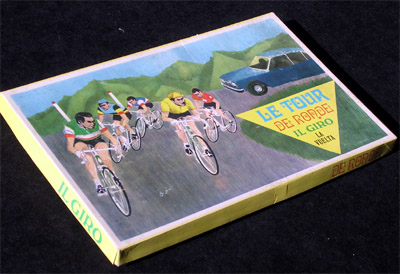 A beautiful multilingual simple dice game in which you make your own circuit. As the name of the game states, you are supposed to play a stage race. The game recommends running three stages (for which a layout is given), but is open to other configurations. Also the rules say that the game is prepared for four players, but less or more can take part in it. If more players were to play, extra riders could be bought. However, it would be difficult to find them nowadays, since they are not of the standard size (they are 3.3 cm long).

Note the cardboard mountain on the bottom right corner
In this game, the road has three lanes, and each rider in a team has to take a different lane, and stay in it during all the stage. The player decides in each turn which rider he moves, but there are certain lines during the race that cannot be crossed if the teammates are too far behind. There is an overall standings, a team standings plus a mountain standings). The rules do not say which classification is more important, so probably this simple game can have two winners.
You design your own circuit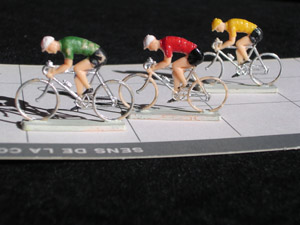 Nice small riders (and nice shadows too!)
| | | | | |
| --- | --- | --- | --- | --- |
| | | | | |
| INDEX (MAIN) | ALL THE GAMES | ALPHABETICAL | CATEGORIES | WHAT'S NEW |