CRITERIUM DE LA MÈRE PICON
Roger Jacquet / Fromageries PICON, France, ca. 1949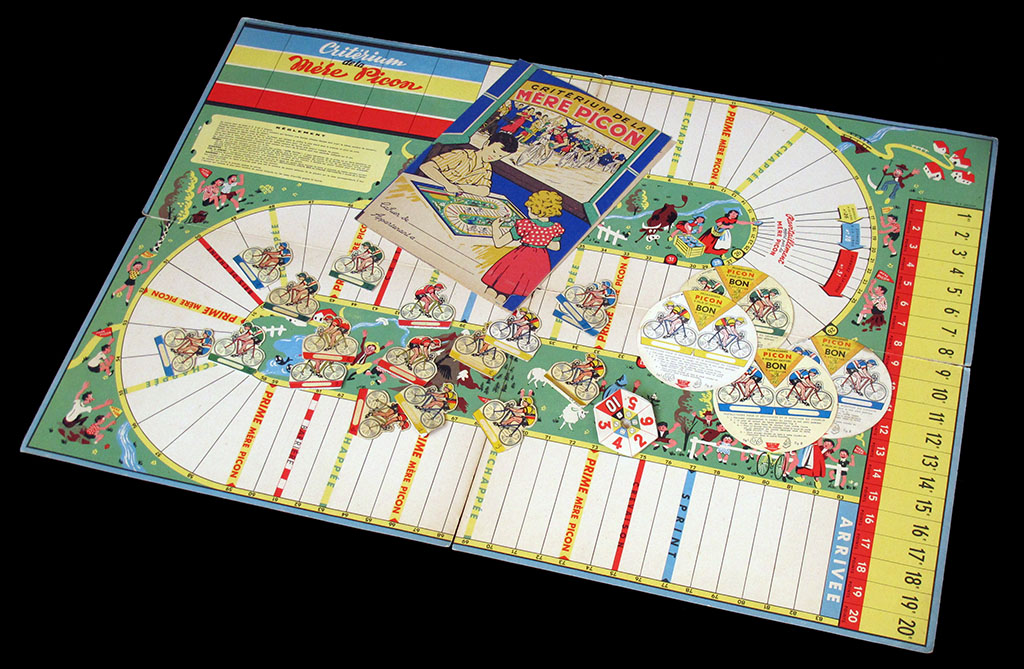 This fantastic game was a promotion for the "Mère Picon" cheese, made by Fromageries Picon, which were based in St Felix (Haute Savoie) and are now part of the Bel Group. Each cheese box included a cut-up rider and a bonus. If you sent 20 of these bonuses, you received the board. Therefore, this game did not have a box , but it is still fantastic. It made it to my favourite games list as soon as I had it in my hands.

Promotional games are rarely signed. In this case there is a small inscription on the board that reads "Imp. Générale - Grenoble - At. R. JACQUET" but I admit I did not pay much attention to it when I added the game to this site in 2008. The only thing that this inscription told me was that the game was printed in Grenoble, which is not too far from St Felix anyway. I did not know what "At. R. Jacquet" was (well, I could guess that "At." was for "atelier", workshop) and I did not research it. A couple of times in these years I have updated the information about the game, and still not worried about the author. However, a few weeks ago I received an email from the great granddaughter of the game's designer. She told me her family did not have a copy of the game, and asked me if I could scan the board for her. Of course, I was glad to do it, and of course I grabbed the opportunity to ask her about her great grandfather.

So now I know that the game was completely designed by her great grandfather, Roger Jacquet (1910-1976), who was an advertising designer in Grenoble, professor at the Beaux Arts de Grenoble, and had a workshop with three other designers in which he made posters, catalogs, leaflets, blotters... for, among others, Rossignol skis, the Café Genty, Le Dauphiné Libéré, La Mère Picon, Ouatose or Autocars Ricou.

Regarding the game, she told me that Mère Picon (who were quite involved in advertising goodies as card games or blotters) asked Jacquet to make a game inspired by the Criterium du Dauphiné, since the race (created in 1947 created by the newspaper Le Dauphiné Libéré) passed not far from the headquarters of La Mère Picon in Saint Félix (and arrived in Grenoble).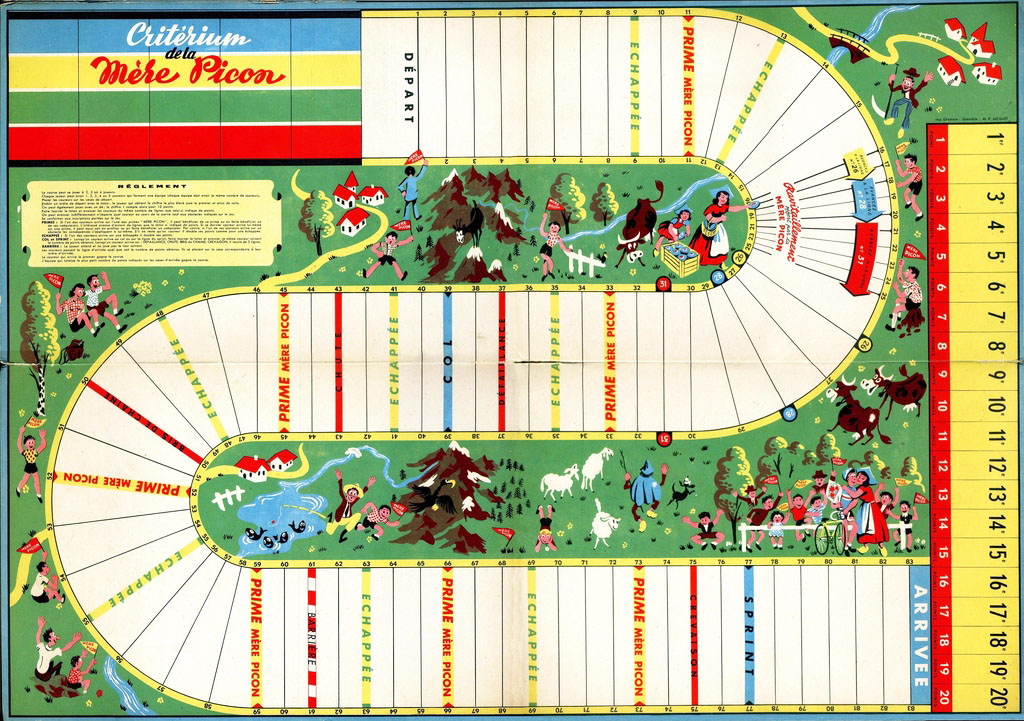 The board is quite big, it measures 74 x 51 cms, and folds in four. Game rules are printed on the board.

Jacquet's mention on the board.
This is a simple game aimed at young kids, so don't expect complicated rules. The game can be played either with the provided spinner or with a die (in which case you have to keep in mind that a "1" is worth "10"). You can have teams of 1 to 5 riders, but always the same number in every team. I guess this depends on how much cheese you eat: considering you needed twenty bonuses to get the board, you were expected to have at least twenty riders, but that doesn't mean you would have exactly four teams of five riders. Generally the distribution would not be that convenient, and you would need to eat more cheese or trade riders with fellow cheese-eaters.

The rules are quite simple, of course: A rider landing on "Echappée" doubles his move. A rider landing on "Prime" either doubles his move or moves another rider of the team the same number of points. These bonuses accumulate if this other moves takes you to another "Prime" or "Échappée" square. A rider landing on "Col" or "Sprint" has another throw. A rider landing on "Défaillance", "Chute", "Bris de Chaine" or "Crevaison" goes three squares back. Finally, a player one of whose riders lands on "Barriere" misses next turn.

However, this is not a simple roll-and-move game (provided we do not play with teams of one rider). There are choices to be made. A player decides which rider he shall move, and he has to consider the positions of all his riders respect to the race incidents and the bonus squares, specially if there is the possibility of landing on "Prime" fields. And of course a player has to consider the positions of the race if he is going for the team classification.

By the way, the last two sentences of the rules are quite contradictory: the winner of the race is the first to cross the line AND (???) the team with less points adding the final positions of all the riders. Unless you play with teams of one cyclist, you can chose what rule you prefer (my advice is to use the team rule), or even use both and possibly have two winners.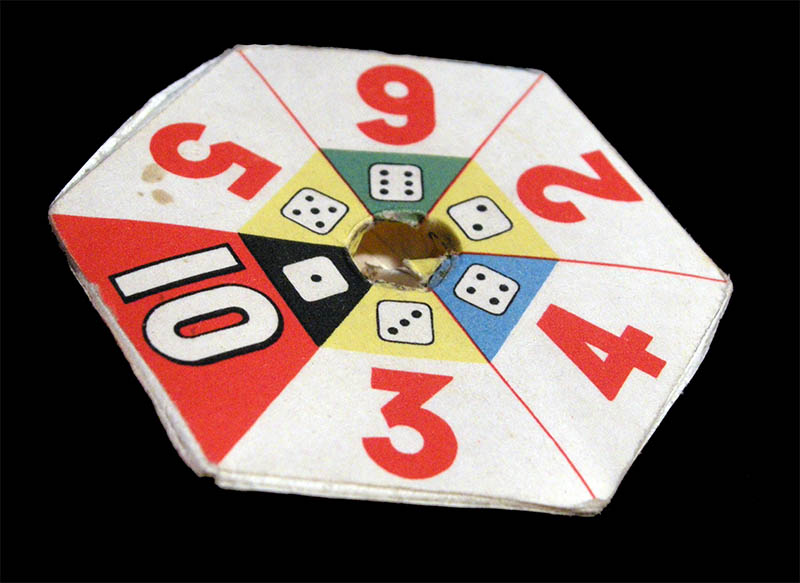 I am not sure whether the cut-up spinner was sent with the board. I suppose it was.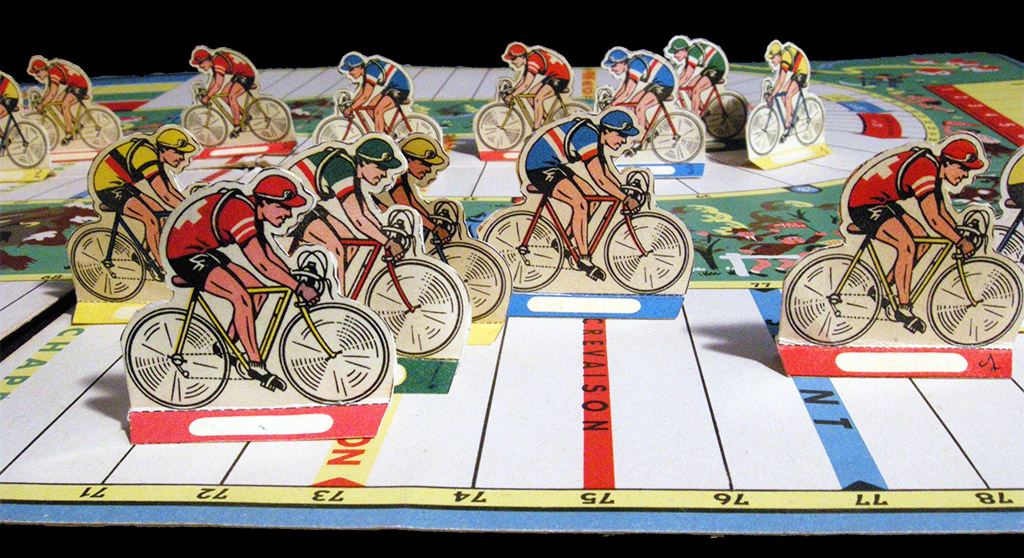 The riders are nice, and have a blank space to put the name of you favourite champions. The former owner of this set, though, preferred to write a number on some of them.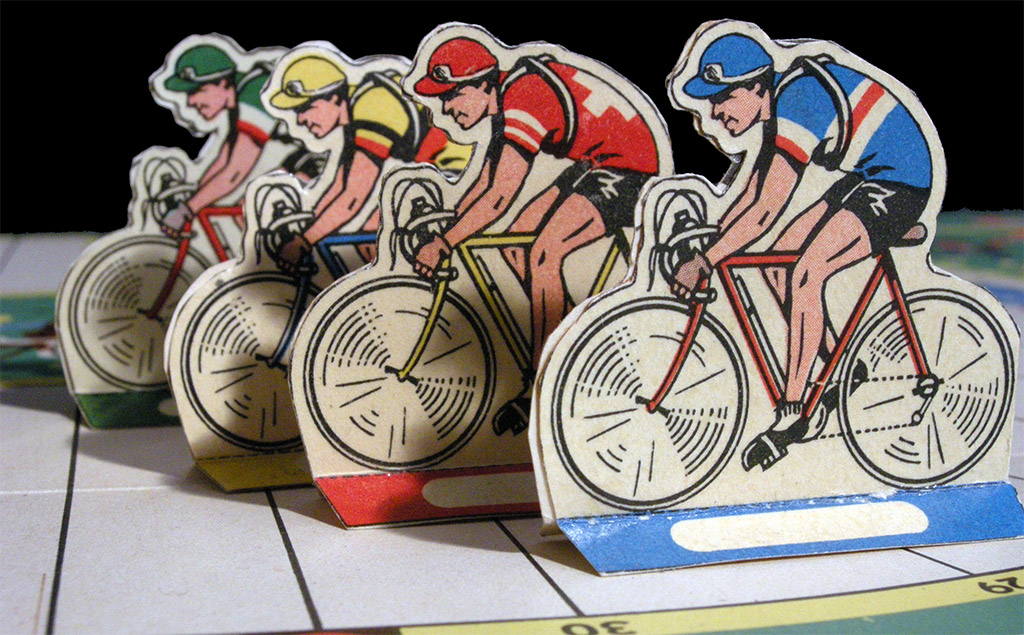 These are the four teams. In case you only want the riders, you will find a set ready to print and cut here (including a bonus set with alternative colours).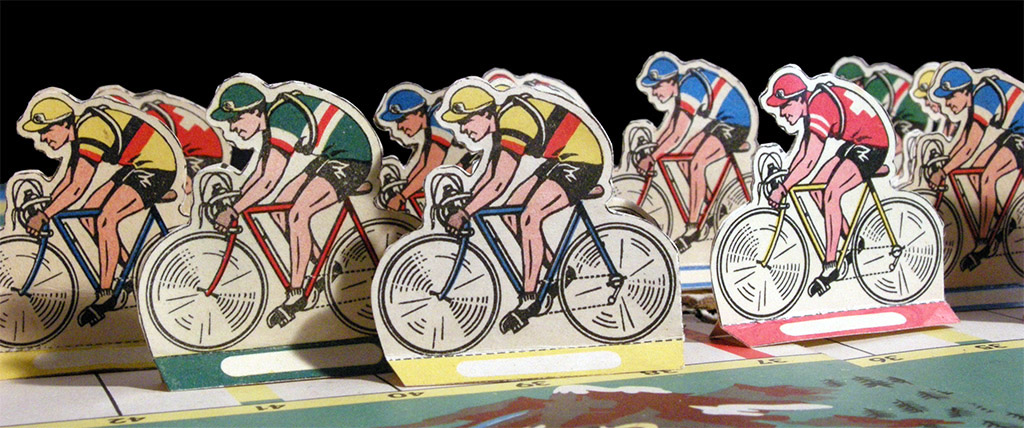 Riding in the peloton!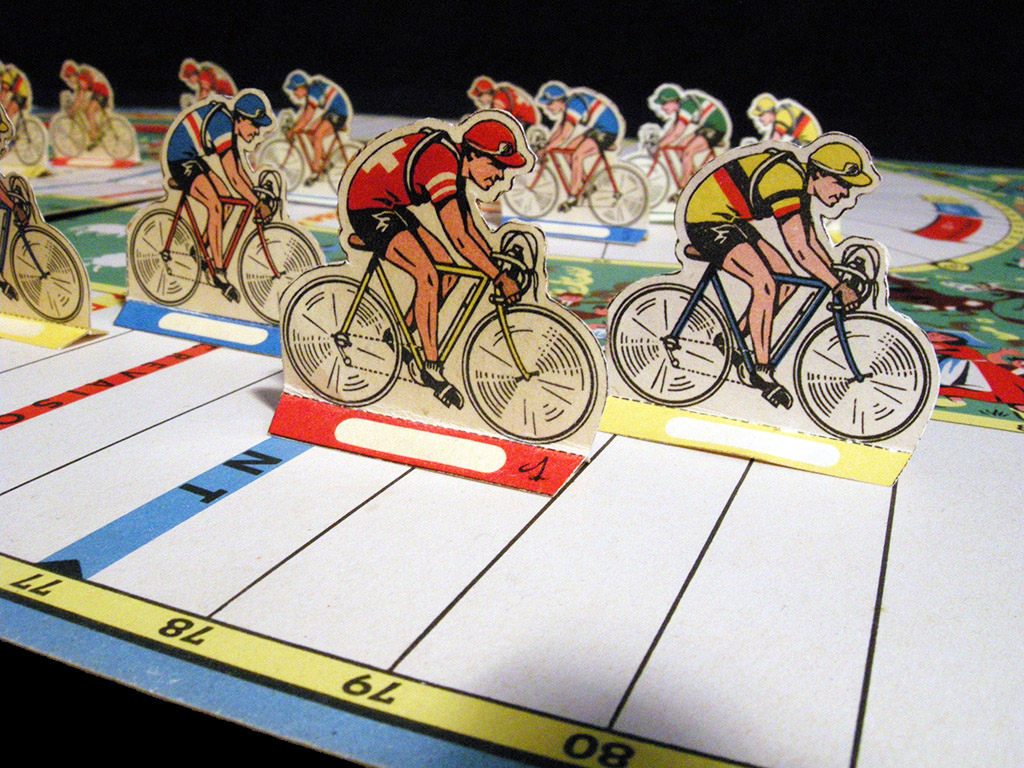 Curves!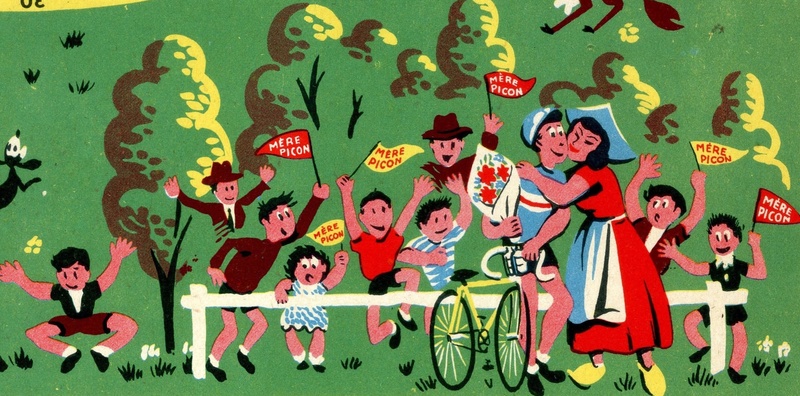 Cute illustrations. Everybody is happy in this game.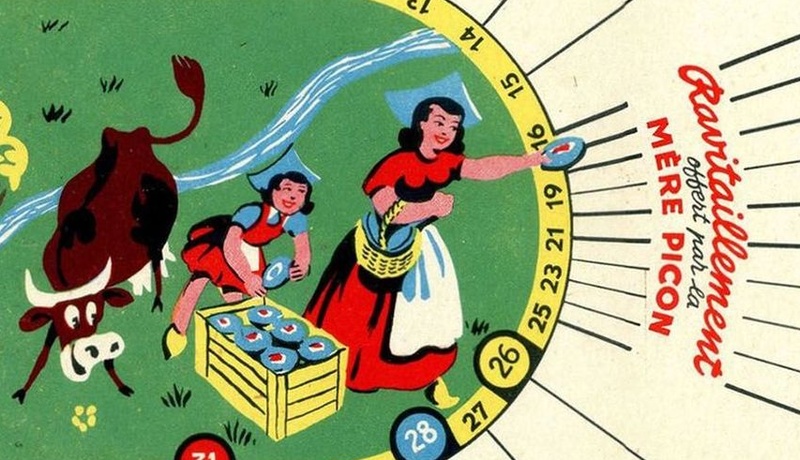 And of course the feeding is provided by Mère Picon.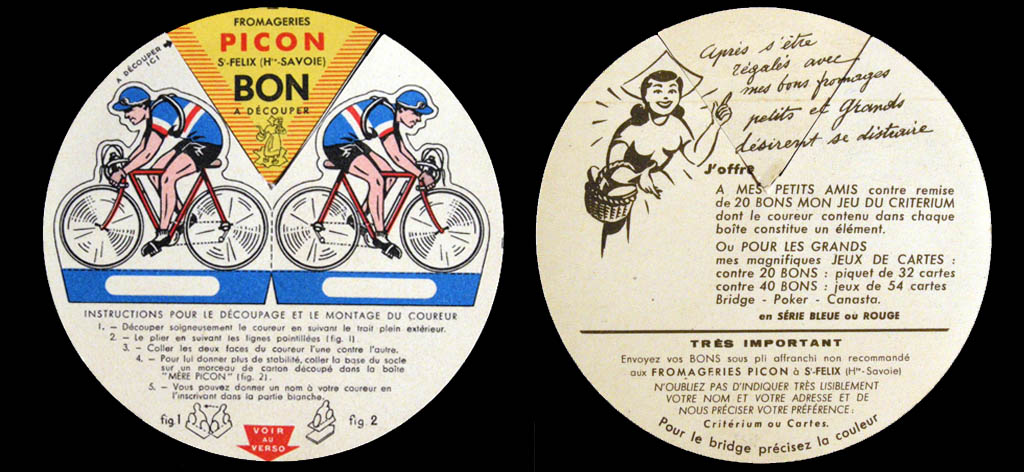 A rare uncut rider. The diameter of the circle is 10 cms. The riders are 47 mm long when assembled.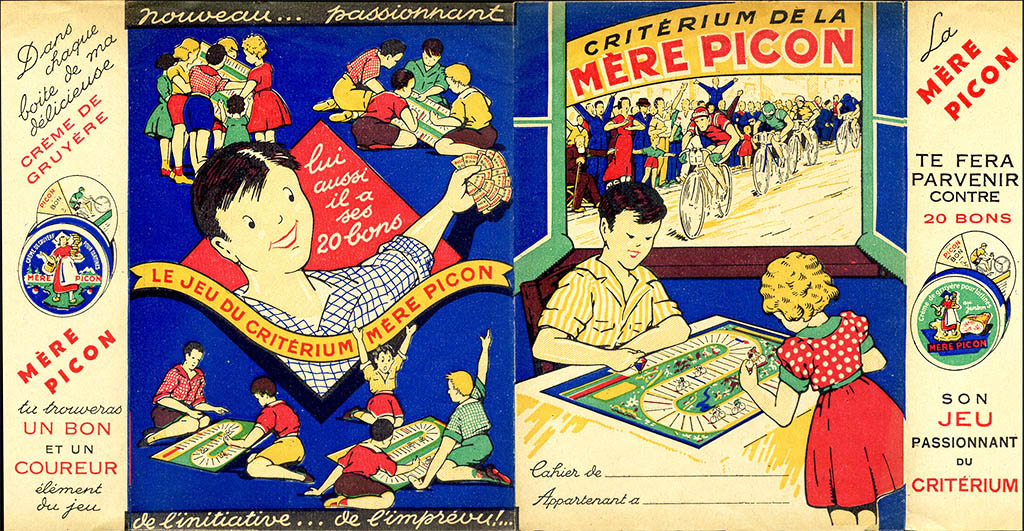 The first notice I had of the existence of this game was in this not-so-uncommon notebook cover. On the inner flaps there are two examples of the boxes in which you could find the riders.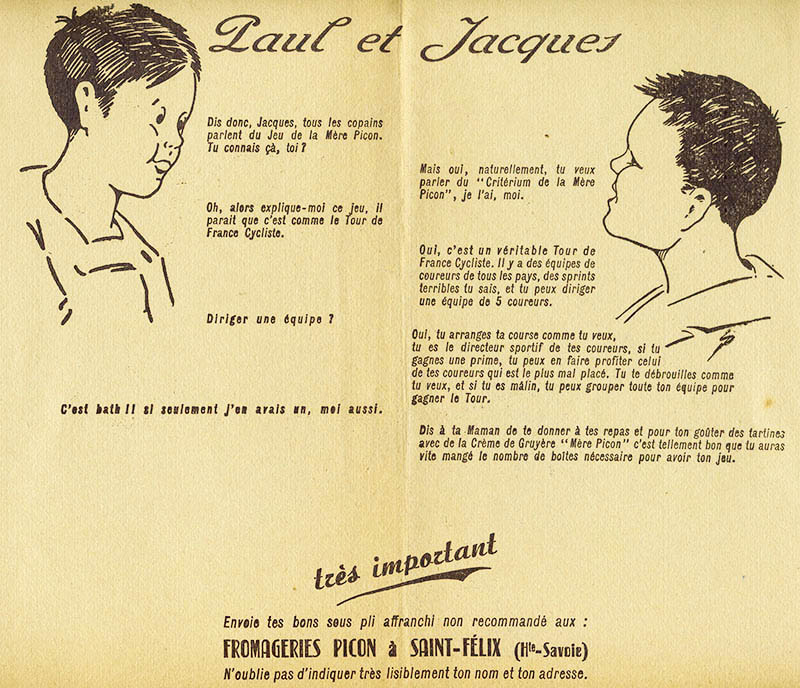 Inside the notebook cover we find a description of the game, which makes clear that we should play by the team classification rule.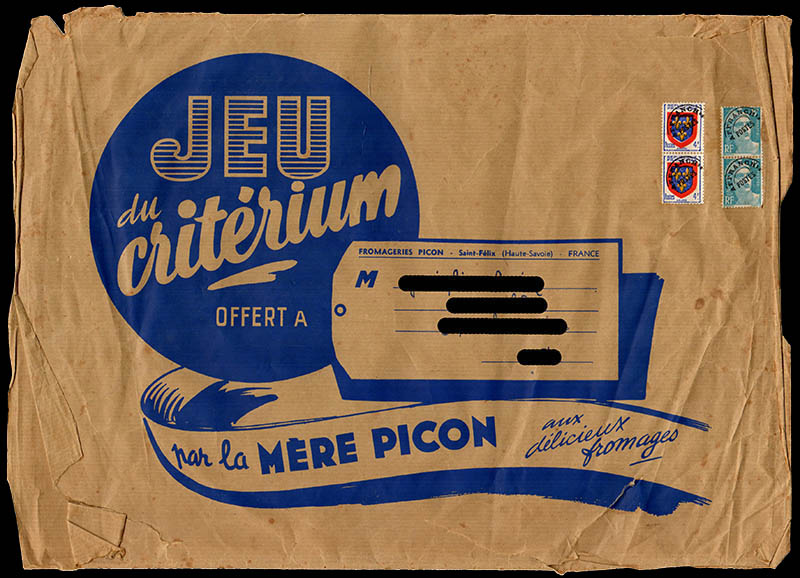 My friend Didier Maria has found a game in its original envelope, as it was sent to customers. He has been kind enough to send me some pictures. He told me that the pack included around 10 cyclists of each team, when according to the rules there is a maximum of 5 per team. The original owner was a real cheese lover!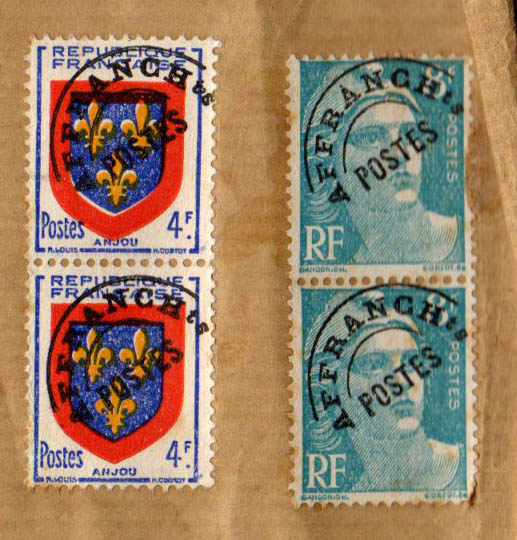 The stamps on the envelope are interesting since they help to date the game. I had previously written it was "from the 1950s", but maybe now I can be more precise. The Anjou coat of arms 4F stamp with the Anjou coat of arms is from 1949, and was available until 1951 (depending on which website you check. Some say it was withdrawn from sale in 1949). The Marianne de Gandon 8F stamp was sold between 1948 and 1954. Both stamps seem to have been sold mostly in the year 1949.

Of course, stamps can be used later -even much later- after they are bought, even after they are withdrawn from sale. In fact, stamps (and also bank notes) are supposed not to expire. However, I have changed my datation of the game and now I consider it was made "ca. 1949". (I was quite close, anyway).

By the way, Roger Jacquet's great granddaughter, in her email, said that the family thinks that the game was commissioned "in the early 50s", but that they are not really sure.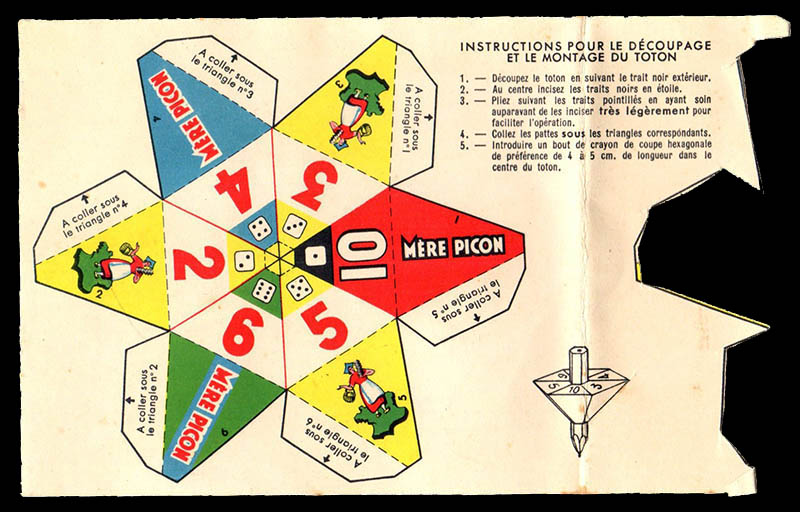 Didier's set also included an uncut spinner. Notice that a second spinner has been cut from the same sheet.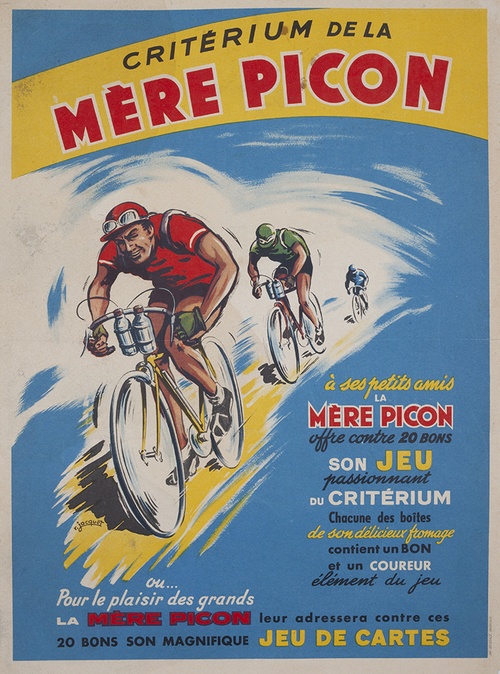 While I was researching this game I found this fantastic ad on the net.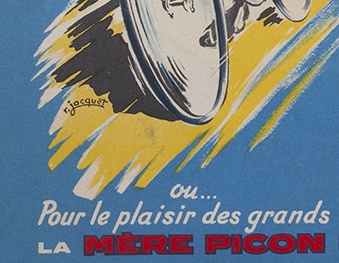 Signed by Roger Jacquet himself!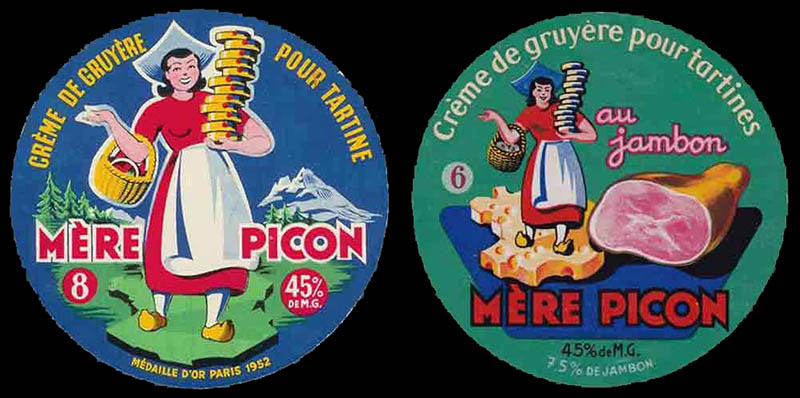 This is what the Mère Picon boxes featured on the notebook cover flaps looked like. (Of course, the one on the right did not contain cheese).
I have found these pictures at the fantastic Camembert Museum website.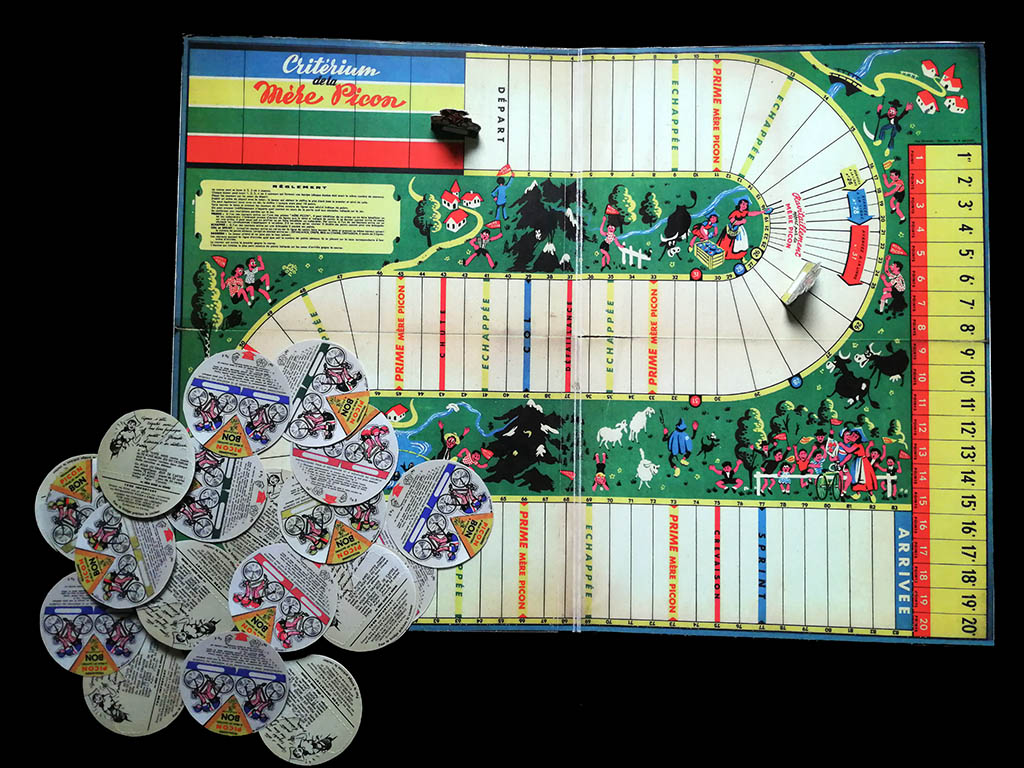 Roger Jacquet's great granddaughter made her own version of the game using the scans I sent her. She sent this picture and, as you can see, the result is quite good. We talked about it and decided that, since we had done the work, we should offer this game as a free download for you to make your own copy. Please send pictures if you do.

UPDATE 2022: Alberto Quintairos has sent his version of the game. He has renamed it "Mère Picon Women" and features women cyclists.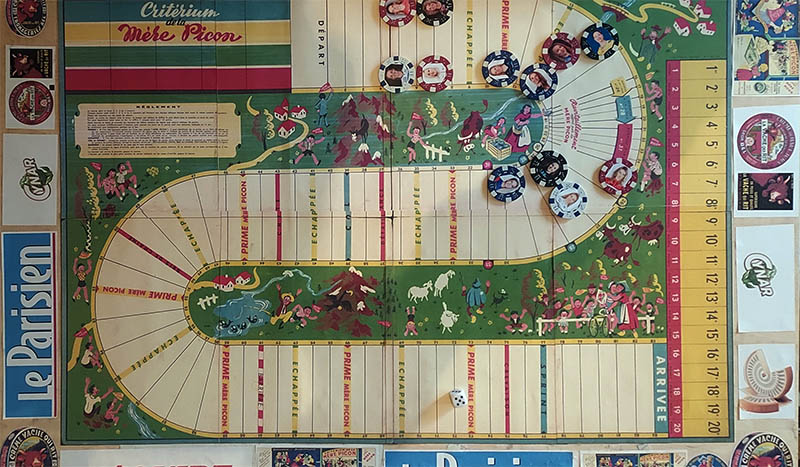 Click here to download the standard version of the game

(19 MB pdf file, 13 pages for A4 printers, board parts printed with some overlapping)
This version includes 40 cyclists: 4 original and 4 alternative teams.



Click here to download the DeLuxe version of the game

(17 MB pdf file, 5 pages for A3 printers, no overlapping)
This version includes scans of the original uncut riders and teetotum.
You will probably still want to download the riders from the standard version of the game.

Description rewritten in March 2021
| | | | | |
| --- | --- | --- | --- | --- |
| | | | | |
| INDEX (MAIN) | ALL THE GAMES | ALPHABETICAL | CATEGORIES | WHAT'S NEW |