THE NEW BICYCLE GAME
Parker Brothers, USA, 1894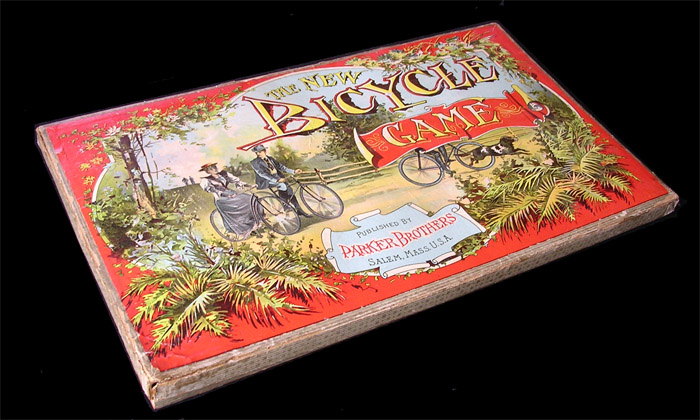 A XIXth Century game from Geert Lagrou's collection. It does not represent a professional cycling race, but of course this game is older than most cycling races. Cycling sport was very different back then. This said, the game tried to be different from its contemporaries, as is indicated by the "new" in the title or, by the fact that the rules state that "this game is different from others, principally in respect that it has quite a number of routes to the central point, and that each player's route is different from that of any oponent"

Notice the names...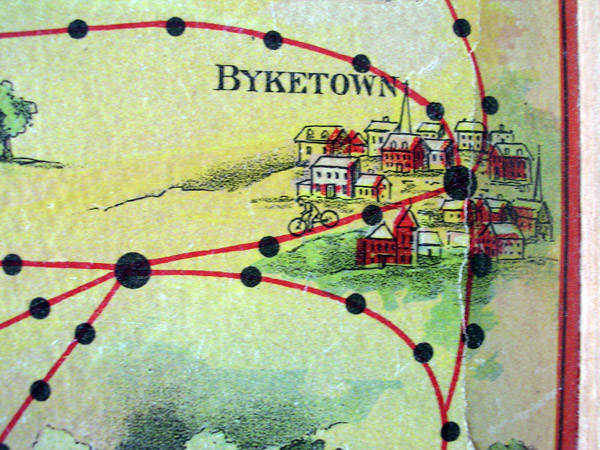 There should be at least four riders. Here are three of them. They are made of tin.

A spinner, instead of a die, was frequent in XIXth century games, specially if they were meant for children.

Unfortunately the cards were missing is Geert's game, but Stu Neyland has sent these:

Simple rules, of course
| | | | | |
| --- | --- | --- | --- | --- |
| | | | | |
| INDEX (MAIN) | ALL THE GAMES | ALPHABETICAL | CATEGORIES | WHAT'S NEW |