EINE DEUTSCHLANDFAHRT AUF PHÄNOMEN FAHRRÄDERN
Phänomen, Germany, 1938
This is promotional game for the 50th anniversary of Phänomen, who produced bikes (and eventually motorbikes) since 1888. Besides, by the German map it is immediately obvious to anyone who knows Gerrman history that the game was made in 1938. The Anschluss (the annexation of Austria into Nazi Germany on 12 March 1938) is already reflected on this map, but the Sudettenland annexation (which was on 21 October 1938) is not.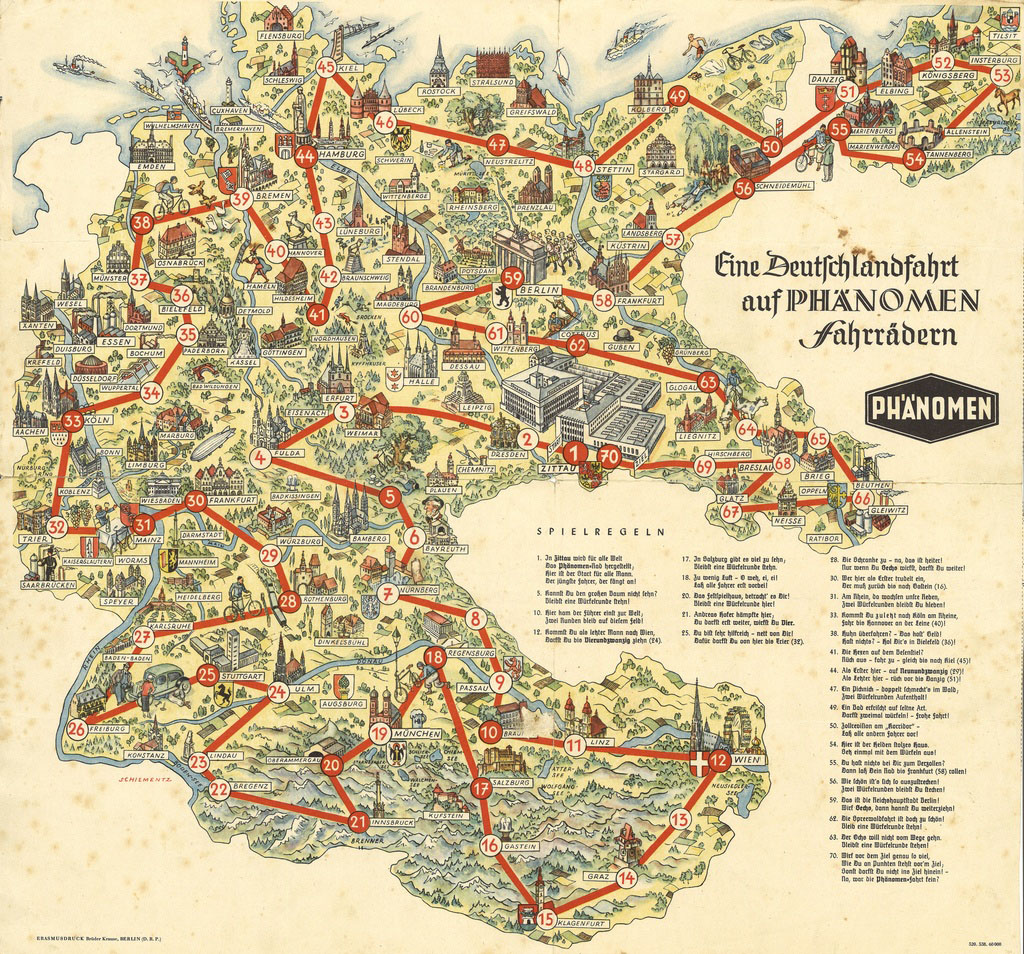 This board (I mean, as depicted here) measures 50 x 47 cms. However, the original measured 55 x 47 cms (approximately) since it included the cut-up riders which unfortunately I only have as scans (see below)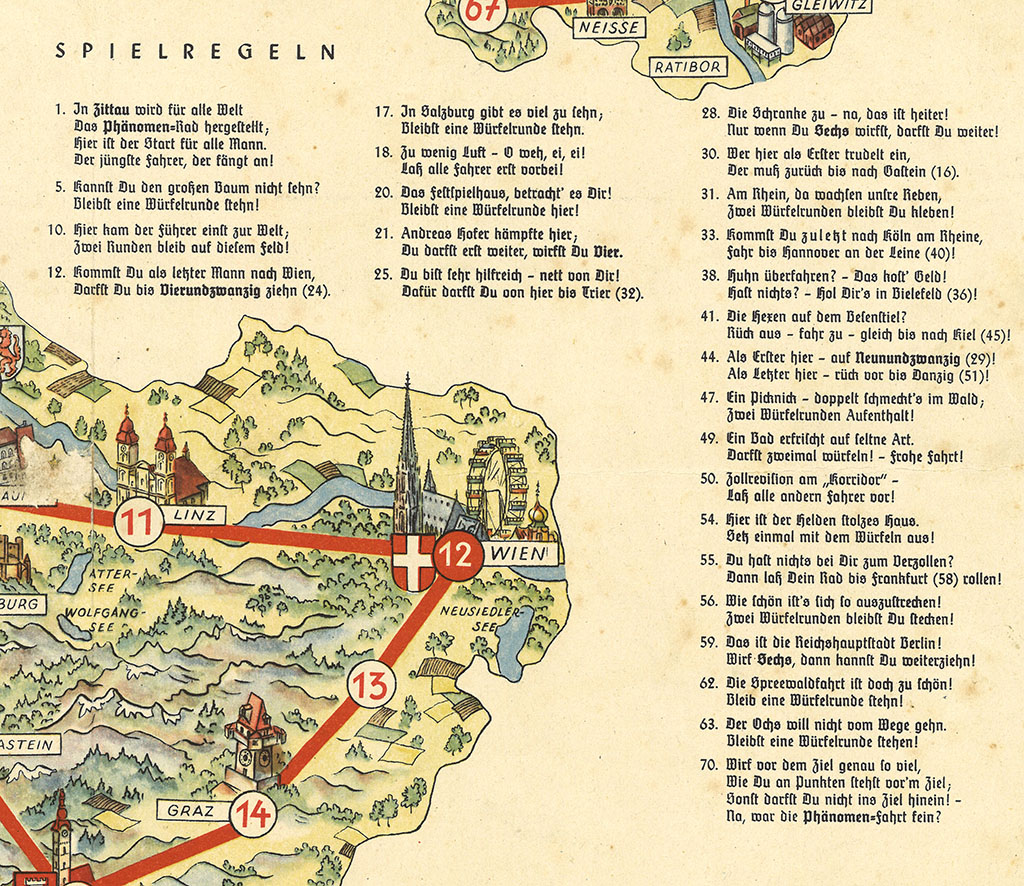 Notice that these are rhyming rules. However, I am not going to make a literary analysis. My german is not good enough.




The race starts and ends at the Phänomen factory in Zittau.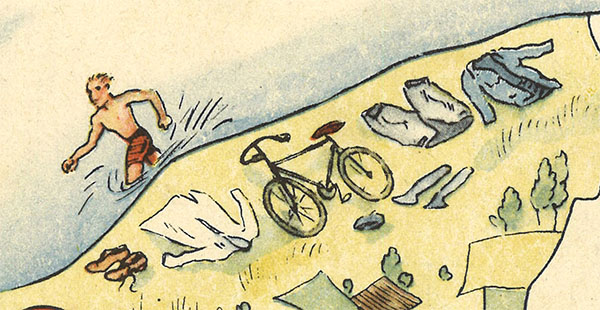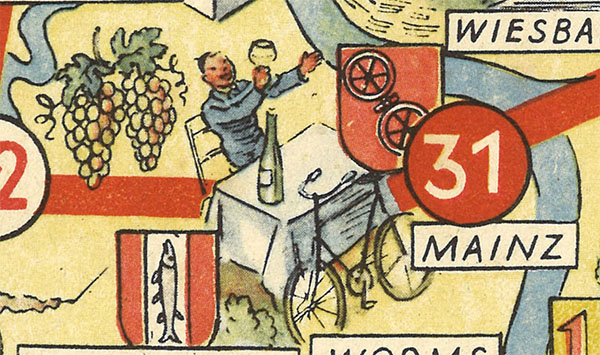 Of course, the good life that one can enjoy with a Phänomen bike is emphasized.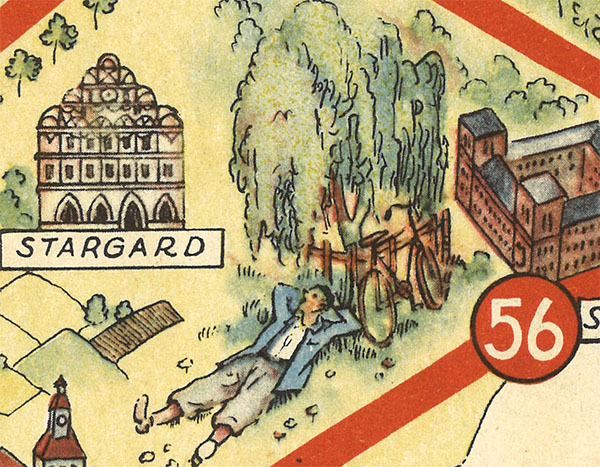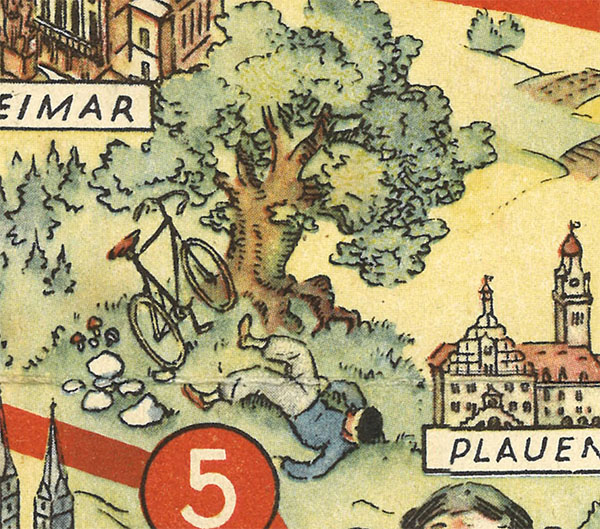 Maybe too good?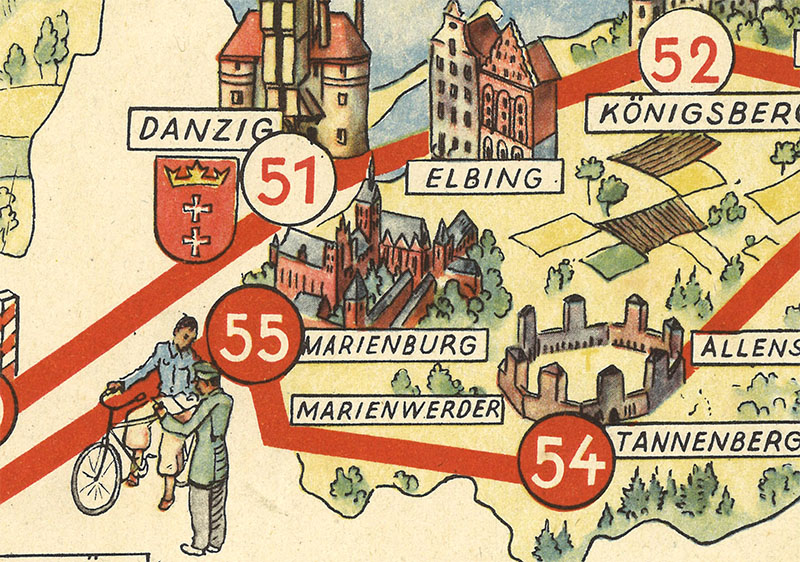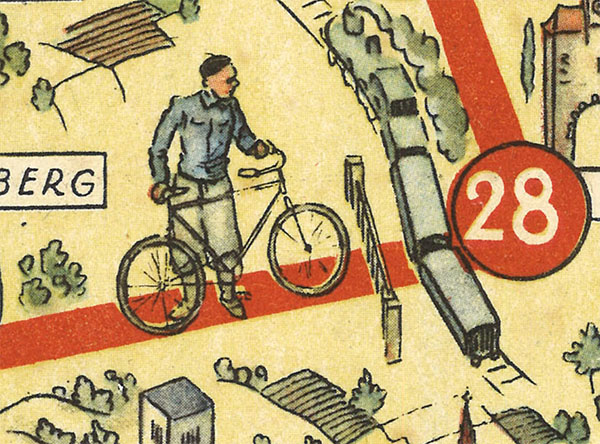 Of course, not everything is always good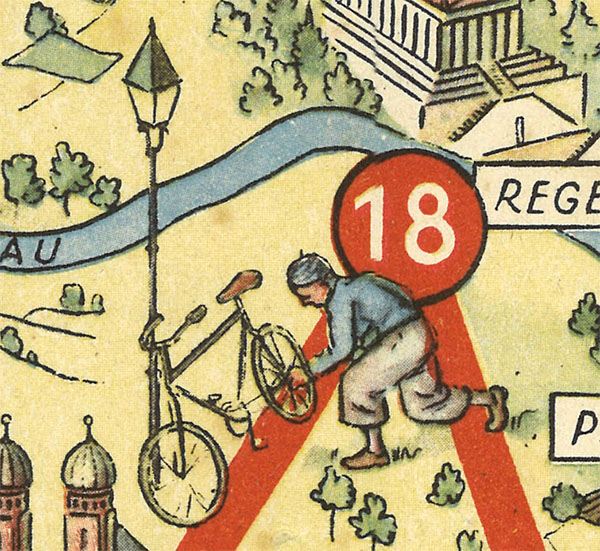 Sometimes you may even puncture...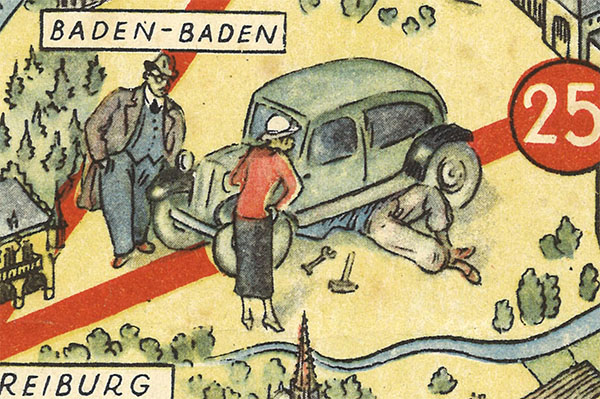 ...but it is always better than having a car breakdown.

Although the Phänomen factory was in Zittau, the game was printed in Berlin.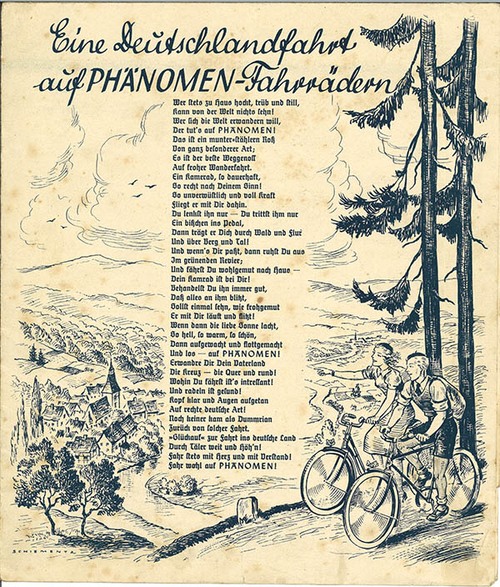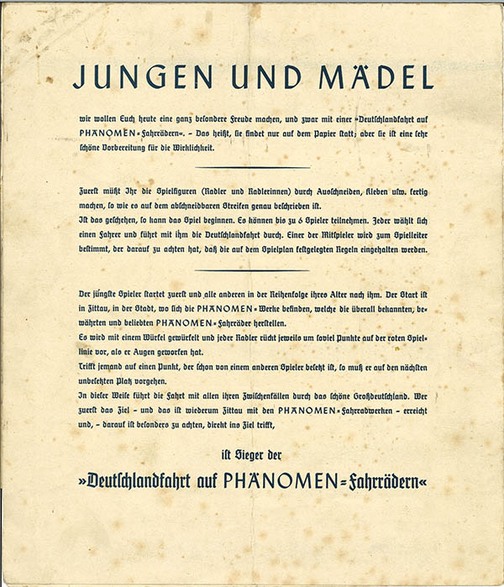 Back of the board (1), with a new poem on the left.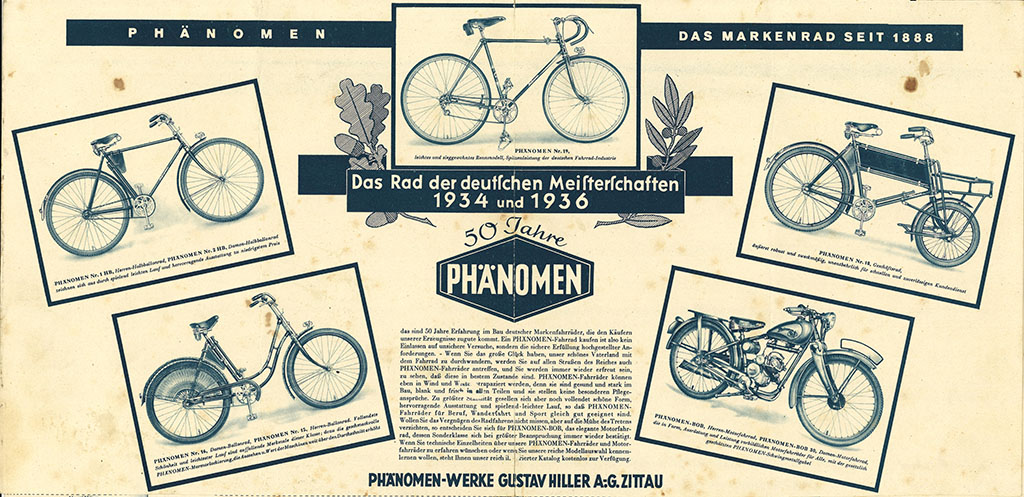 The back of the board (2), including the two times German-championship-winning bike
Cut-up riders. Unfortunately they had already been cut from my board. Forrtunately I have a high resolution scan.

Assemby instructions are printed on the back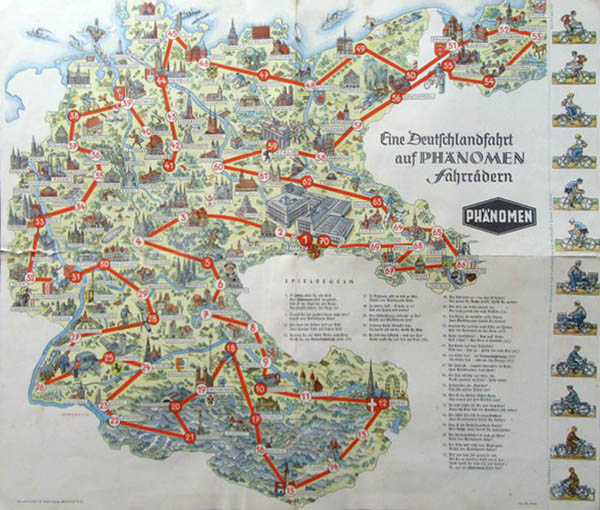 This is what the complete game looks like
Thanks Laisvidas for the tip!



UPDATE February 2019

Marc Radenac reminds me that Phänomen sponsored a cycling team in the 1930s/40s. As far as I know the team was active from 1934 to 1943. Here is the 1938 team maillot (adapted from the Memoire du Cyclisme website)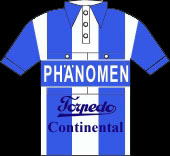 | | | | | |
| --- | --- | --- | --- | --- |
| | | | | |
| INDEX (MAIN) | ALL THE GAMES | ALPHABETICAL | CATEGORIES | WHAT'S NEW |