RAD-FAHR SPIEL
Otto Maier Verlag, Ravenburg, Germany, 1979
This is a 75th anniversary reissue of 1904's "Neues Lustiges Rad-Fahr Spiel von Julius Beck". I must admit that when I received it I doubted whether there really was a 1904 original game or it was just a retro looking modern game. Since Erwin Glonnegger pictures it in p.73 of "Das Spiele-Book" (the bibliography is somewhere else in this site), I assume the game really existed. Nevertheless, the game pictured in the book is the modern version. I wish someone could send a picture of the 1904 version.

A normal and a special die.
This reissue goes so far as to include fake metal coins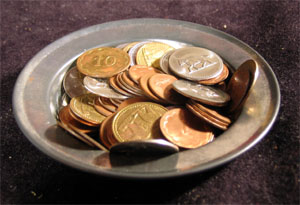 | | | | | |
| --- | --- | --- | --- | --- |
| | | | | |
| INDEX (MAIN) | ALL THE GAMES | ALPHABETICAL | CATEGORIES | WHAT'S NEW |