DA UNHA VOLTA POLAS RIAS BAIXAS!
Carlos J. Martínez Muñoz/Deputación Pontevedra ,Spain, 2013
Promotional game of goose given to kids during the Vuelta a España 2013. It is a promotion by the Deputación de Pontevedra to attract tourists to the Rias Baixas area, which is where the Vuelta 2013 started. The game was given only to kids, so I had to beg and cry and act like a kid to get a copy... and I only got one!

The title of the game is my interpretation. I could have decided that the name of the game was "La Vuelta 2013 Rias Baixas-Madrid" as well. By the way, the title and the rules of the game are bilingual, in Galician and Spanish. I have chosen the Galician title.
Notice that the cut-away dice does not have the normal side configuration: the opposite sides do not add seven.
The Rias Baixas start.
I got my game in Tarazona, where I watched the time-trial stage.
The Catalan stages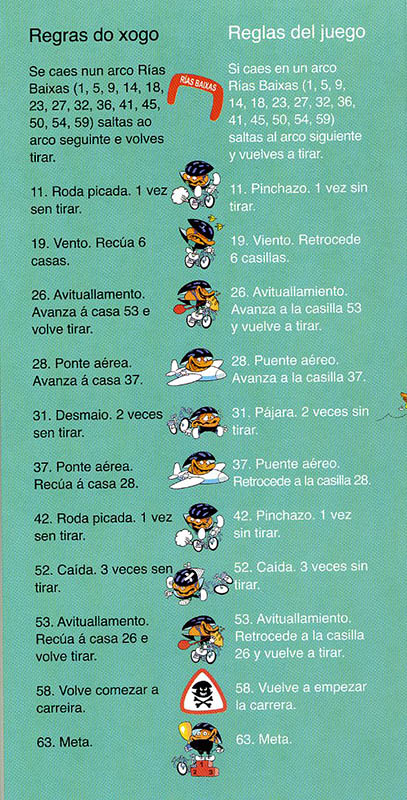 Bilingual rules
A life-sized version of the game was set up for kids to play at the end of the Vuelta stages.
(Btw, none of these kids is mine, that's why I have blurred the faces)
| | | | | |
| --- | --- | --- | --- | --- |
| | | | | |
| INDEX (MAIN) | ALL THE GAMES | ALPHABETICAL | CATEGORIES | WHAT'S NEW |