ROAD RACE
Cycle Accessories, Sacramento, USA, 1983
American road cycling game. Amateurish-looking, but of course bicycle racing was an amateur sport in the States back then, despite of Greg Lemond (and still is today, despite of Lance Armstrong).

The cloath board does not help the (roughly made) riders' stability, but gives the game a distinctive look.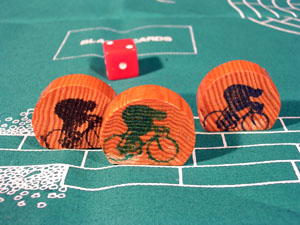 The drawings on the chance cards are nice, funny, and give the game an amateur race flavor.
| | | | | |
| --- | --- | --- | --- | --- |
| | | | | |
| INDEX (MAIN) | ALL THE GAMES | ALPHABETICAL | CATEGORIES | WHAT'S NEW |