DE RONDE VAN VLAANDEREN
Kurt Wellens / Flandersclassics / Sporza, Belgium, 2020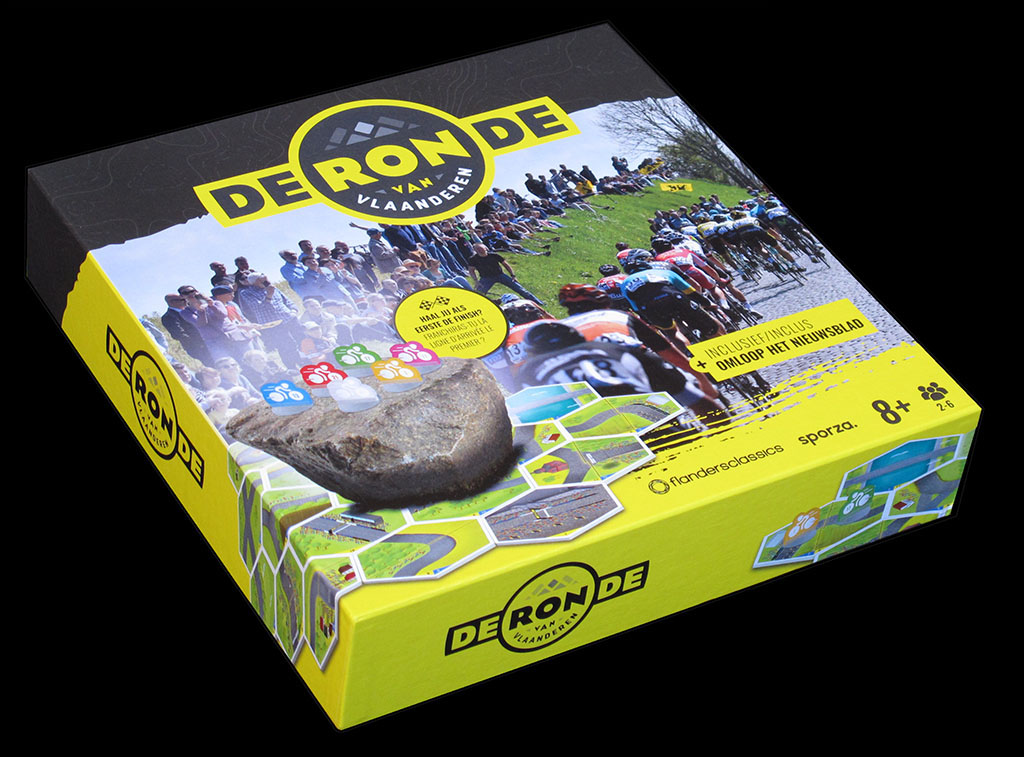 This is an example of a game released at the wrong time. This game, produced by Flanders Classics and Sporza and presented in a sturdy box measuring 30 x 30 x 6 cms, represents a race (two races, actually) that has been cancelled (or maybe not?) due to the coronavirus pandemic.

Of course it is not their fault and, since this game does not represent any particular edition of the race, it will be equally enjoyable next year, and is probably even more enjoyable now that we are all confined at home. Still the release timing has been, to say the least, unfortunate.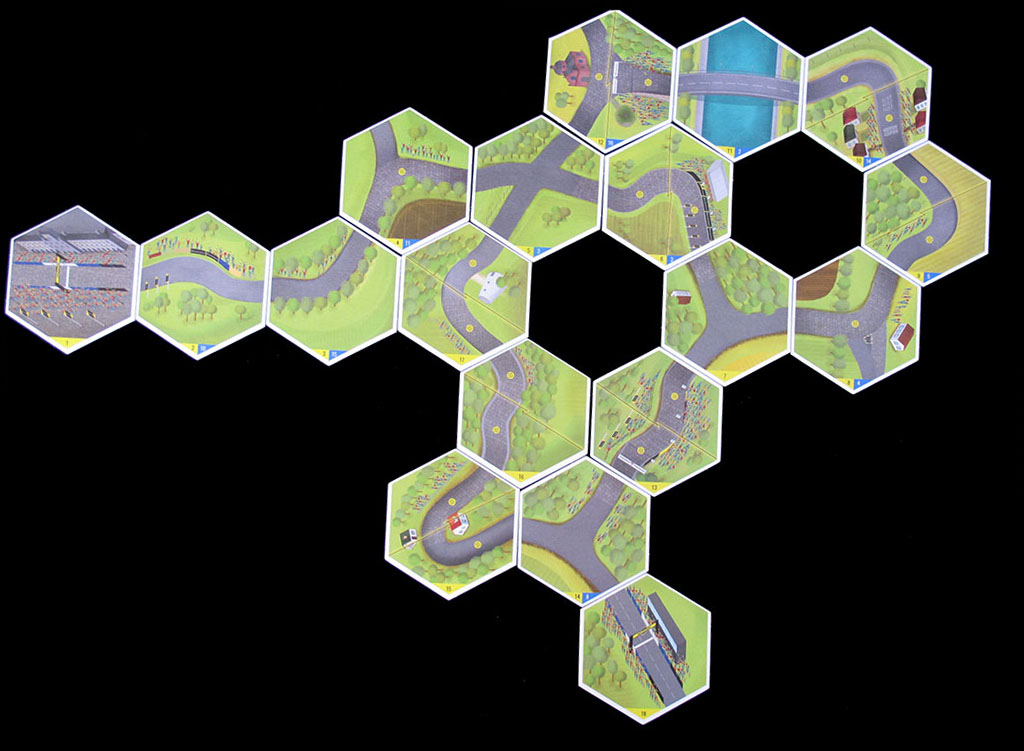 This game offers a modular board that, though Flanders-flavoured, might represent ANY one-day race. There are 26 road tiles, some of which represent two squares (supposed to be climbs) and some represent crossroads. It can get confusing as the path to be taken is not always obvious.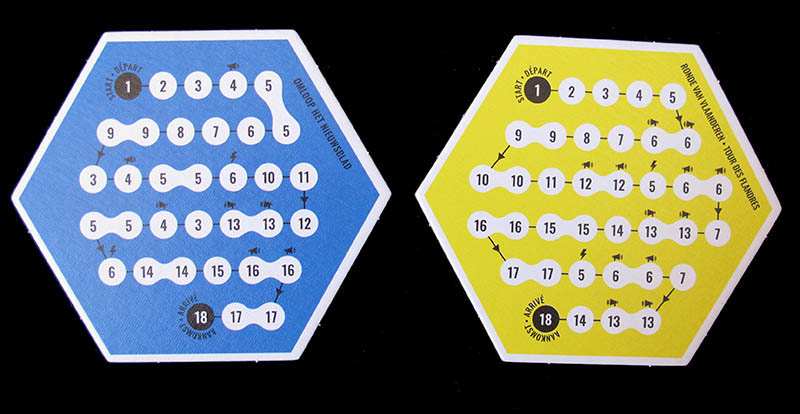 Fortunately the game includes a couple of tiles with race configurations for the Tour Of Flanders and Omloop Het Nieuwsblad (both races are organised by Flanders Classics). The configuration on the picture above is that of the Tour of Flanders.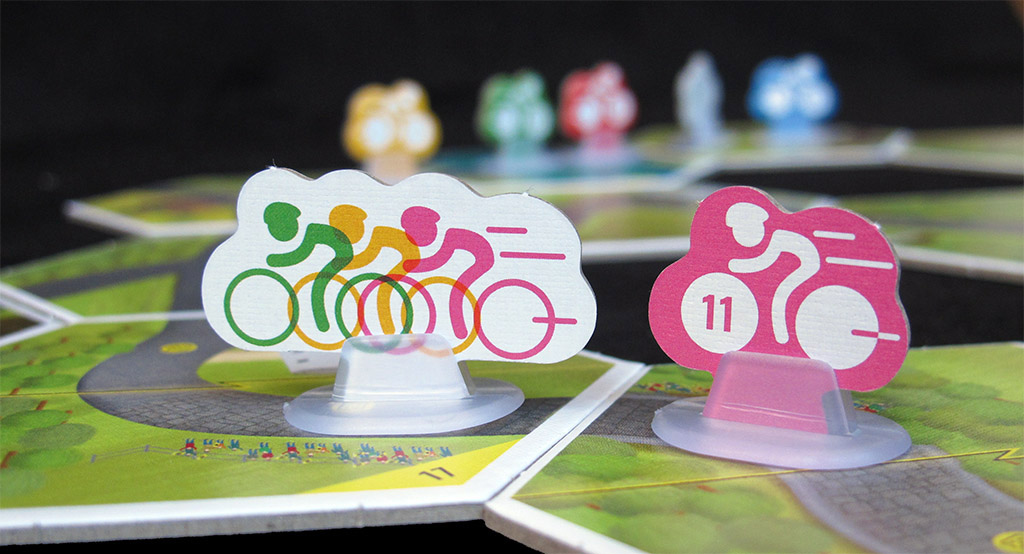 Up to six players can take part in the game. Each player manages an individual cyclist (24 mm long). There is a longer (40 mm) peloton counter which moves automatically, and which determines if riders and on a breakaway or are being dropped. o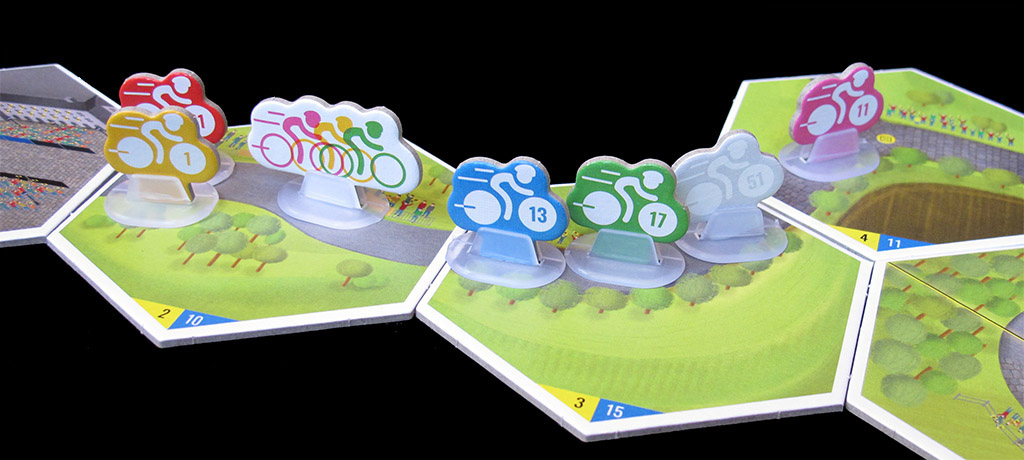 Beginning of the race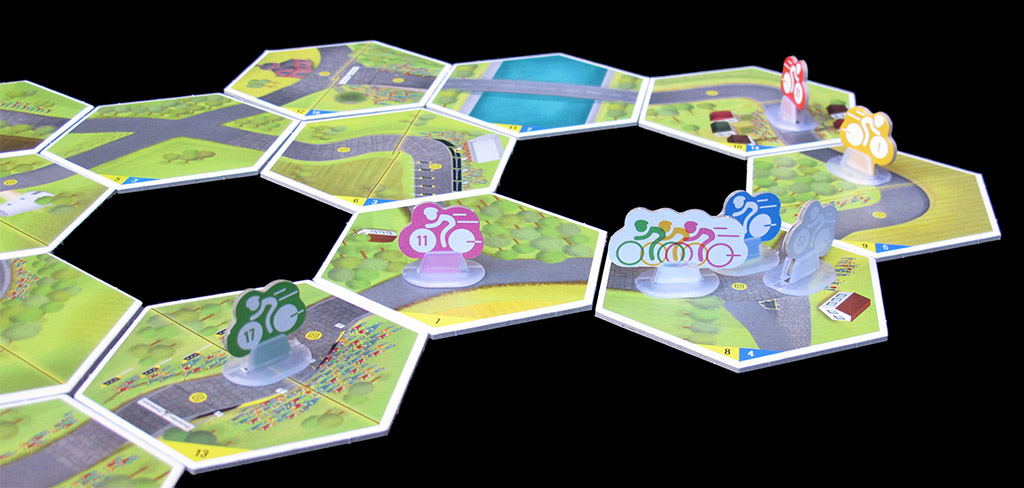 Early moves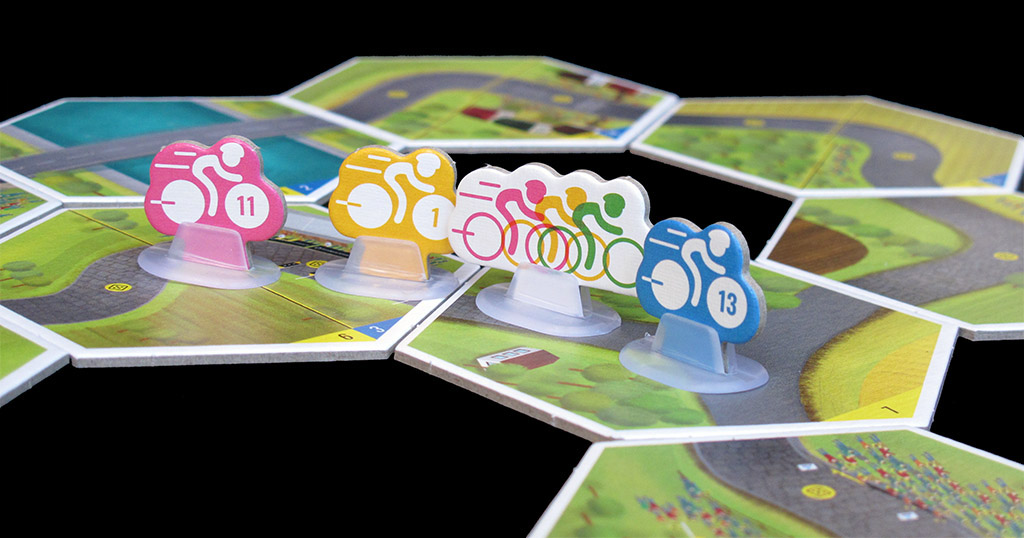 Tension builds up as the race develops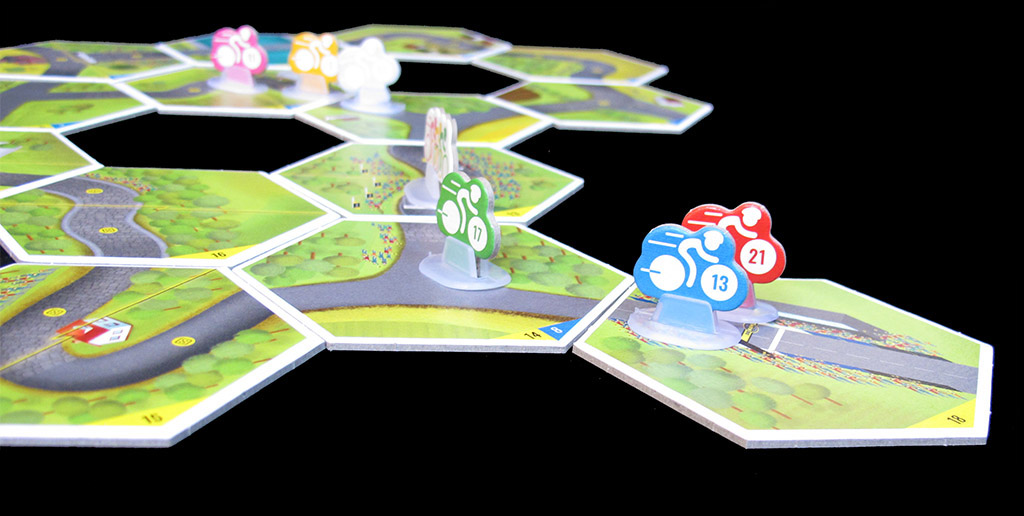 Final sprint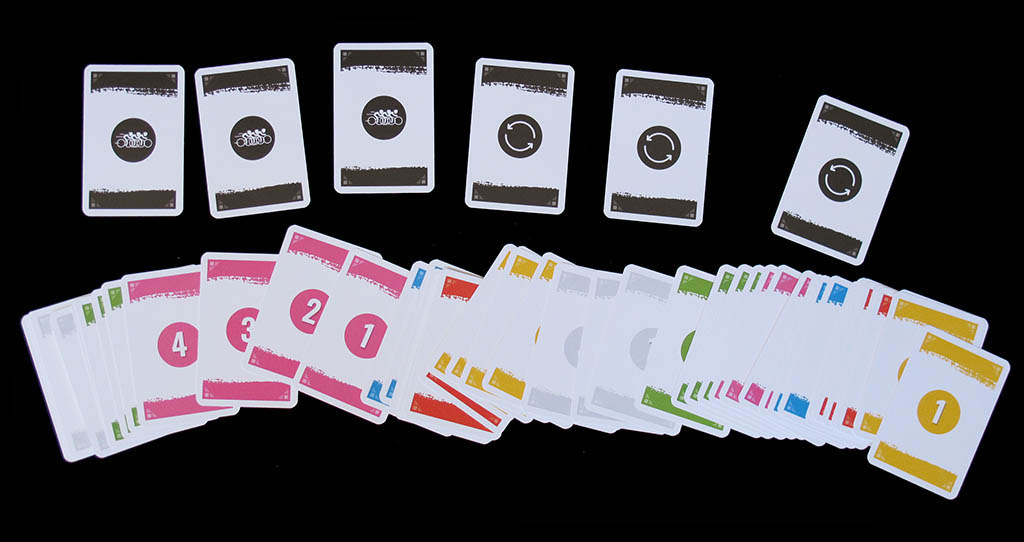 The movement of the individual riders is card-based, while the movement of the peloton is dice-based. The die is also used to determine the outcome of some event cards.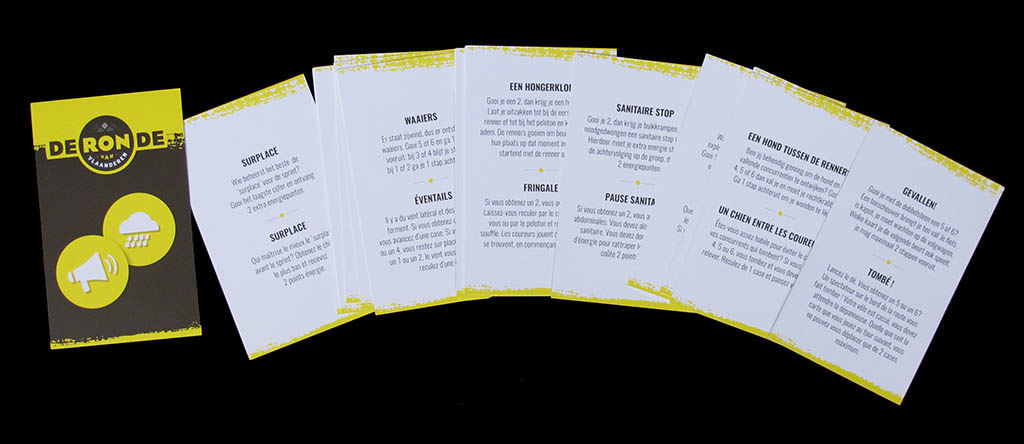 There are two levels of play, one meant to be for children and the second for seasoned players. It is language dependant, since there are some events cards which, as you can see, are in Dutch and French. The rules are also in Dutch and French.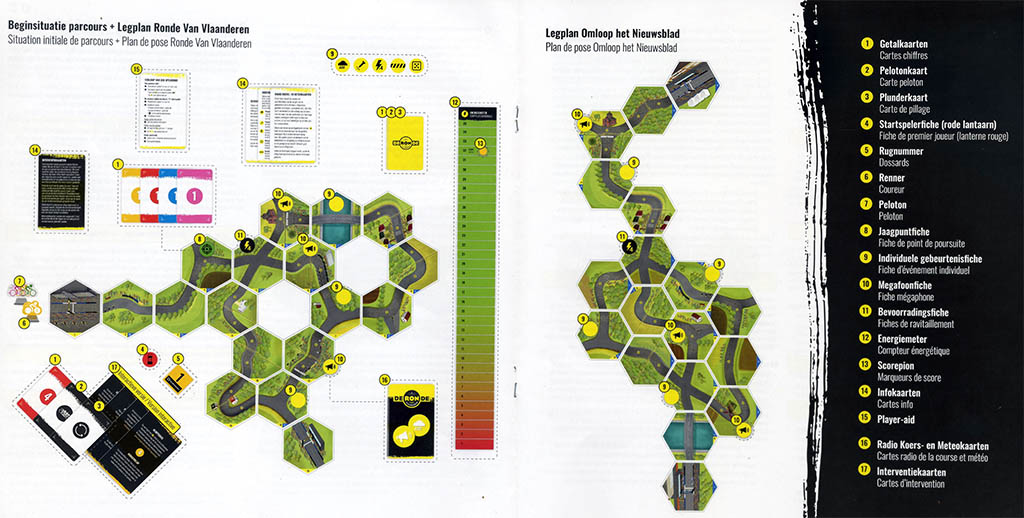 Game layout

This game should appeal to me since I prefer card-based movement and modular boards, but for some reason it does not. I find the rules, even those of the children version of the game, quite confusing to read (though they are only a couple of pages long). Maybe I need a child to read them, like Groucho Marx in his famous quote ("a four-year-old child could understand this report! Run out and find me a four-year-old child"). All in all, I have not played the game. If I someday, do, I might rewrite my description.

UPDATE 2022: There is another version of this game called TVH Classics.
Check the game at the official De Ronde web shop
Thanks to Marc Radenac for the tip.
Description written in March 2020.
| | | | | |
| --- | --- | --- | --- | --- |
| | | | | |
| INDEX (MAIN) | ALL THE GAMES | ALPHABETICAL | CATEGORIES | WHAT'S NEW |