RONDE VAN FRANKRIJK
C. De Ruiter, Netherlands, 1984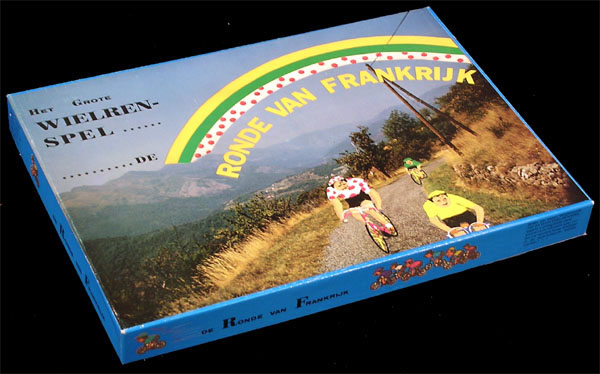 Dutch game which is just an ampliation and modernisation of Table Tour. A bigger board and a different set of chance cards do not really make a new game. I prefer the old version: it has a nicer board, nicer cards, and cyclist-shaped figurines.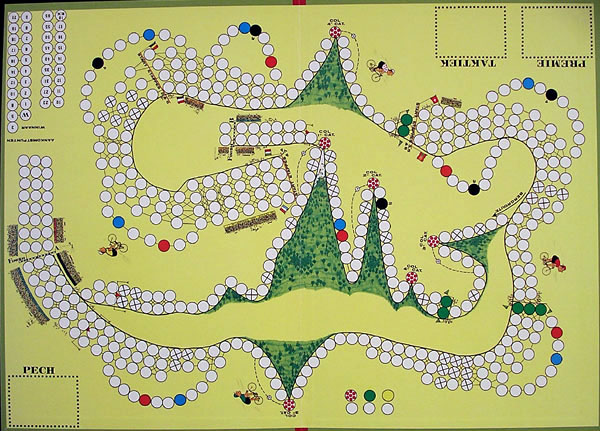 Nevertheless, Ronde van Frankrijk is an ampliation of Table Tour. It is more ambitious in concept. For instance, this game presents a really big score sheet (not featured in the pictures, sorry), where you can keep track of all kind of classifications.

The "Premie" and "Pech" cards are separed in two different sets. That's better than Table Tour, of course. But the playing cards lack the charm of its predecessor.
Unfortunately, the game does not include cyclist shaped riders, which is always a drawback. However, I must admit that these pawns/counters (how would you call them?) are stable and that the number can be read well, which is not often the case in other games.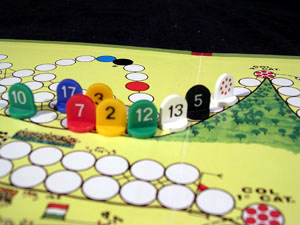 | | | | | |
| --- | --- | --- | --- | --- |
| | | | | |
| INDEX (MAIN) | ALL THE GAMES | ALPHABETICAL | CATEGORIES | WHAT'S NEW |