LA SERPIENTE MULTICOLOR
E. Berdión & J. Munárriz / El Europeo, 1993 (print-and-play edition, 2008)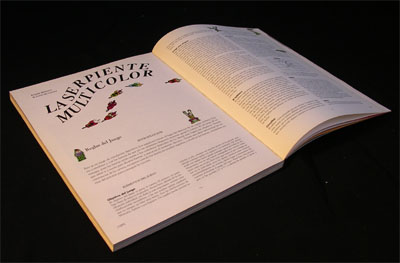 This game is the work of Spanish artists and designers Esther Berdión and Jaime Munárriz. It was released only as part of the summer 1993 issue of El Europero art-magazine, and is therefore very hard to find!

It is a game where chance takes almost no part, and therefore a game that should please the most hardcore gamers. On the other hand, the game is beautifully designed, as could be expected from their makers.

With these two conditions, it is easily to understand that this game had reached some kind of mythical status, but very few people had played it. (That the rules were only is Spanish did not help, either). Fortunately we have been able to reissue it as a free print-and-play download, with English rules. Scroll down for the link.

By the way, I translated the rules myself, and as you probably guessed from my writing, English is not my mother tongue. Corrections are welcome.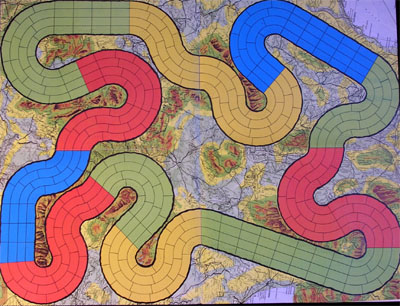 Cut-up cardboard riders and signs: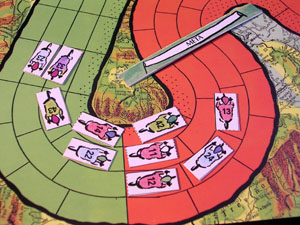 Nice cards!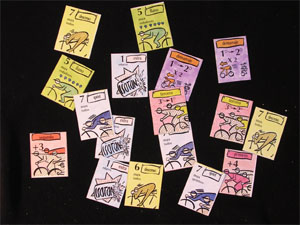 Some proposed board configurations: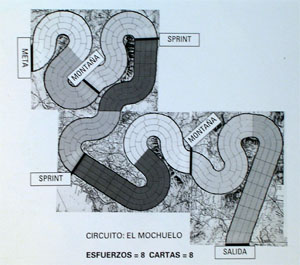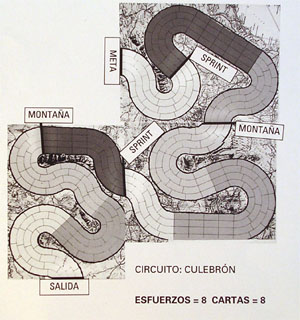 LICENCE: This print-and-play edition of the game is released under an "Attribution-NonCommercial-ShareAlike" Creative Commons license, which allows you to:

Share: to copy, distribute and transmit the work
Remix: to adapt the work

Under the following conditions:

Attribution: You must attribute the work in the manner specified by the author or licensor (but not in any way that suggests that they endorse you or your use of the work).
Noncommercial: You may not use this work for commercial purposes.
Share Alike: If you alter, transform, or build upon this work, you may distribute the resulting work only under the same or similar license to this one.
Click here to download the free print-and-play version of the game (zip file, 13MB, English rules)
Click here to download the Spanish rules (pdf file, 5MB)
Italian rules are available from BoardGameGeek thanks to Roberto Pietrangeli.
| | | | | |
| --- | --- | --- | --- | --- |
| | | | | |
| INDEX (MAIN) | ALL THE GAMES | ALPHABETICAL | CATEGORIES | WHAT'S NEW |