LE JEU DU TOUR DE FRANCE SPIROU
Spirou, Belgium, 1960
Another game published in a children's magazine. This one was published in four consecitives issues of SPIROU (numbers 1158 to 1161) during the summer of 1960, and covers the complete Tour de France. You are supposed to play ALL the stages.The most interesting thing about this games is that the first 80 squares of the stages have common rules and a common track, while the last twnty squares have different rules and different tracks for each stage.

Some of this rules are quite weird (specially time-trials, where the game is no longer a board game), while others are quite common (I mean, found in other games). All of them are quite simple, but there are twenty (!) different rules.
The common track:
Different end for every stage: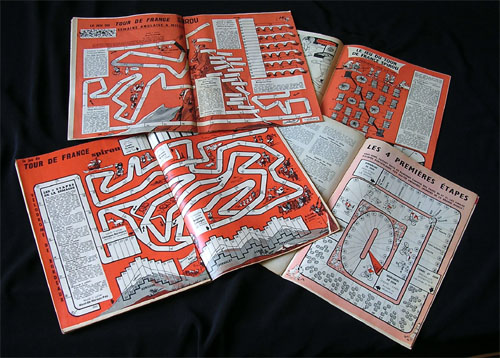 Beware ultracollectors: There are at least two different editions of Spirou 1158!
| | | | | |
| --- | --- | --- | --- | --- |
| | | | | |
| INDEX (MAIN) | ALL THE GAMES | ALPHABETICAL | CATEGORIES | WHAT'S NEW |