DIE TOUR DE TARIF
Deutsche Bundesbahn, Germany, 1990s?
Another game which I would hardly label as a "cycling game". This one was released by the German train company but it is not just a promotional game for a train company based on a cycling race (which is already quite strange). The fact is that apart from the cyclist pictured on the box and the board, I can hardly see where the cycling connection is. (UPDATE: I have seen a picture of this game with cycling figurines, maybe my wooden counters are a replacement)

Of course, my understanding of German is quite limited, but not that limited. Basically, the players throw the dice and if they fall on black, orange or red square (and there are lots of these) they take a card and follow the instructions or try to answer the question on the card. The funny thing is that ALL the questions are about the Deutschebahn. (Example: "Was kostet der Mitfahrer-Sparpreis 2. Klasse?" The answer, of course, is "90 DM". Everybody knows that).

There might be a little more than that (since, for instance, teams are composed of three cyclists, which denotes some complexity). I admit did not try too hard to decipher the rules. Comments welcome.

A closer look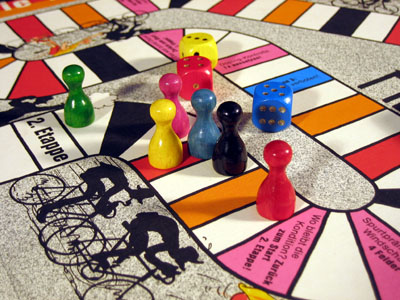 Some cards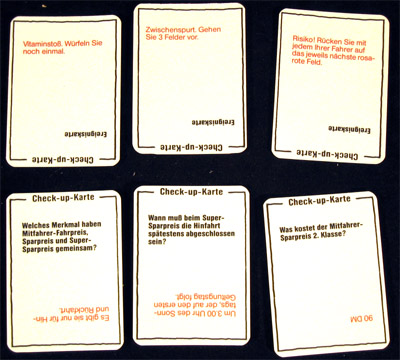 Thanks to François Cardinet for sending this game.
| | | | | |
| --- | --- | --- | --- | --- |
| | | | | |
| INDEX (MAIN) | ALL THE GAMES | ALPHABETICAL | CATEGORIES | WHAT'S NEW |