VELO, THE INTERNATIONAL CYCLING GAME
Paumar Co., USA, 1977
Hard to find American game, made in Gainesville, Florida. The game is supposed to represent a stage race but (as many other games) it features a single race. The red circles between stages represent rest spots but do not divide the race in stages. Players just must stop on these fields (if they make a dice throw higher than needed they just lose the extra points).

As you can see in the board, there are six normal (flat) stages, coloured green on the game board, and three brown ("difficult") stages. While in normal terrain the player throws two dice and adds the points. In difficult terrain one die is subtracted from the other and the rider advances by the amount of the difference (of course, not moving if he throws a double).

Players can manage a single rider, or teams composed of two or three riders. In this case they may give dice throws or chance cards to different riders of the team, and the winner of the game is the best team (in a simple points classification), not the first rider to reach Centre City.
The open board measures 46 x 46 cms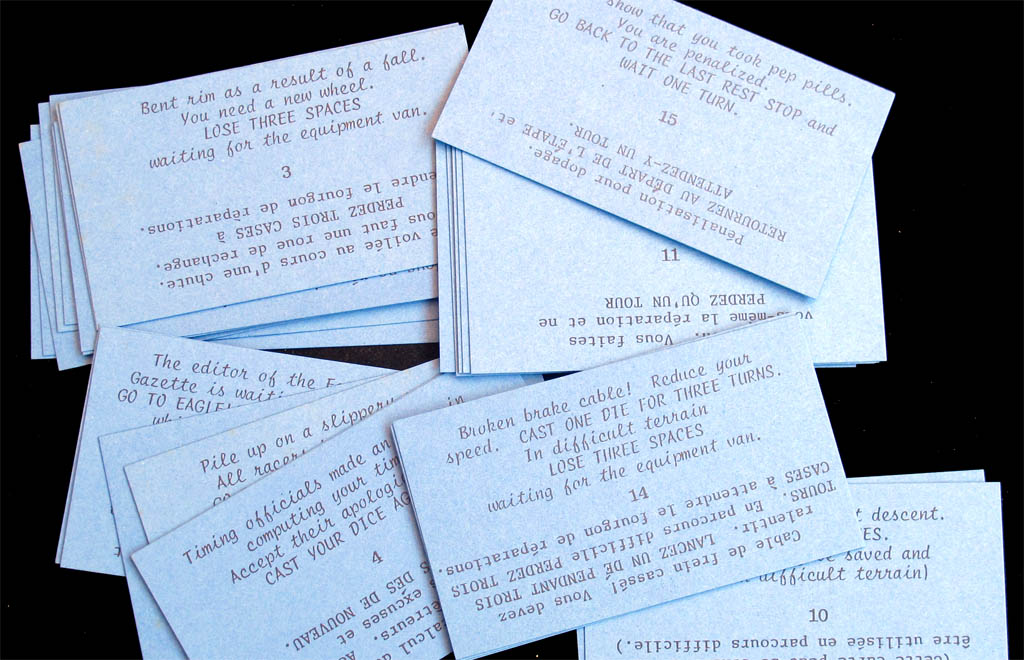 Chance cards must be drawn at the checkpoints represented by yellow wheels on the board.




A strange feature, the game is bilingual English/French. I wonder if it was meant to be exported to Europe, of maybe just to Québec. The game not only has bilingual rules and chance cards, but it even has a set of stickers to convert the game board to French. Not to mention the bilingual title.
Riders are just wooden counters with bicycle-wheel stickers.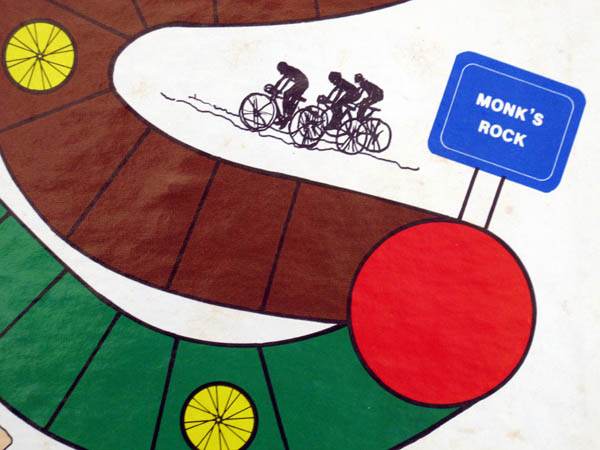 Here are the French stickers. Whatever the instructions say, I think "Monk's Rock" should be "St. Roch".

UPDATE December 2019: I have recently seen an English/Spanish version of the game (which makes me wonder if there are other versions). In it, "Monk's Rock" is "Pico del Fraile", which is an approximate translation. I am sorry for the poor resolution of the images below. I hope I can offer better pictures of this game sometime soon.
| | | | | |
| --- | --- | --- | --- | --- |
| | | | | |
| INDEX (MAIN) | ALL THE GAMES | ALPHABETICAL | CATEGORIES | WHAT'S NEW |