QUI GAGNERA LE TOUR?
Constans Poirier, France, 2021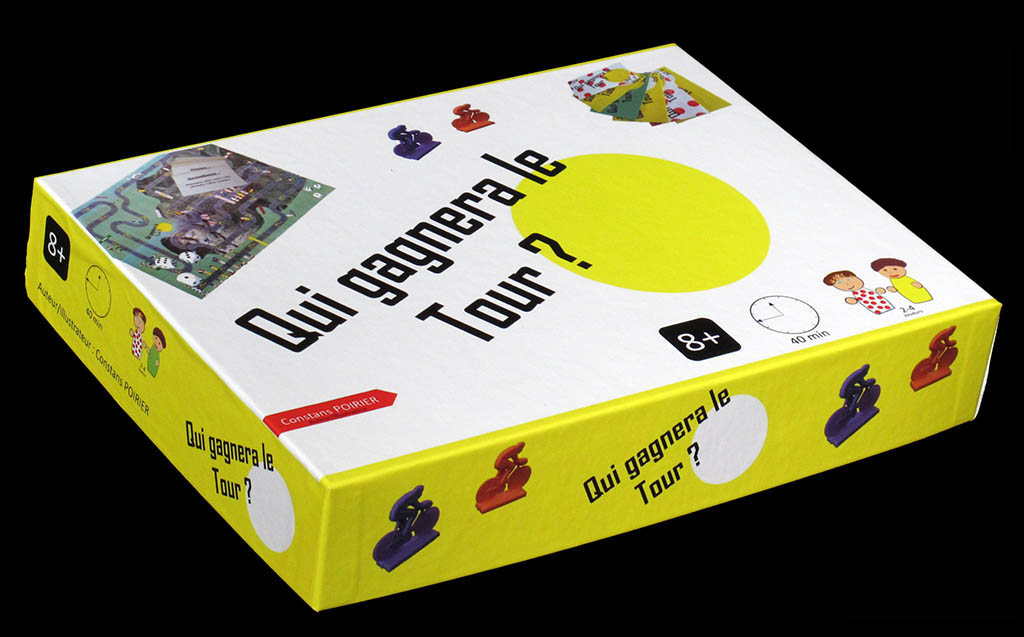 Here is another self-made game, and is one is very self-made, if you know what I mean. Not that this is a good or bad thing. I always say that there aren't good and bad games as long as they don't pretend to be what they are not. In this case we have a simple dice game for 8-year olds, and there is nothing wrong about that.

Furthermore, it is the first game starting with Q in the alphabetical order list! Now we only need a game starting with X to complete the alphabet.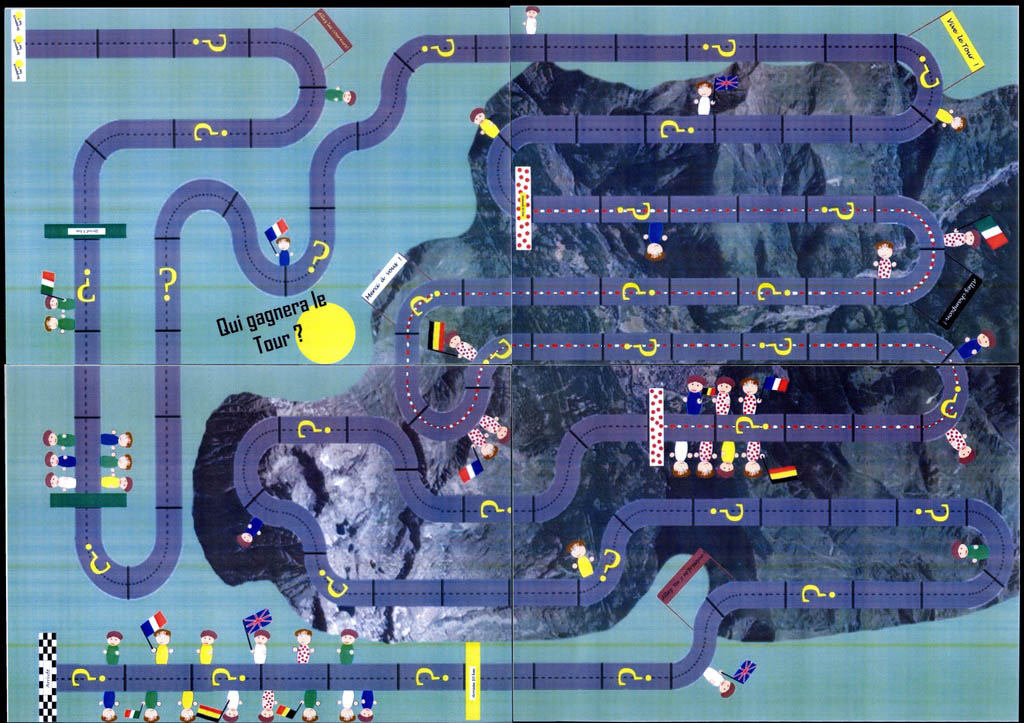 The board is made of 4 laminated laser-prints, a little under an A4 in size. It measures 52 x 37 cms.
The box measures 28 x 20 x 5 cms
My main objection is that the rules (also laminated) are in such a small font that I need a magnifying glass to read them. I ended up scanning then and reading them on the screen. I admit that the game is made for 8-year olds, and that at that age you have no problem reading small letters, but still...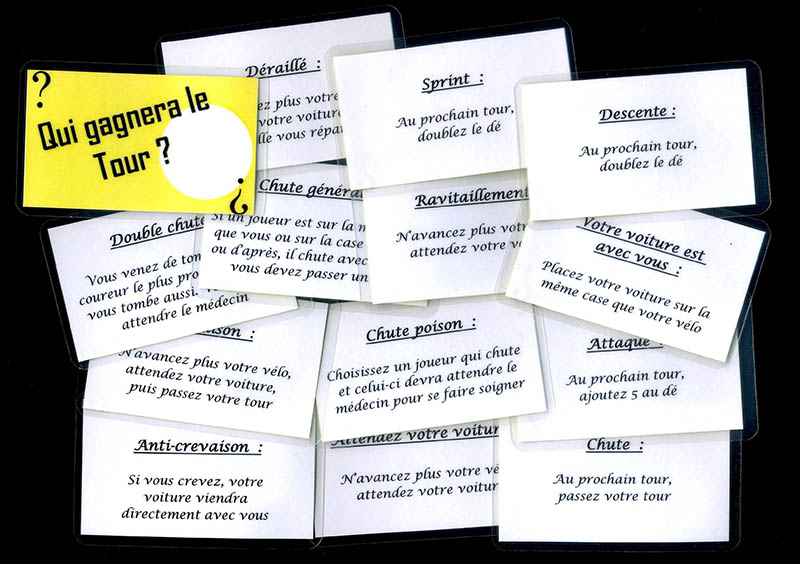 "Chance" cards are laminated too. My guess is that the games are made one by one upon demand by the author himself.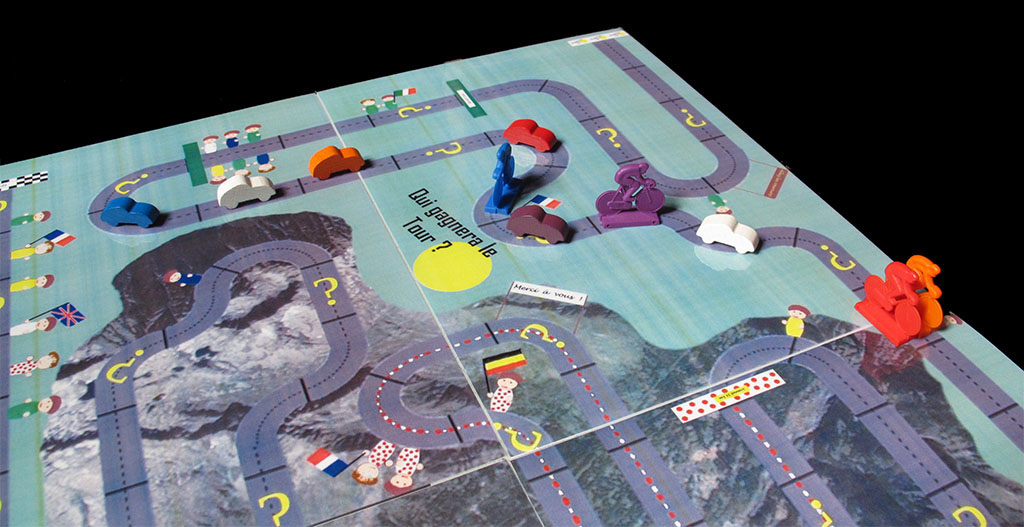 There are 4 cyclists, 4 team cars and two (white) medical cards. Of course the winner is the first player to get his cyclist accross the finishing line, but since some "chance" cards require that you get assistance from the team car, you'd better not have it too far behind. On the other hand, other "chance" cards require assistance from the medical cards. Any player can move a medical card anytime provided that they don't overtake the first rider and that at least one of them is behind the last rider.

I like having the cars in the race, it gives the feel of a real cycling race. Of course, if we speak of cars and ambiance, my favourite is this other game.
There race is divided in three "stages", but since riders do not stop at the end of the stages, I do not file it as a stage race game but as a one-day race game.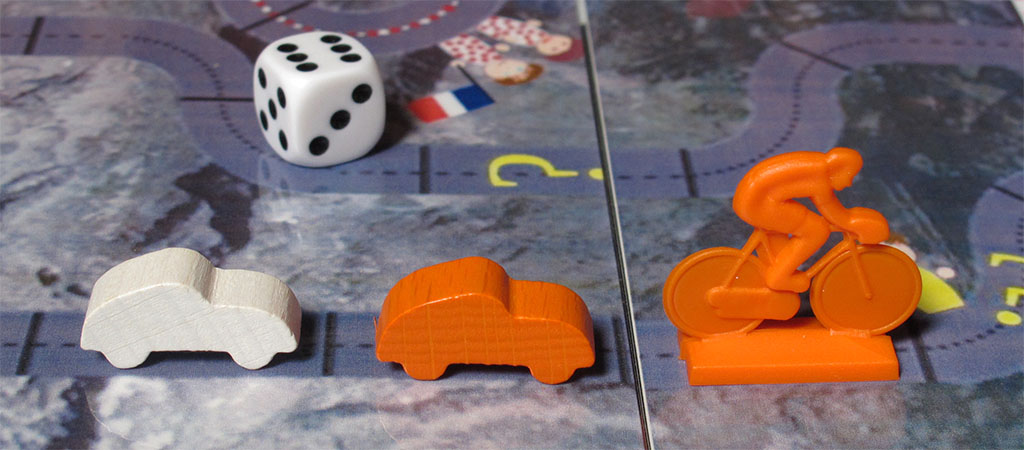 A well-assisted rider.
This game does not even have distribution in stores or a website. As far as I know it can only be bought directly form the author. If you are interested, be sure to get it soon as this kind of projects tend to fade away over time. (If you are unable to find the author, you can always ask me).
Thanks Marc for the tip that allowed me to discover this game.
Description written in August 2021.
| | | | | |
| --- | --- | --- | --- | --- |
| | | | | |
| INDEX (MAIN) | ALL THE GAMES | ALPHABETICAL | CATEGORIES | WHAT'S NEW |