UM REIFENBREITE
Rob Bontenbal, Jumbo, Germany
1991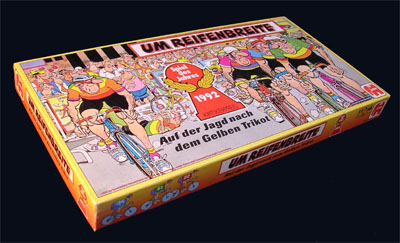 Awarded "Spiel des Jahres 1992" in Germany, this game is just a reedition of Homas Tour. Of course, I prefer the original 70's graphics. For this politically-correct-90's, the possibility of "cheating" by using stimulants has been replaced by getting illegally assisted by a vehicle.


This is probably the biggest-selling cycling game ever (along with Der Ausreisser, which, curiously enough, is a reissue of another older game). Here is the 10th anniversary box (much easier to store!).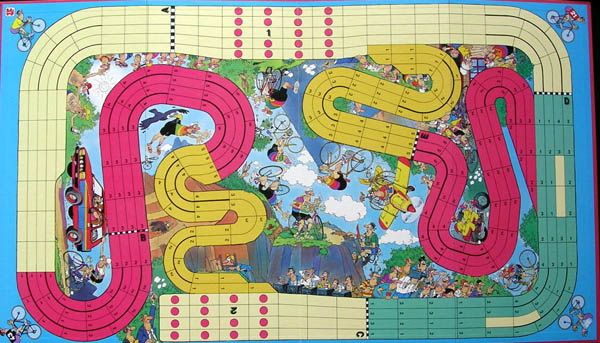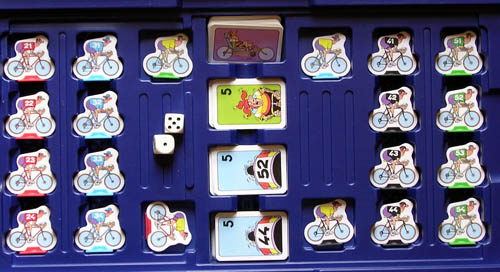 Here is the card: you can still cheat, but do not take drugs!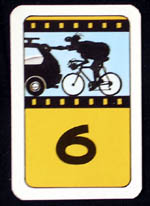 In some countries this game was released as "Demarrage!" (France, UK) or "ˇDemarraje!" (Spain). In Italy it was released under "Campeonato Italiano"


Jurgen Muns has programmed a free computer version of this game (of Homas Tour, actually) which can be downloaded here: http://homastour.tripod.com/

Ruben in t' Groen has developped a new set of rules for Homas Tour. Although he calls them "Homas Tour Pro", they are different enough to be considered a different game.
| | | | | |
| --- | --- | --- | --- | --- |
| | | | | |
| INDEX (MAIN) | ALL THE GAMES | ALPHABETICAL | CATEGORIES | WHAT'S NEW |