QUIKKY GAMES

Pat & Tony Malcolm/Quikky Games, United Kingdom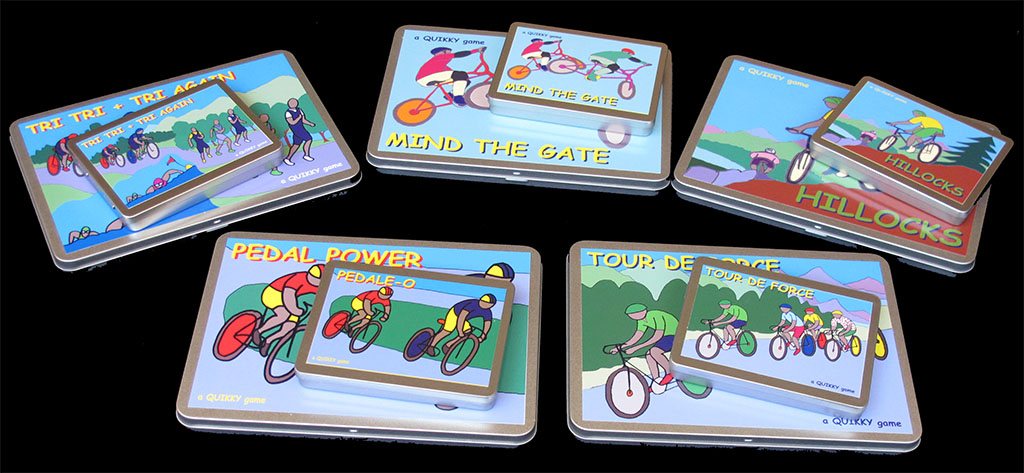 Quikky Games are manufacturing portable sports games in small tin (formerly plastic) boxes. They have released so far 5 cycling games, each of which comes in two versions. As far as I am concerned, that would make 10 different games since, while the rules of smaller (115x85x14mm) "POKKET" games are simplified versions of the -already simple- rules of the bigger (195x140x15mm) "SLIM" games, in most cases they are different enough to be considered different games. However, considering that the two games have the same name AND the same box artwork, I will consider them, albeit reluctantly, two versions of the same game.
By the way, the different title for the PEDAL POWER / PEDALE-O game in the picture above is just that one of them is the French version of the game. All Quikky games are available in English and in French (and TOUR DE FORCE is also available in Spanish).
All Quikky games feature a number of small plastic counters which represent the riders and are also used to keep the time or count the laps, and special dice numbered "01234X". Some games have score cards which can be downloaded from their website.
Due not only to the to lack of space in the boxes to develop the rules but also to the way of seeing things of the Malcolm brothers, the rules are not always fully explained, leaving some things to the players interpretation, which is fine for me.
The five cycling QUIKKY games are: Tour de Force (road racing), Pedal Power (track racing), Tri Tri + Tri Again (triathlon), Hillocks (cyclo-cross) and Mind The Gate (BMX).
Thanks, Tony, for sending the games I didn't have.

Click on the images to see the individual games
| | | | | |
| --- | --- | --- | --- | --- |
| | | | | |
| INDEX (MAIN) | ALL THE GAMES | ALPHABETICAL | CATEGORIES | WHAT'S NEW |