LES 45 TOURS DE FRANCE
Geneviève Néranval, Jean-J Thébault, André Tavernier /Disque-Jeu Philips, France, late 1950s
This game consists of a 45 rpm record with the instructions of the game. Side A contains a flat stage and side B contains a mountain stage.

The rules are quite absurd (or maybe I am too old for them): The players throw the die and pass it to the next player frantically while the record plays. Every once in a while the music stops and some instructions are given to the players like "There is a crash. Although nobody is hurt, some riders are delayed. Everybody on a green square goes back three squares" or "A small bunch tries to escape. All the riders who are beyond square 8 advance two squares". You get the feeling.
There are even advanced rules. You can play a team competition, and a full Tour de France, playing the record many times, of course. I wonder what happens when everybody knows the record by heart and can anticipate exactly when each message will be heard. I guess the players will adjust the speed of the game to pass the die at the most convenient moment... provoking accusations of cheating, big trouble, and maybe a broken record player!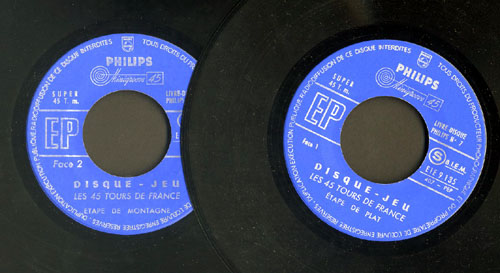 Most copies of the game have lost the cardboard riders. If this is the case with yours, I have included a ready-to-print high resolution scan of mine HERE (also available from the "make your own cycling game" section of the site). Notice the multicoloured die. Fortunately, It can be replaced by a normal die if it is lost or damaged.

With all its simplicity and its limitations, this charming game is one of my favourites. Of course, I am a record collector too, so this one appeals to two of my passions (check Velo-Flash to see another game that appeals to both).

CLICK HERE TO DOWNLOAD THE CONTENTS OF THE RECORD
(ZIP FILE CONTAINING 2 MP3s, 13 Mb)
| | | | | |
| --- | --- | --- | --- | --- |
| | | | | |
| INDEX (MAIN) | ALL THE GAMES | ALPHABETICAL | CATEGORIES | WHAT'S NEW |