TOUR DE FRANCE
Roman Čermák / RC Games, Czech Republic, 2022
Back in the 1970s, in Czechoslovakia, a certain Roman Čermák designed sports games for his two sons, Roman and Richard. One of these games was a cycling game, which became the favorite of Roman Jr. The game aroused such great passion in the young man that at the age of seventeen he started training, then racing, and eventually became seven times Czechoslovak champion in track cycling disciplines, holder of the Czechoslovak 1-hour track cycling record, and took part in World Championships and the Seoul Olympics.

In 2015, he founded RC Games with the aim of producing these board games. They have released a tennis game and this Tour de France game. As far as I know, this is only the second board game made (or, at least, developed) by a real racing cyclist (check out the other game here). Even if it were only for that, it would deserve all my respect. Fortunately, there is a lot more to the game than that.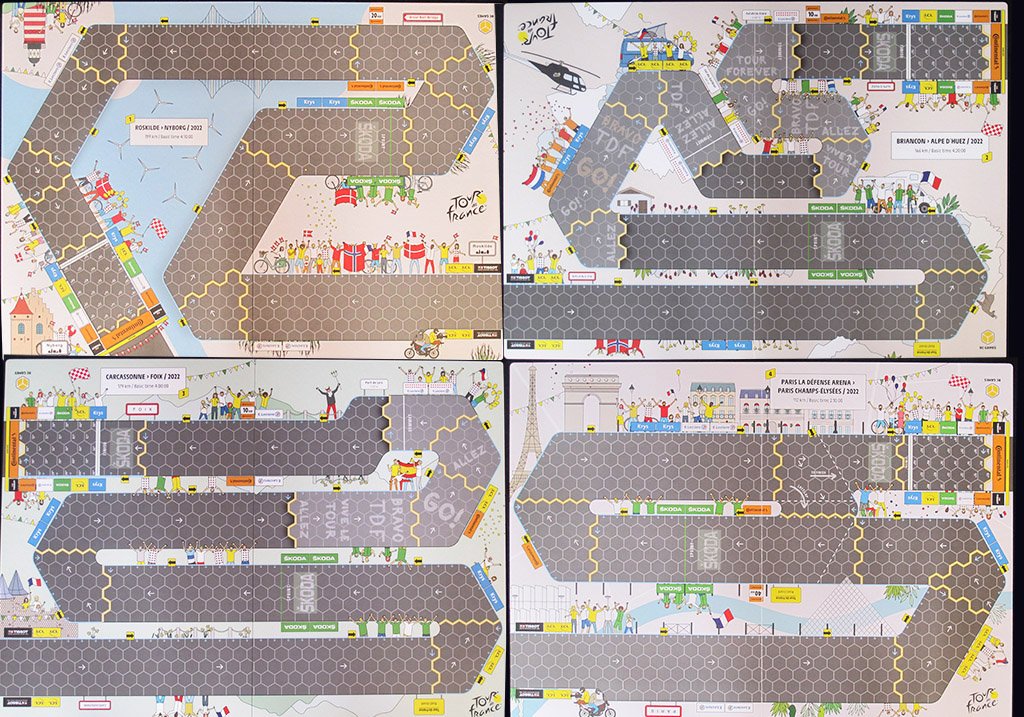 Four different stages to start with
As the name of the game suggests, this game represents a stage race. Inside the box you find two reversible boards that feature four stages of the 2022 Tour de France: the second stage in Denmark, Carcassonne-Foix, the Alpe d'Huez, and the final stage on the Champs Élysées. That is, two flat stages, a hilly stage, and a stage with a mountain finish. They plan to gradually expand the game with additional stages. (Spoiler: the first addition will be 2023's TdF 1st stage in Bilbao). I am told that they also plan to release retro stages from the first editions of the TdF. Of course, at this stage of development of the game, you will have to play each board more than once if you want to play the complete Tour de France.

If you look closely at the board (or if you download the rules, see below) you will notice that there are two types of terrain in this game, flat and uphill. (I am also told that there will be a third kind of terrain in some of the next boards released).

By the way, the boards measure 59.5 x 42 cm and fold in two to fit in a 43 x 32.5 x 5 cm box. Both the box and boards are sturdy and nice to handle.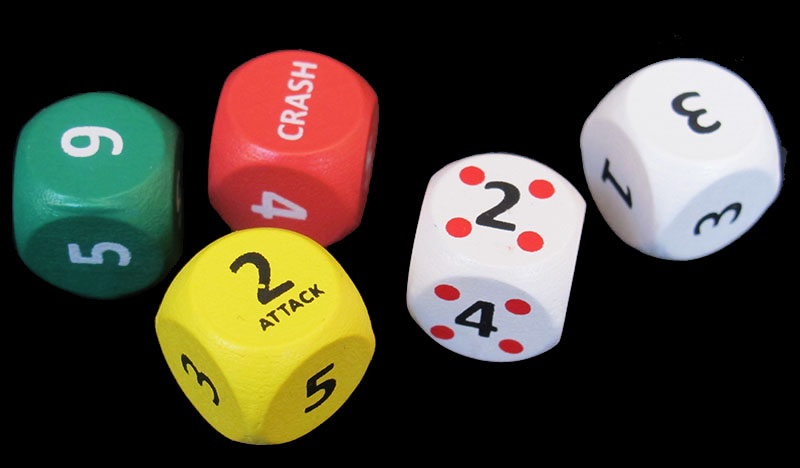 Custom dice

In this game, the movement of the cyclists is governed by dice, as could probably be expected from a game whose inception dates back to the 1970s, with all the advantages and disadvantages of dice when representing a cycling game (which I have discussed elsewhere). However, these are not normal dice. Players can choose between different dice (depending on the circumstances and the type of terrain), and they can also choose whether to roll a die to follow the cyclist in front of them, except, of course, if they are at the head of a group. So players are faced with tactical choices all the time.

Since you can download the rules from the game's website, I will just add that they represent almost every aspect of cycling, including protection from the wind, drafting, and team tactics. I must also add that you will need to run through the game a couple of times to become familiar with the choice of dice.

In short, the mechanics of this game will not appeal to dice-haters, but they are ok for the rest of us.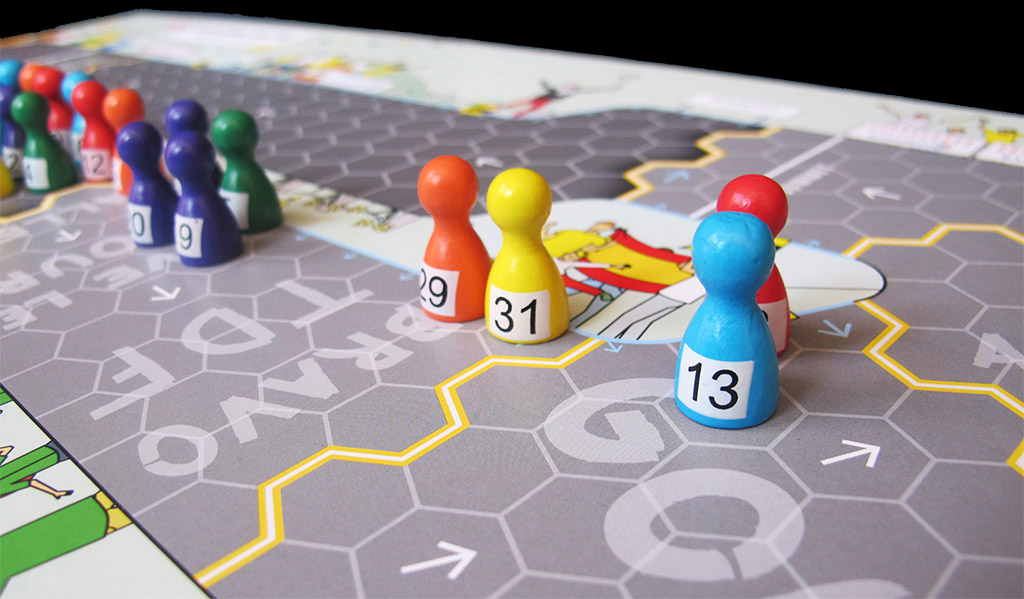 No bikes, but not bad
Up to six players can play this game, with each player managing a team of up to six cyclists. That makes quite a large peloton, though it is advisable to reduce the size of the teams if you play with four players or more. As you can see, we do not have cycling figurines, which is always a minus point in a cycling game. However, we have nice, warm, wooden pawns. I admit I quite like them after all. Don't forget that some of the most beautiful cycling games ever made have pawns too. Plus pawns are more stable than (most) cycling figurines.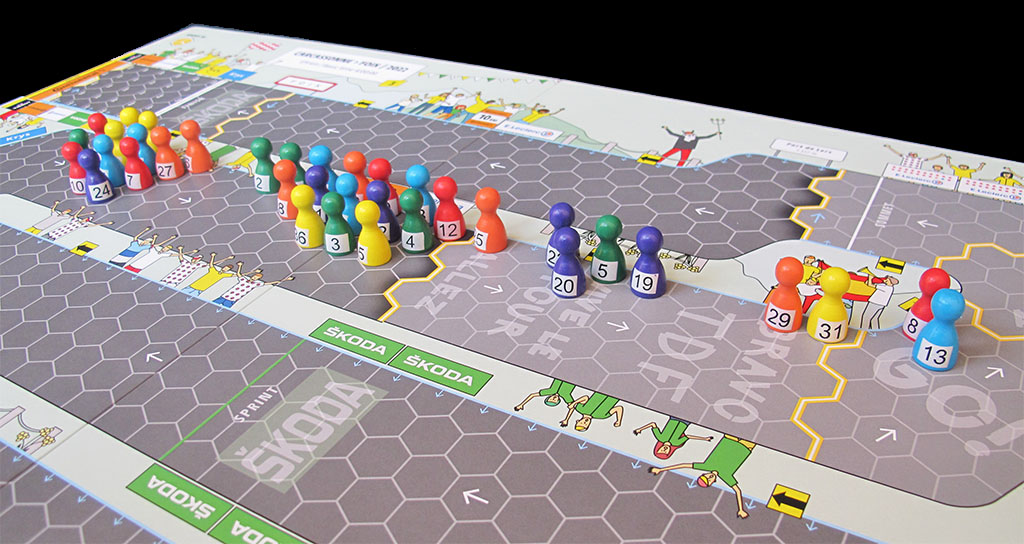 And of course, pawns take up less space. Imagine the size the board would need to be if we had to fit 36 cycling figurines on it.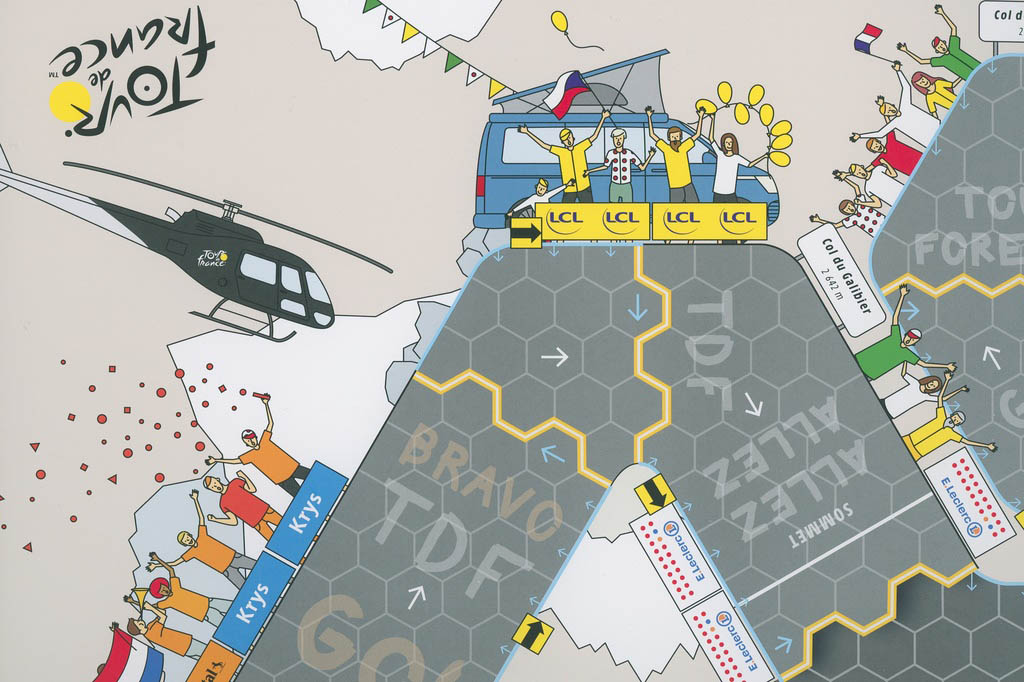 Nice illustrations by Táňa Sekerková
RC Games has even purchased an official Tour de France license, so they could call this game "Tour de France". As you probably know, it is the most frequently used name in cycling games, and I think they could have saved the money (and maybe have the game a little cheaper for buyers), but of course the TdF brand contributes to the feel of the game, and it is nice to play on boards that represent real stages.

About the price of the game: it is not cheap, but games made in small runs, like this one, are expensive to produce. The quality of the materials (even if there are no riders) fully justifies the price.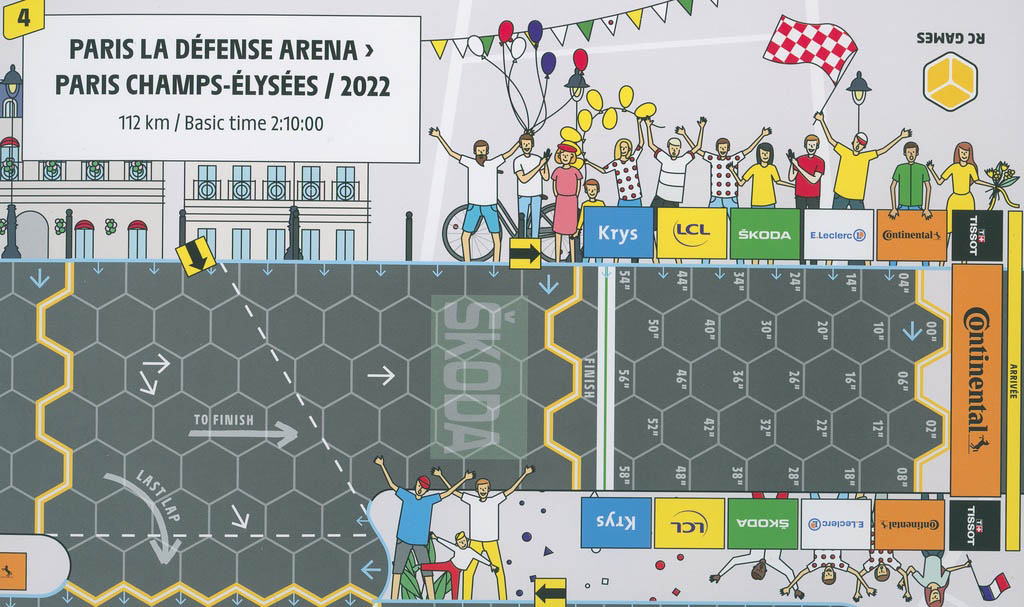 Seconds for the GC are marked in the hexes after the finish line.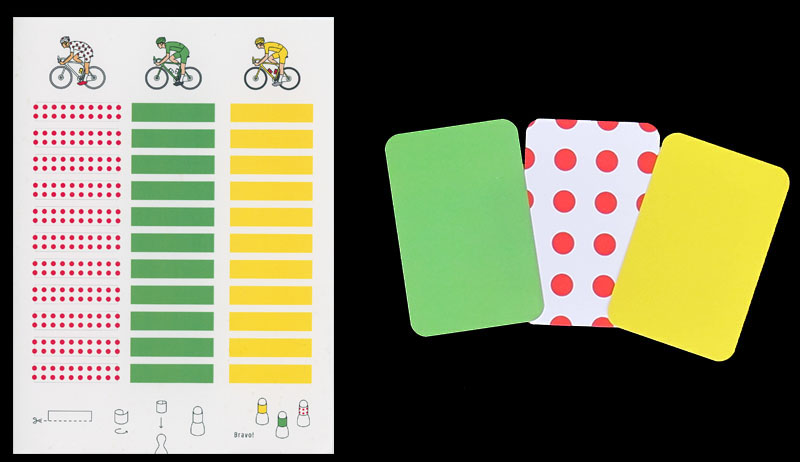 There are certain advantages for maillot-holders, and therefore we find these bands that can be fitted onto the pawns.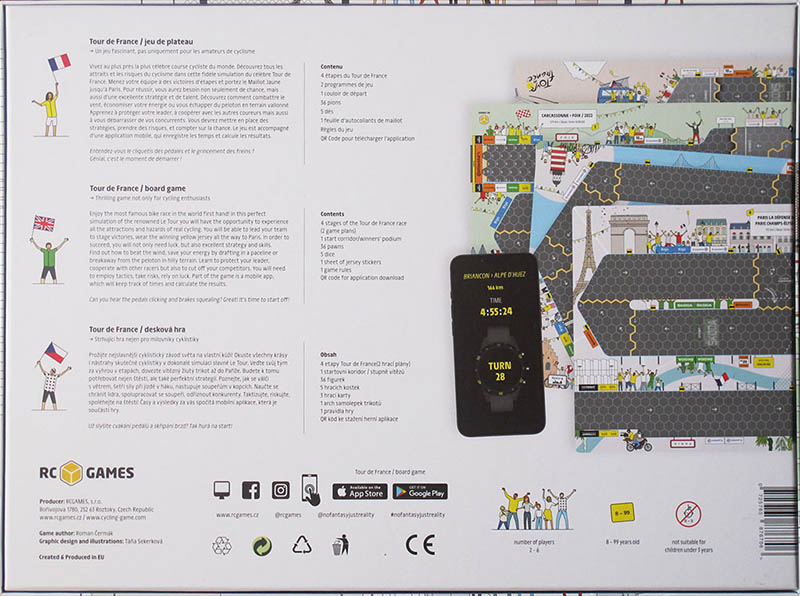 Finally, there is a free app to help keep the rankings. It is possible to play the game without the app, and you do not need it if you are going to play only one stage, but of course, especially if you play a 21-stage Tour with six teams of six riders, it is much more efficient to use it. This said, I do not like the idea of apps on my playing table, and I particularly love the idea of spending half the evening adding up the results for each rider to keep the classification. And I know I am not the only one, but it's up to you to decide if you want to use it or not. It does not hurt to have it.



Check the game on the official website.
Download the rules in four different languages (Czech, English, French or German).
In case of doubt, see this youtube tutorial (Czech, with English subtitles)
Thanks to Paul (from Dunfermline, Scotland) for being the first to mention this game to me.
Thanks to Roman for sending it.
Description written in June 2023.
| | | | | |
| --- | --- | --- | --- | --- |
| | | | | |
| INDEX (MAIN) | ALL THE GAMES | ALPHABETICAL | CATEGORIES | WHAT'S NEW |