BIG BIKE RACE
Tomy, Singapore, 1970's
WHIRLY WHEELERS
Palitoy Parker , UK, 1970's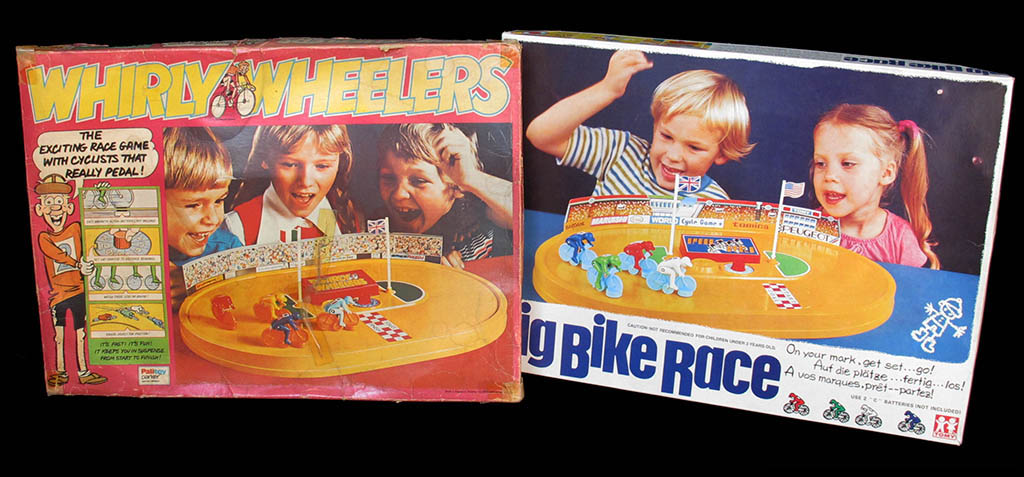 One of my favourite toys. I can spend hours watching the riders race. (I should have made a video, but you can check YouTube for some footage of this game). Cyclists are pulled by hidden motorized magnets, and the outcome of the race is supposed to be aleatory. There are two major versions of this game, this one with an oval track and another with a round track. I prefer the version with the oval track. Laps are somewhat longer there is a lever underneath the board supposed to change the level of randomness.

As you can see there are two versions of this game with the oval track. Both of them were manufactured in Singapore. The Whirly Wheelers version was licensed by Politoy Parker in the UK, while in other countries the game was sold as Big Bike Race.
The oval track measures 52 x 37.5 x 5.5 cms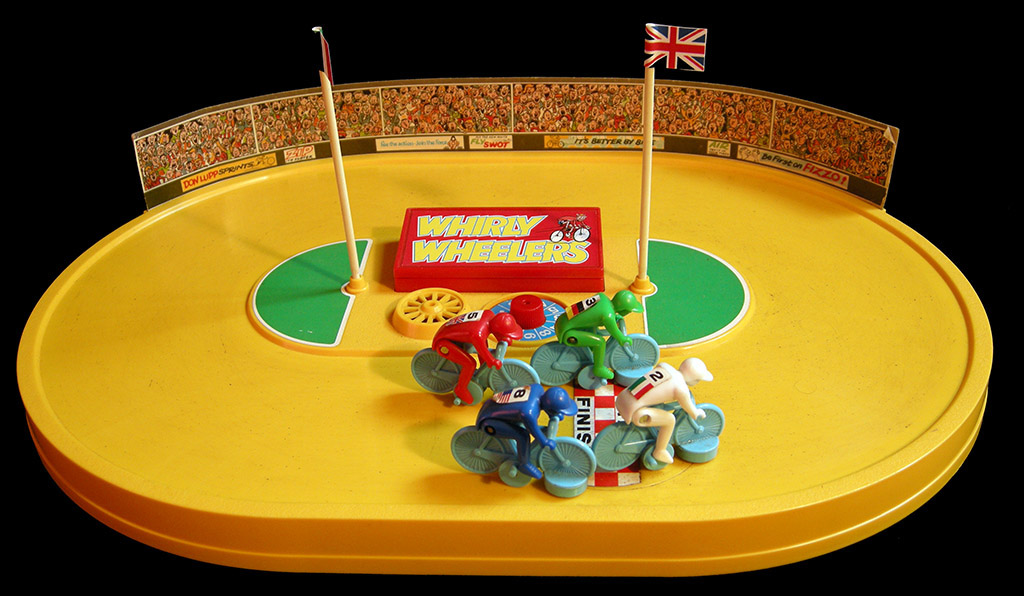 The shorter track has more flags, though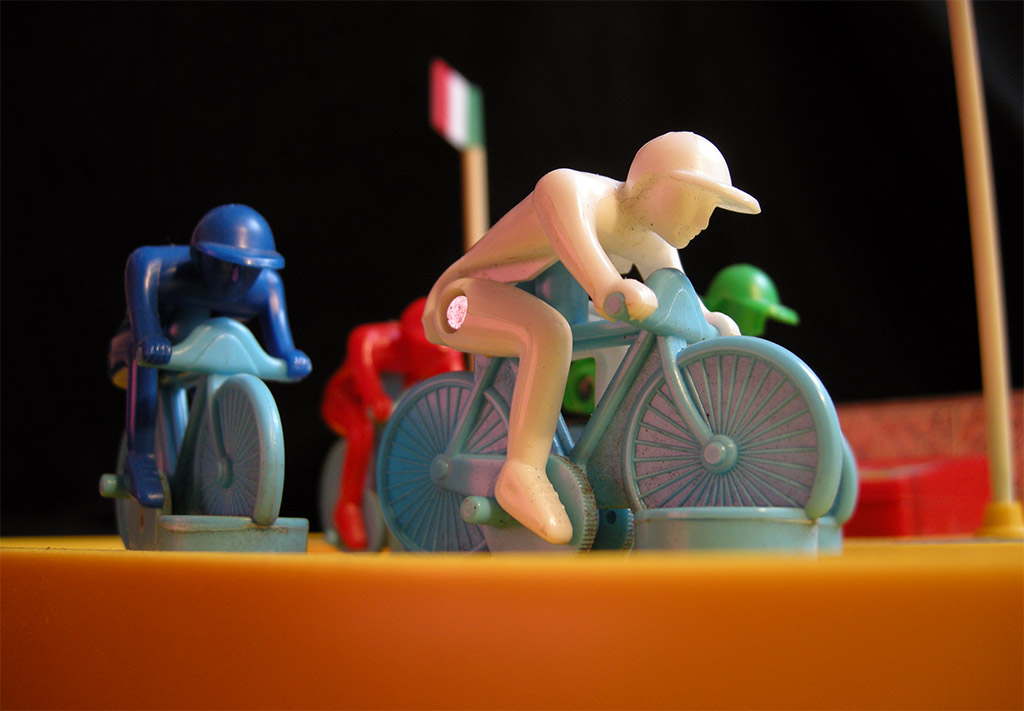 Ready to go!
There are different versions of the flags, depending on where (or even when) you bought the game. The ones above are from the Whirly Wheelers version.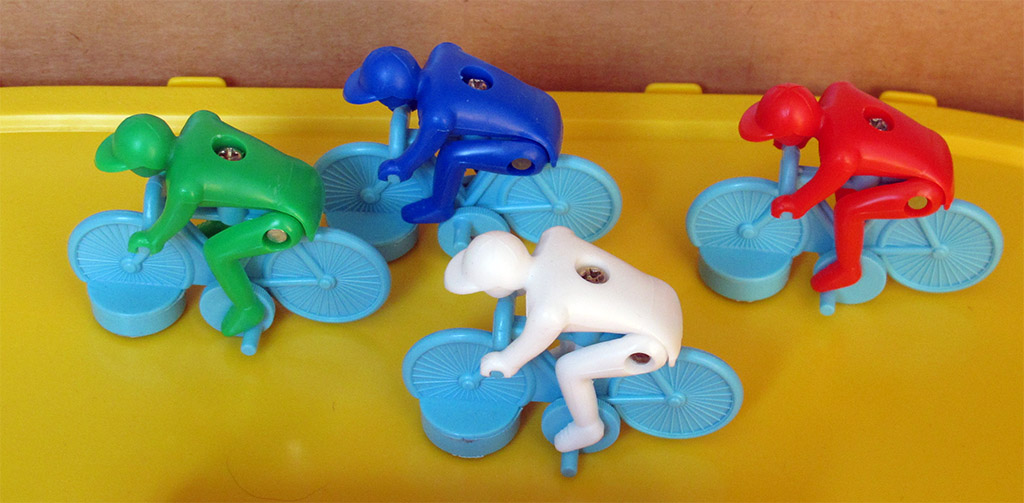 See the naked riders (!)

European flags to dress the riders above. These come from my copy of the Big Bike Race game.
I have seen other versions, among them an "Anglo-Saxon version" with flags of Australia, Canada, UK and USA.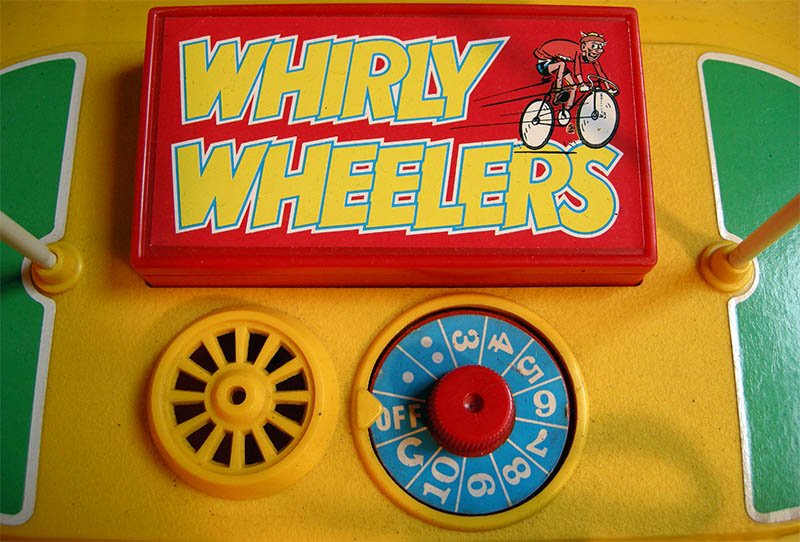 Close-up of the lap counter. You can set to the length of the race to any number of laps up to ten.
If you set the lap counter at the position with a curved arrow the game will not stop (by itself, I mean) until it runs out of batteries.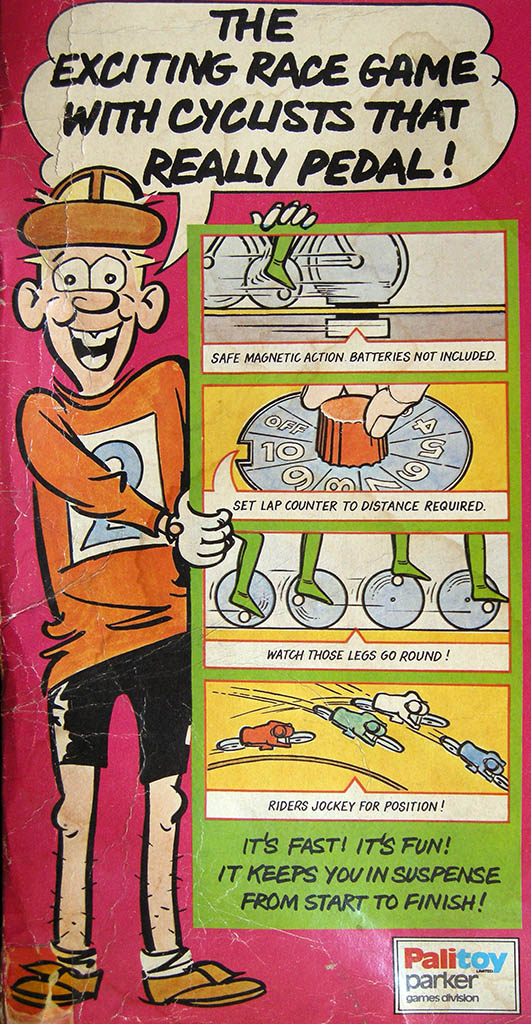 Side of the Big Bike Race box. Notice that the text is in English, German and French.


Sheet inside the same Big Bike Race box. The text is in English, Swedish (instead of German) and French.
Something weird was happening in the Tomy export department (?)
Sheet inside the Whirly Wheelers box. Only in English.
Click on the thumbnail to see the smaller version of the game
Description rewritten in July 2021
| | | | | |
| --- | --- | --- | --- | --- |
| | | | | |
| INDEX (MAIN) | ALL THE GAMES | ALPHABETICAL | CATEGORIES | WHAT'S NEW |