PRO CYCLING TRUMPS


Jim McLeman/

Pro Cycling Trumps, United Kingdom, 2014-
Another "highest values" British game. This one comes in different flavours. Eight so far (plus a couple of variations). I love them all. The "CLIMBS" deck is so high in my appreciation scale that it is the first card "pure" game (as opposed to a game that represents a cycling race by the means of cards) to be presented in this site with its own page.




From left to right: Track Edition (2016), 2015 Women Edition, Legends, 2014, 2015 and 2016 men decks

2014 pack, the one that started it all. A collectors' item now.

2015 pack. Of course, just a few changes away from the 2014 pack.

Legends deck, 1st edition.

2015 women deck



2016 women deck
Releasing a women's set, let alone two, takes some courage. Sadly, there are not many games featuring women's sport.
Track edition





The track deck not only features riders past and present, but it is mixed, as you can see, featuring men and women. It could/should be bought just for that. By the way, there are two versions of this deck, with eight different cards between them. The first version includes more British riders, the second includes a few more current riders who might be competing in the Olympics. I would love to see a "track legends" deck, featuring more past riders. Maybe someday.





Legends deck, 2nd edition.

The decks released in 2016 have a slightly different design (the riders jerseys have sleeves, now). The Legends deck has been reissued accordingly, though there are not too many changes besides the jerseys.

Thanks Jim for sending all the deck variations, and the goodies along with the cards.

UPDATE (2017)
The 2017 edition is composed of two (!) decks, which can nevertheless be purchased separately. With 108 riders in the peloton, all with their individual strengths, one can think of devising a board game to play with them. (Now that I think about it, it would not be so different from Tour Cycle Free).

UPDATE (2018)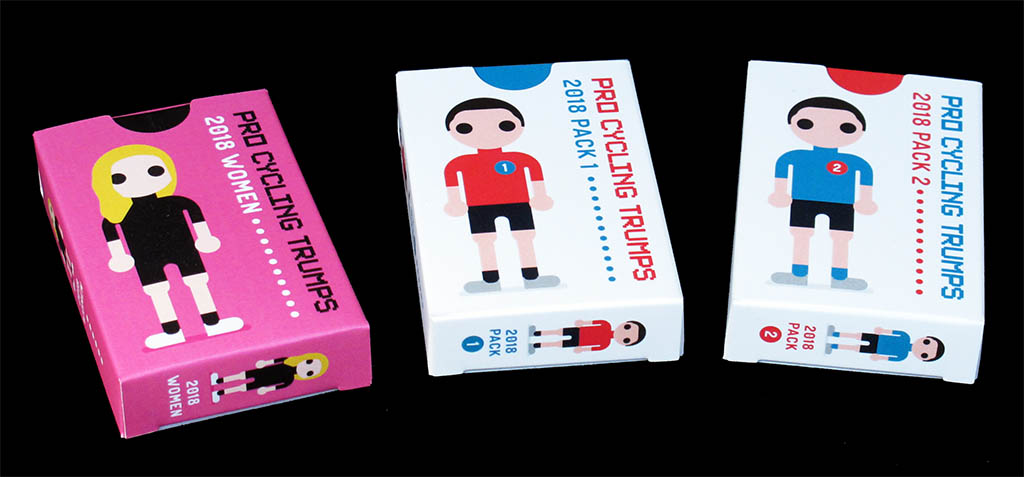 In 2018 there are three different decks to be purchased, two for the men's peloton and one for the women's.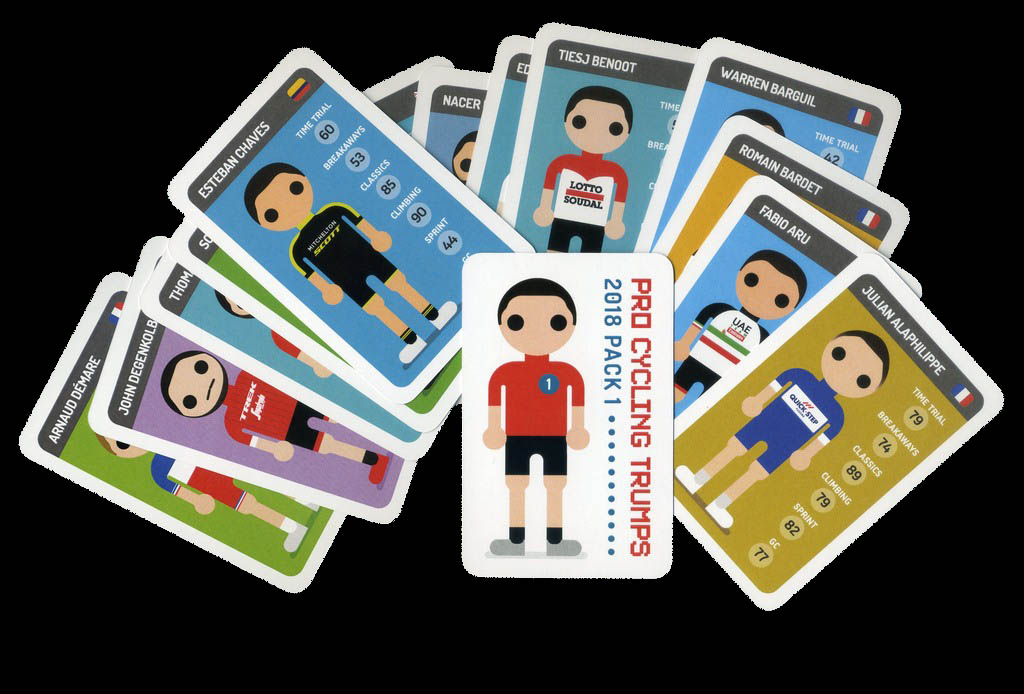 This year the categories are called "Time Trial", "Classics", "Climbing", "Sprint", "GC" and we have a new category called "Breakaways", which replaces "GT Stage Wins". Note that all categories are subjective. The values are decided by the game designer (hi, Jim!) and you may or may not agree.
So Sagan sprints better than my nephews' favourite rider Marc Soler???
It's nice to have the women's deck back in the series after not having it in 2017. Scroll down to the updates to see more decks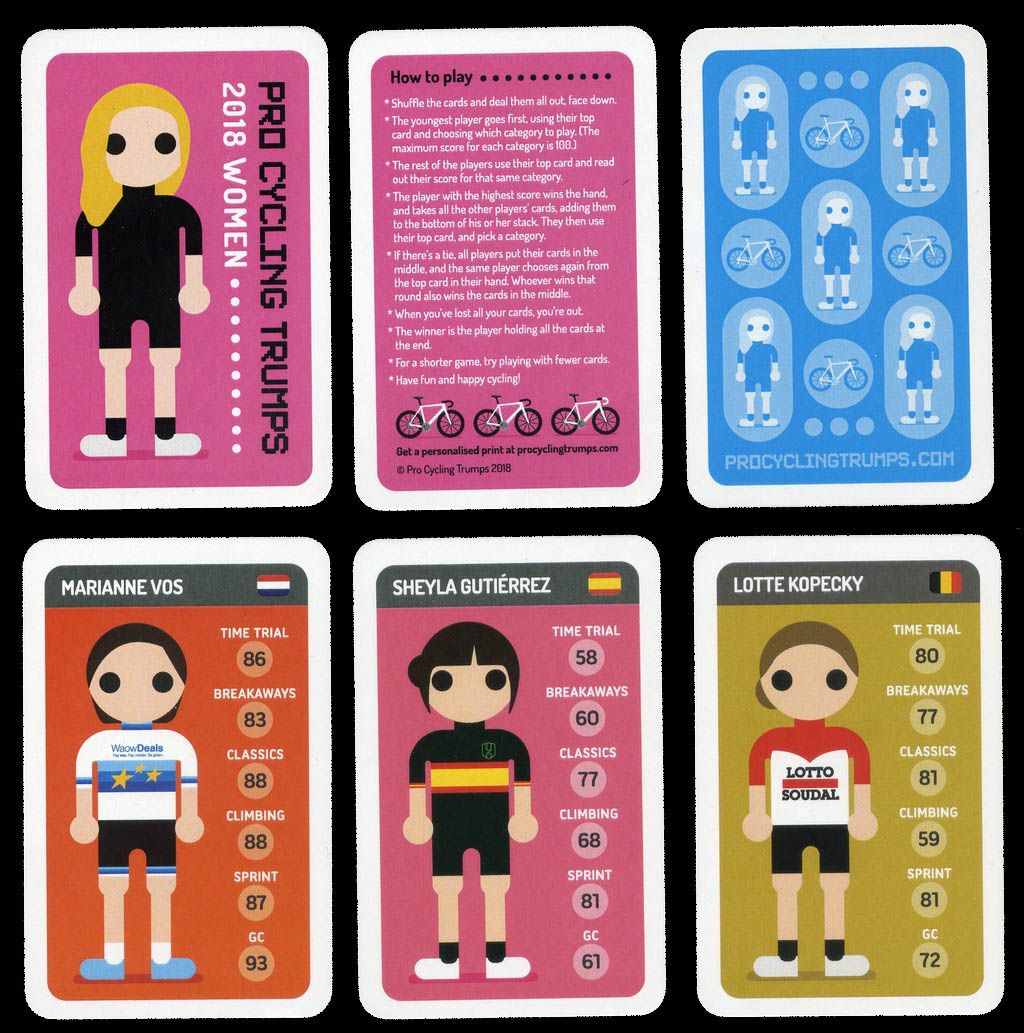 The categories being the same (and the back of the cards not so different), I guess you could mix the three packs to make a big long game. Of course, comparing male and female values may seem fair or unfair. But that is up to you.
UPDATE (2019)




In 2019 there are, again, three different packs to be purchased. The men's peloton is divided in two packs, as is becoming usual. This year's third pack is dedicated to the Ronde Van Vlaanderen. I quote from the game's website:

"54 collectible trump cards featuring a selection of the greatest 'Flandrien' cyclists of all time. We have teamed up with the Centrum Ronde van Vlaanderen for a special Flandrien Edition. They have chosen the 50 riders and 4 'Potential' Flandriens for this exclusive pack, which is available here and at the museum shop in Oudenaarde, Belgium."


UPDATE December 2019: CX EDITION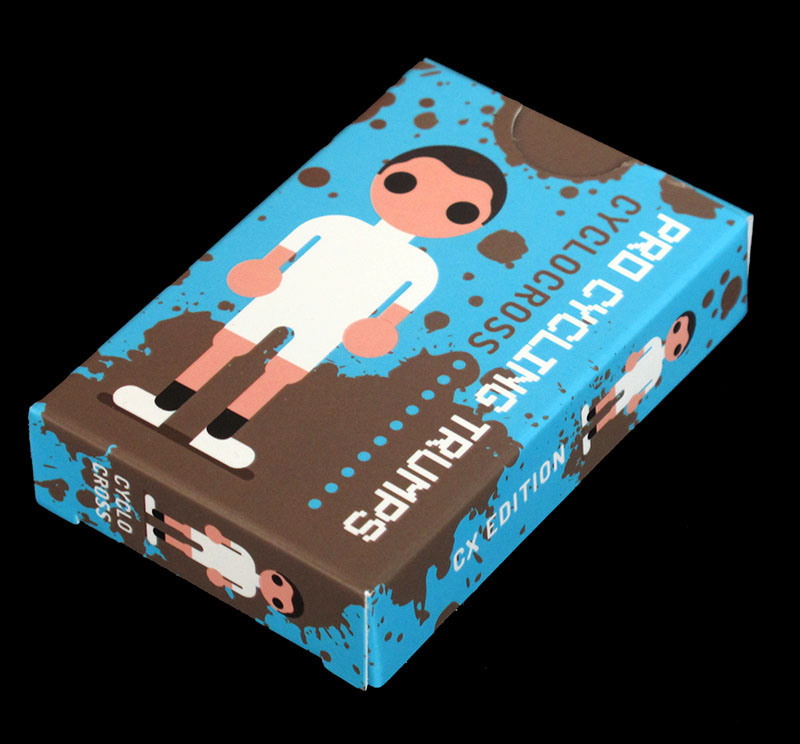 And still a new pack! If I do not forget anything, this is number 16 in the series (if you do not count the two slightly different Legends editions). This new pack is the "cyclocross edition", which is interesting because cyclo-cross is underrepresented in the cycling board games world.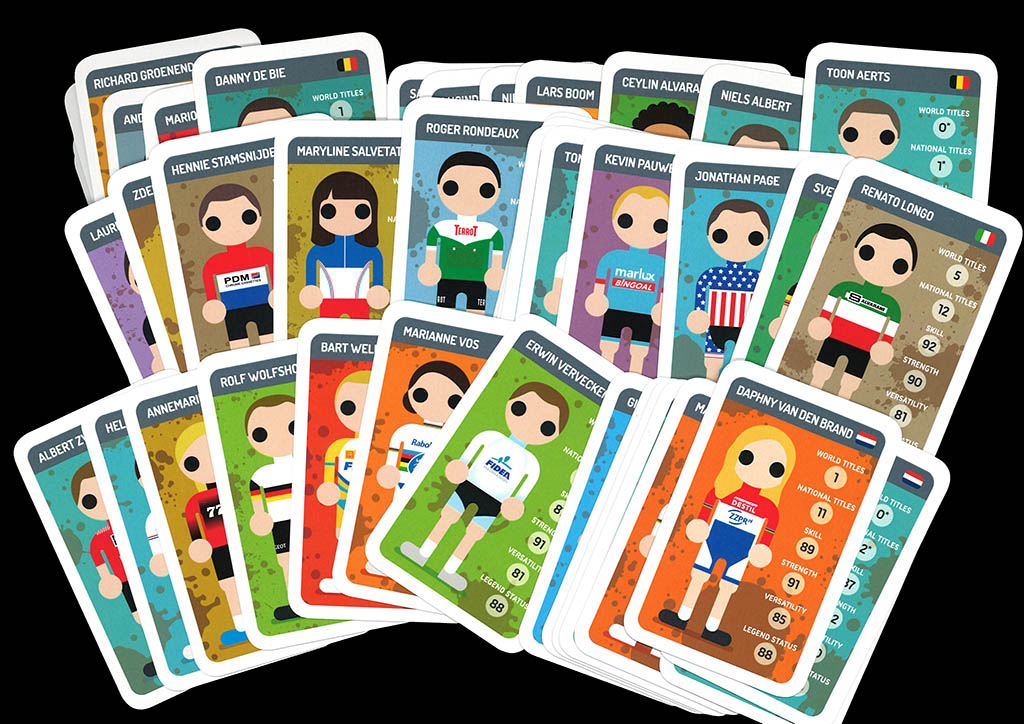 As you can see, we have cyclo-cross riders, both men and women, from the past and present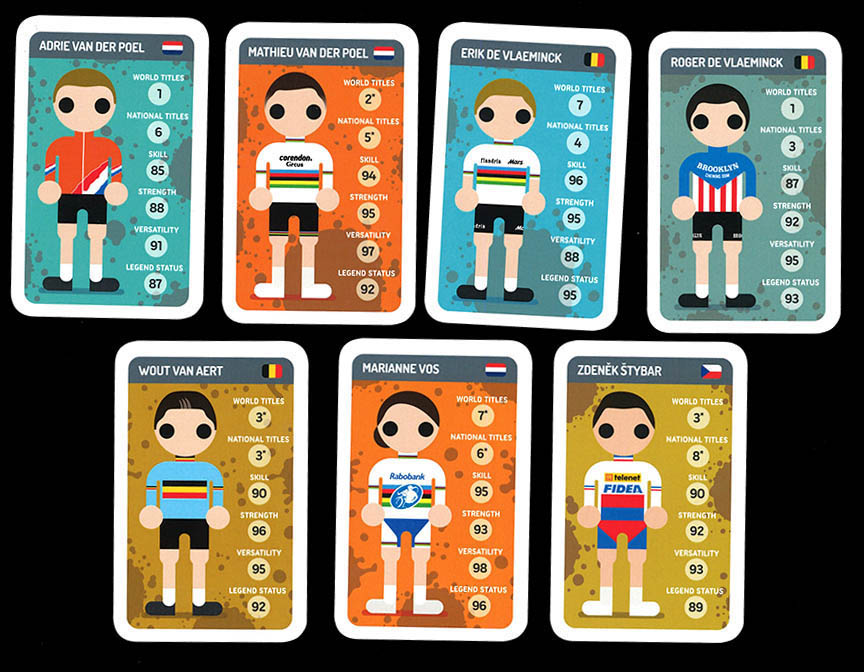 One of the categories is "Legend Status", and here is a handful of legends. Some of them come in families!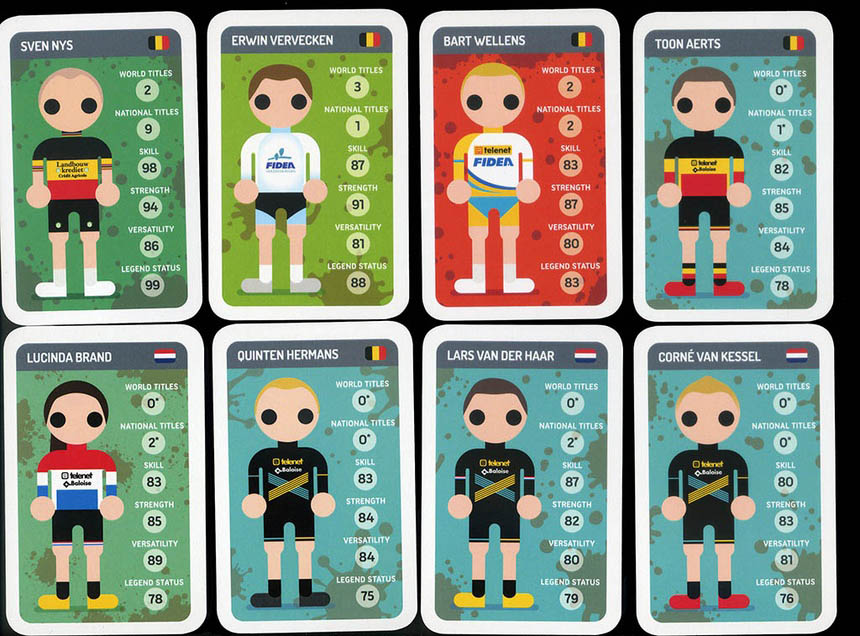 Assortment of riders from different seasons of the Telenet team, which, by the way, has its own game.
(Sven Nys, though he never ran for them, is the general manager of the Telenet-Fidea Lions team)
UPDATE May 2020: 2020 decks have been released. The fact that the cycling season has been interrupted is not a reason not to play with cyclists cards, is it?

UPDATE 2021:

Browsing through the goodies Jim sends along with the decks, I noticed a Soren Kragh Andersen card that I had not paid enough attention to when I received it. After some research and comparison, I guessed that it was meant to replace the SKA card in the 2019 deck 2. Jim confirmed that there was a mistake in the original card (*) and that the correct card was sent with the Flandrien edition to people who had already bought the bundle. That's one of the things I love about the guy: if he makes a mistake, he does his best to fix it. I hope you received this card too (**) since Jim tells me he does not have replacement cards in stock anymore.

(*) By the way, which is the original (wrong) card, which is the (correct) replacement, and why?
(**) Whaddayamean, you did not buy the Flandrien deck???? Shame on you!



This year we have a women deck again, as well as the two usual men decks.
I was watching the Tour de France on TV (stage 2, some 50 kms from the finish line, in case you want to check it) when I saw this giant piece of artwork by the side of the road. I asked Jim McLeman about it and he told me it was Bas Tietema (the Dutch cycling vlogger) who created it. It looks incredible seen from above.

UPDATE 2022:

Cycling resumes in all its glory after a couple of difficult seasons, and here are Jim's 2022 decks to prove it. This year we have just the two Elite Men's decks. It would have been a good year to have a women's deck too, with the launch of the Tour de France Femmes, but I guess you cannot have everything.

UPDATE 2023:
This is the tenth year we have Pro Cycling Trumps decks (thanks, Jim, for all the work done in these years), and what started as a single 54-card deck with some selected 2014 cyclists has turned into a quite worrying collection of some 30+ decks, which is somehow a bicycle racing encyclopedia of the last decade.

This year we have three expected decks and a surprise. Among the expected decks, of course, are two men packs, as has been the norm since 2017, and a women pack. Jim McLeman was brave enough to release a women pack back in 2015, when women cycling was not that popular, and though he has not released women packs every year, it was quite obvious with last year's mediatic boom that this year we would have a women pack. And I hope that from now on we can have one every year, but of course it is up to the buying public to make this possible.

This year's surprise has been the Flandrien deck update. Although the box is hard to distinguish at firs sight from the original 2019 Flandrien deck (scroll up to check it), the contents have been updated. According to Jim, there are fourteen changes, mainly different kits but also a few new riders chosen by the Centrum Ronde van Vlaanderen.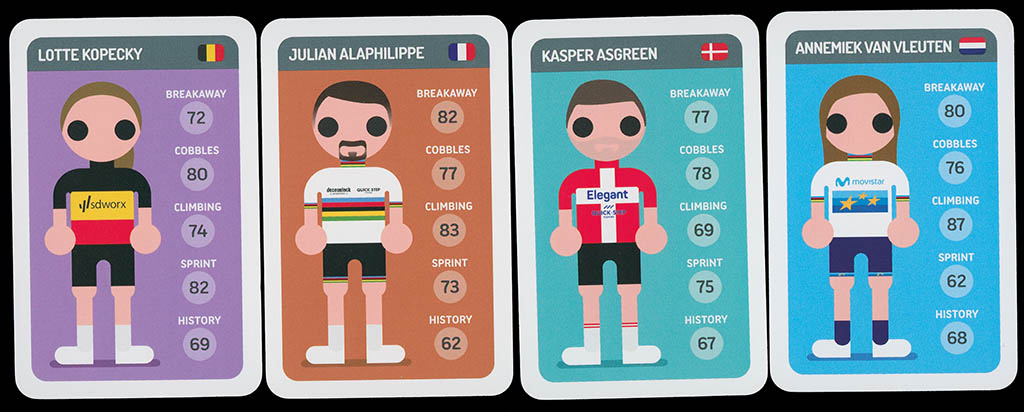 Check if you can find these cards on the former Flandriens' deck (spoiler: there were not women in the 2019 deck).

Note for collectors: Besides this Flandriens deck, which of course you need, there is also an extra Dylan Teuns card since the one in pack 1 has the wrong kit. I guess Jim will send the updated card along with the deck. You may keep the extra card along with 2021's Soren Kragh Andersen's.
Check the Cycling Pro Trumps official website to see all the cards and keep up with the new releases.
| | | | | |
| --- | --- | --- | --- | --- |
| | | | | |
| INDEX (MAIN) | ALL THE GAMES | ALPHABETICAL | CATEGORIES | WHAT'S NEW |