MAGNYTOUR
Magnytour.com, Belgium, 2007 / 2021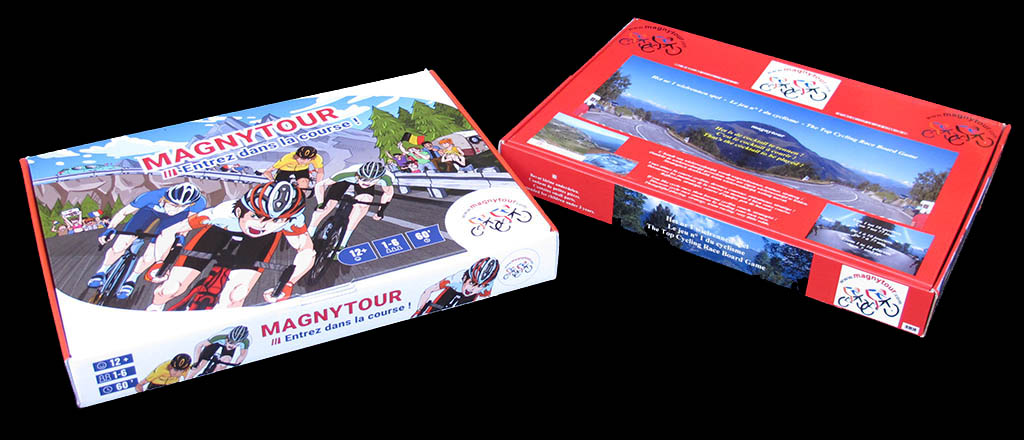 This game was first reviewed on this site when it was first released in 2007 (red box on the right of the picture) and was classified among (I quote) "some self-produced interesting new games like Velomaster or Sprinter3D". The thing about these self-made games is that the may be quite resilient. While some disappear almost unnoticed, others are nurtured by their authors like they were their sons (which in some way they are) and defy disappearance.

This is the case with Magnytour, which has recently been reissued with an improved design (box on the left of the picture). And in this case it is not only a reissue some 15 years later that we face: according to its website "this game has slowly matured since 1962". Not bad!

The game , of course, suffers from the typical problems that plague self-made games: amateurish design, awkwardly written rules, and of course the fact that small production runs force the games to be rather expensive. But this is something we have to deal with in order to have all these self-produced games without which the world would be a duller place.

In the case of Magnytour, some of these issues have been corrected in the 2021 version, specially the graphic design.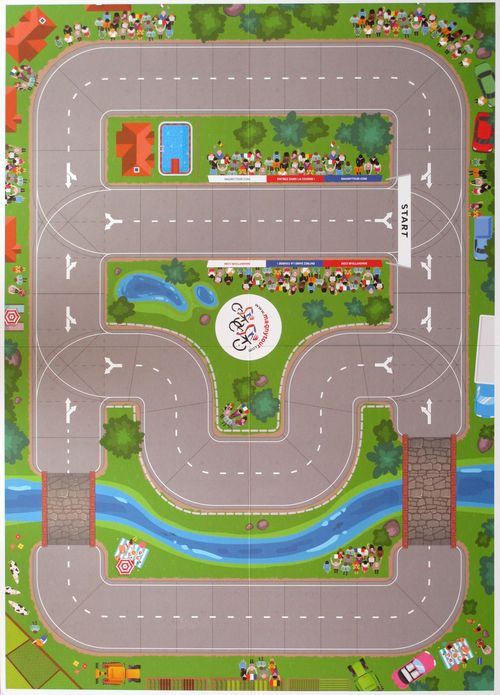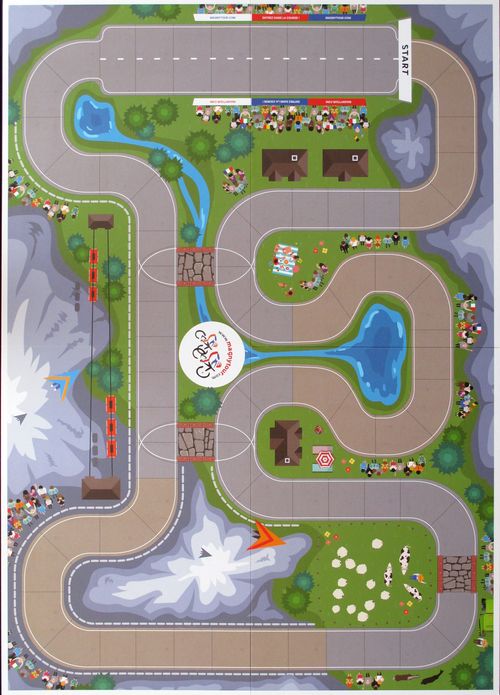 2021 board (two-sided). Compare with the older boards below.
With Magnytour you can play either a single race or a stage race. The estimated time play on the box (60 minutes) is the time you need to play one race or stage, but there are rules to play a full stage race over different sessions. Unusually, the time gaps depend on the type of stage: a square represents a 10s gap in a flat stage or a 15 s gap in a mountain stage. There are also rules for time trials.

In the rules booklet we find 14 different stage profiles, and 3 somewhat simplified grand tours (Tour, Giro, Vuelta). Of course you can make your own stage profiles, or purchase more at the game's online shop.

In his turn, a rider can choose between throwing the dice or, under certain conditions, follow the rider ahead under an aspiration rule.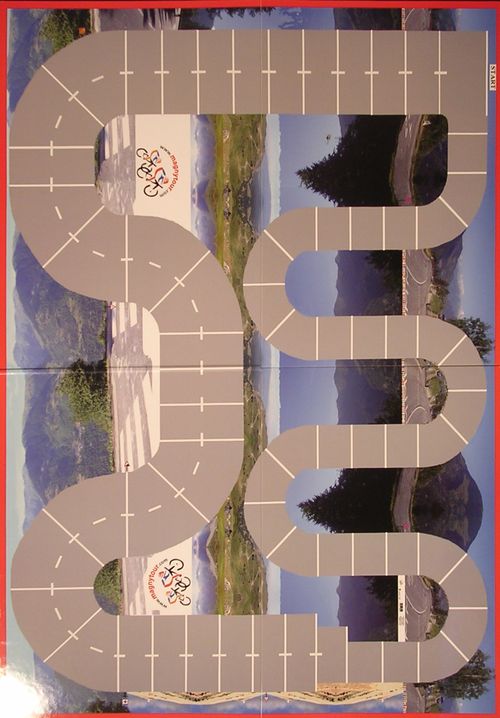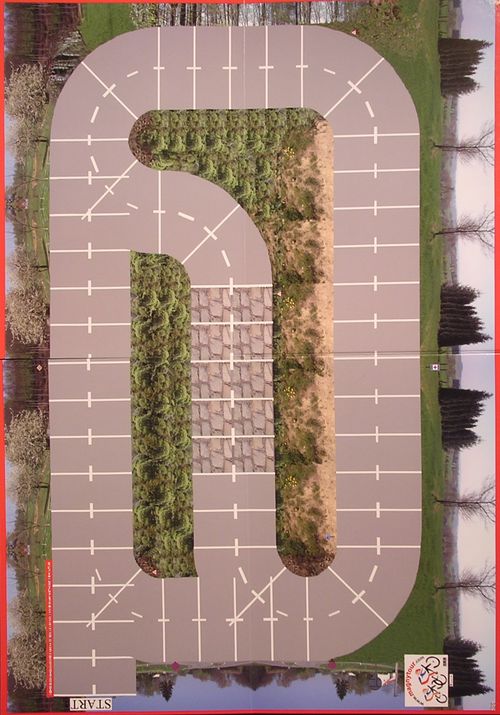 This is the 2007 version of the two-sided board
The boards must be big to accommodate the big Cofalu figurines. They measure 84 x 60 cms (the new and the old version boards are of the same size). The boxes are not small either: 45 x 32 x 6 cms (again, in both cases).

As you can see, the boards are two-sided and they offer different routes, so you have plenty of combinations for different stages. Furthermore, extra boards can be purchased (as printable PDF files) from the game's website, though I do not think you will ever need them.

You may have noticed that the boards have a starting line but do not have a finish line. This is because the length of a race is determined by the number of throws (as indicated in the profile) and not by reaching a predetermined finish line.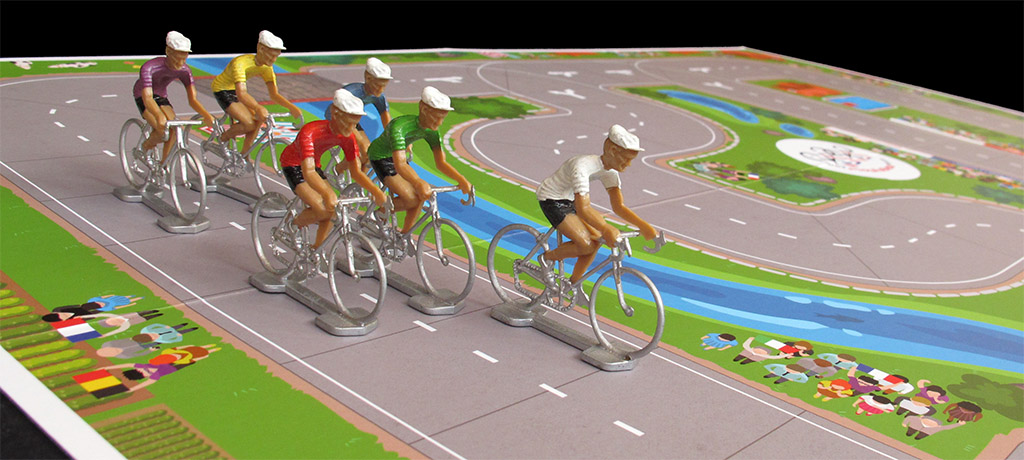 Each team is composed of three riders (Leader/Climber, Rouleur, Sprinter) with different abilities. Provided stickers should be pasted to the riders wheels in order to identify them. Don't look for them in the pictures, though: I generally unpack/cut/paste all the elements of games as if I was going to play them (though most of the time I do not play them for different reasons). However, this is not the case. For the pictures I opened only on set of riders. That is why you only see one rider from each team and why these riders do not have pasted stickers.

In 2021 Cofalu riders may seem somewhat outdated but that is a question of personal taste. Interestingly, there is a recent article by Alex Poyer on that subject ("Les figurines cyclistes: entre identification, héroïsation et collection? (1890 à nos jours)", see bibliography)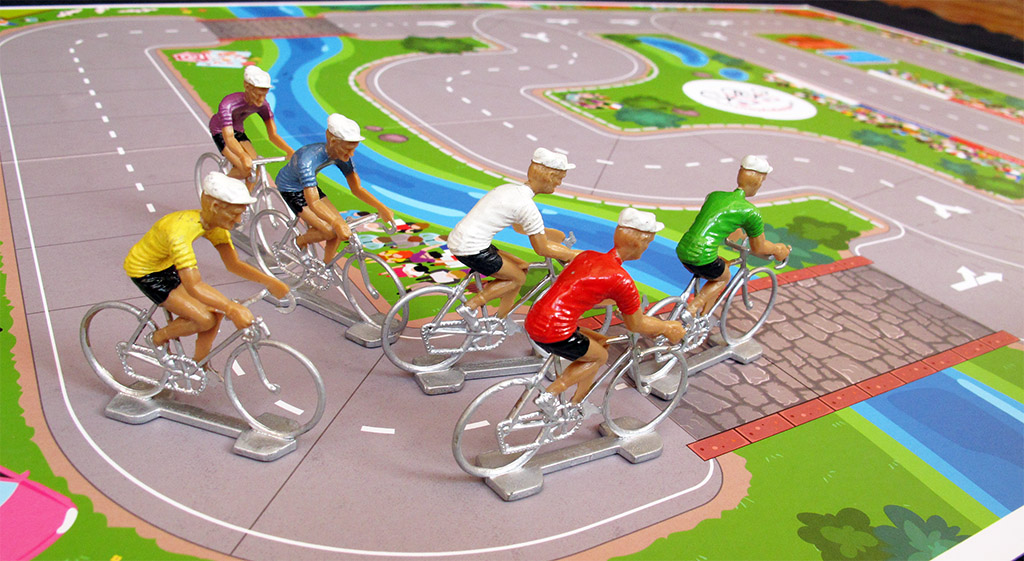 While it is safe to say that the design of this game has hugely improved in the 2021 version, and if you are going to purchase it I would recommend the new version, you must be aware that the rules of the 2007 version are trilingual (French, Dutch, English), while the 2021 reissue seems to be French-only (though the website says "mode d'emploi en trois langues").

The rules booklet design has improved too, of course, and the /French) rules have been reworded, but they are basically the same rules in both versions of the game. The stage profiles are different though.

Unfortunately, the rules are not available online, which is a negative point for any game in these days.

In these pictures the glossy 2007 board does not look too bad, does it?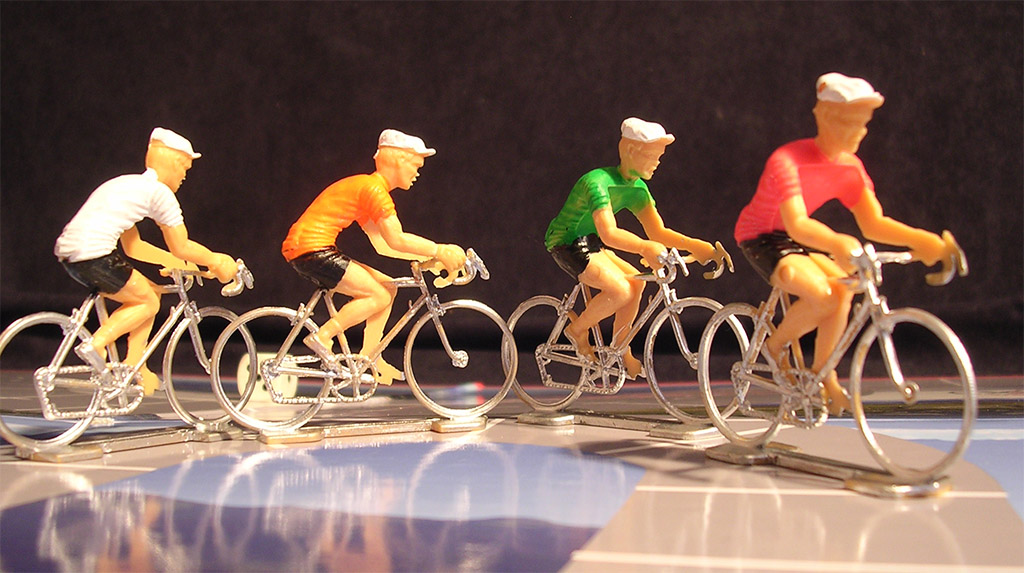 Cofalu riders that tend to fall, as we all know, but look nice in the pictures.
These guys are quite cute, actually. I definitely prefer the modern version of the board.
As I said, you can buy extra boards to print and profiles for different races on the game's website . Since I do not personally like the idea of paying for PDF files, I would rather recommend the pre-printed cobblestone cards. (Thanks Denis for the bonuses!).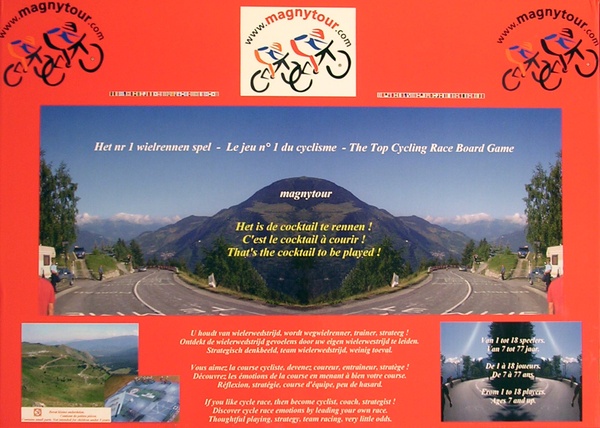 Compare the two boxes.
UPDATE 2023: A video version of the game has just been released. You may purchase it from Magnytour's official website. Of course, I am absolutely opposed to video versions of board games, I will not buy it, and most probably not even try it. This said, there is no reason for not mentioning it: you may have your own opinion on the matter. The world would be a very dull place if we all had the same opinion.
Check the official website: www.magnytour.com
Description rewritten in March 2021
| | | | | |
| --- | --- | --- | --- | --- |
| | | | | |
| INDEX (MAIN) | ALL THE GAMES | ALPHABETICAL | CATEGORIES | WHAT'S NEW |