PRO CYCLING QUIZ
Matti Breschel and Mikkel Damkiĉr, Denmark, 2023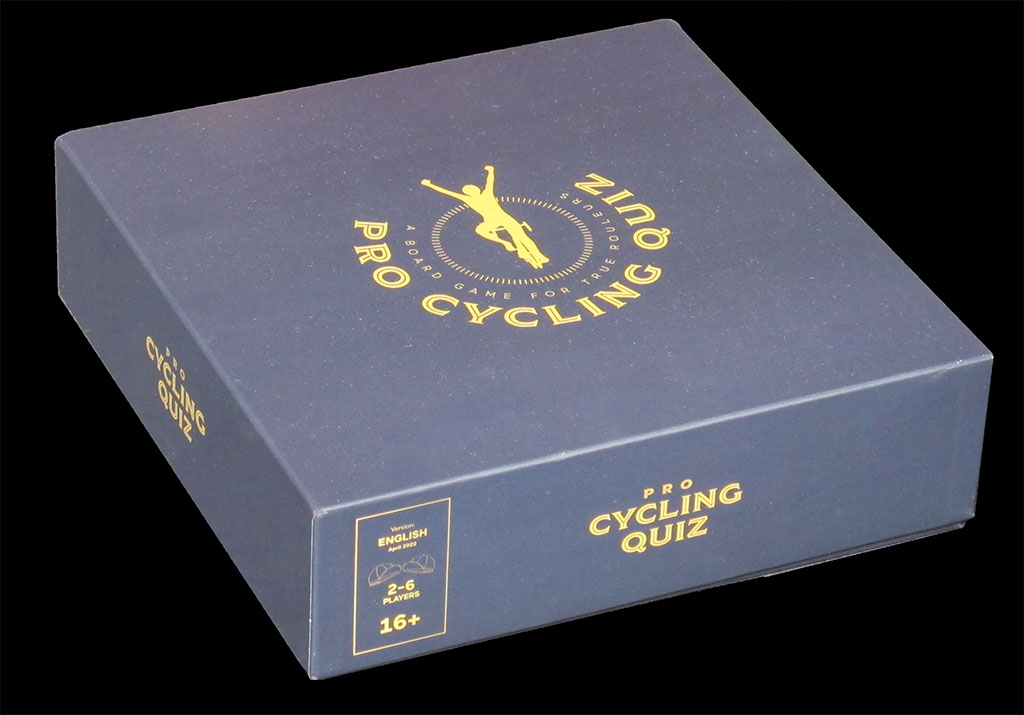 I have written many times that I do not particularly like quiz games. It is not that I profoundly dislike them (I have quite a few in my collection) but I am not attracted by them. Displaying who knows more about a particular subject is not my idea of a funny evening. This said, some of these games are better than others, and if I had to keep only one cycling quiz game, this Pro Cycling Quiz might be the one.

At first sight, the game looks unpromising, with a big (27x27x7cm), heavy, not-so-flashy box, and a not particularly appealing title. By the way, you have to read the title not as "a quiz about Pro Cycling" (which it also is, of course), but as "a pro quiz about cycling". This, and the telling subtitle "a board game for true rouleurs", is what better describes the game.

To put it simply, the questions in this are difficult. Quite difficult. Or, even, VERY difficult. It is a game for cycling experts. And it does not hide it. That is why I like it: it offers what it promises.

Furthermore, this game has been developed by a former pro rider, Matti Breschel, along with his entrepreneur friend Mikkel Damkiĉr. It thus enters the short list of games designed or developed by elite riders. I hope that someday these games will become a category, but so far there is only a game by Niels-Kristian Andersen, and another by Roman Čermák, in the list. So this is the third such game (and two of them are by Danish riders!)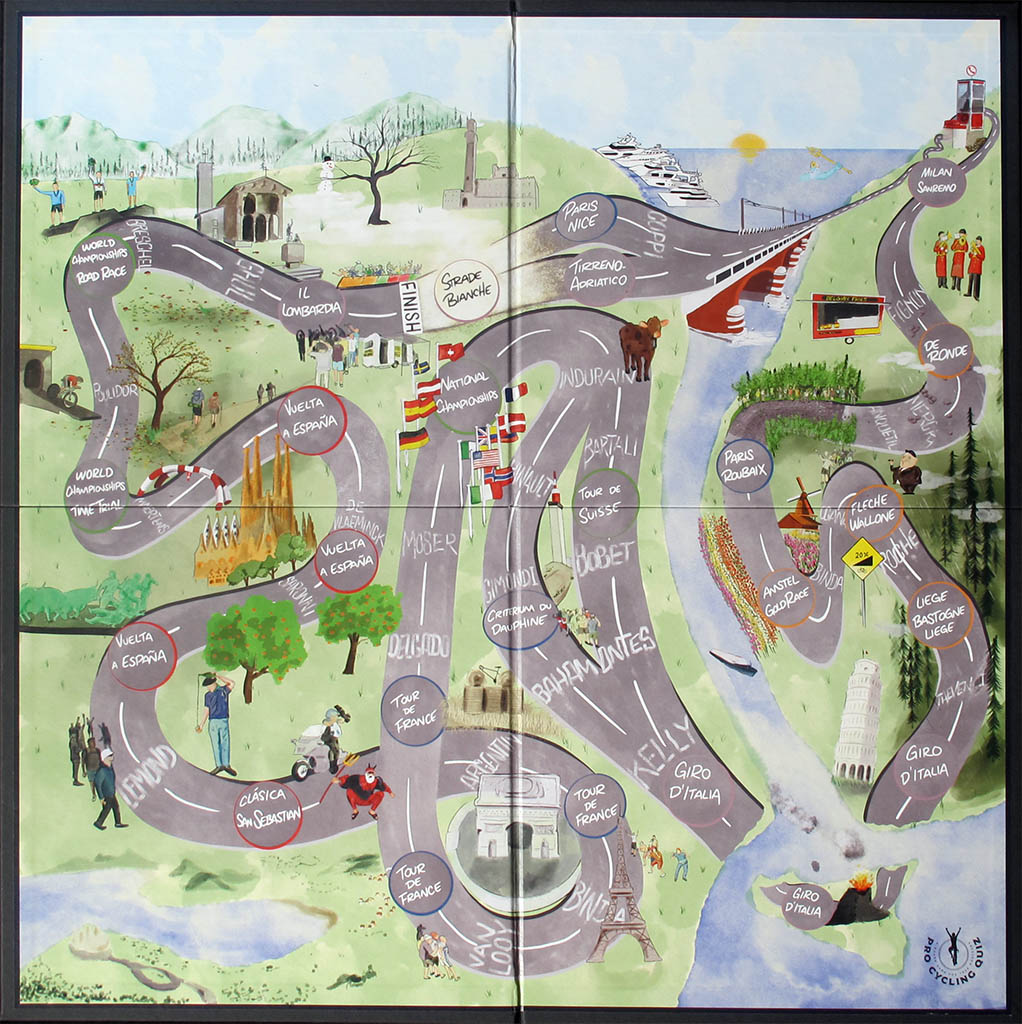 The open board measures 48x48 cm and represents a cycling season. The races are ordered chronologically, according to their order in the cycling calendar, and when two races are simultaneous (for instance, Paris-Nice and Tirreno-Adriatico) there are two paths that you can choose. On the other hand, the three-week tours have three fields each.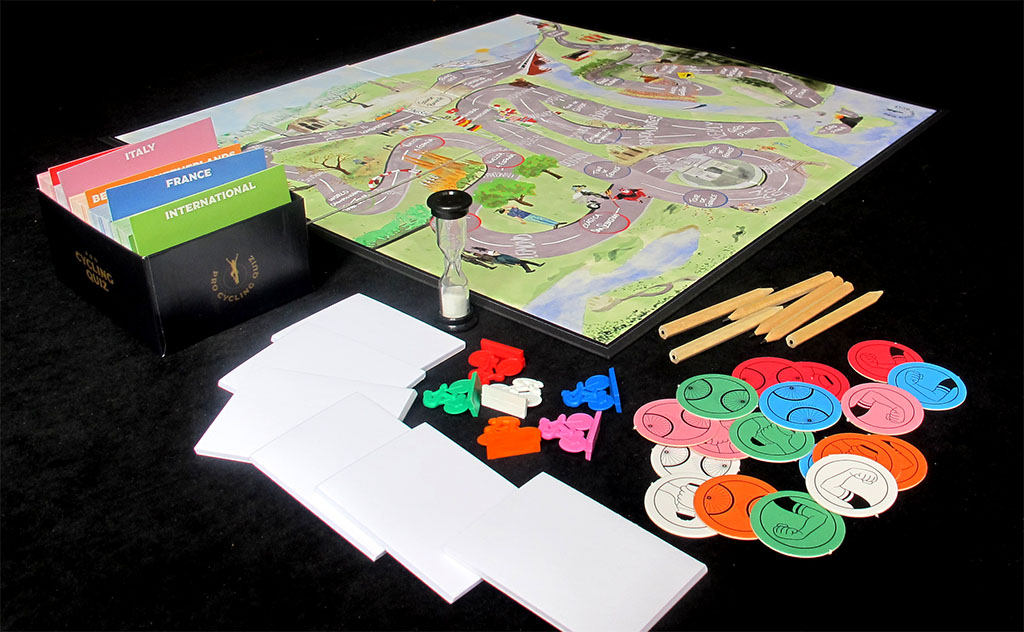 Contents of the box. I could have done without the paper blocks and pencils, but it's nice to have them included.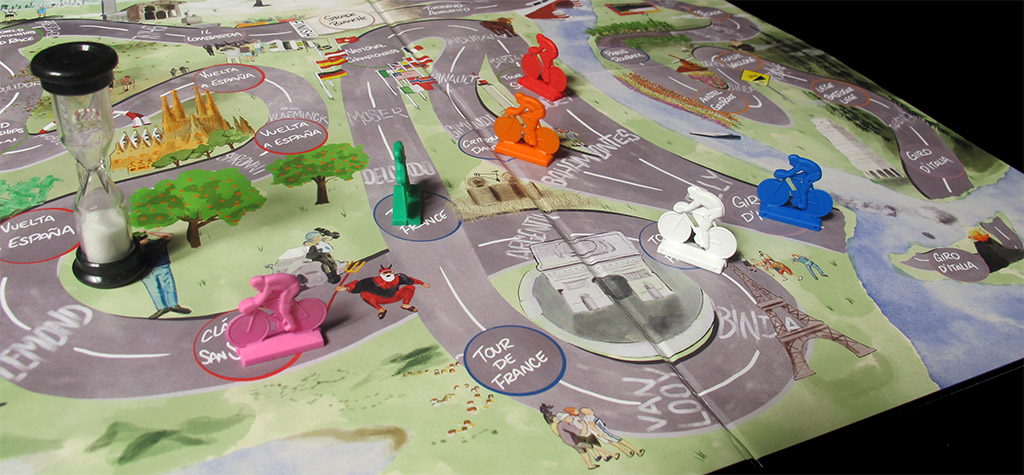 The game includes the usual small rider-shaped counters. As long as they are available from game components' suppliers, I do not see why cycling games should not use them.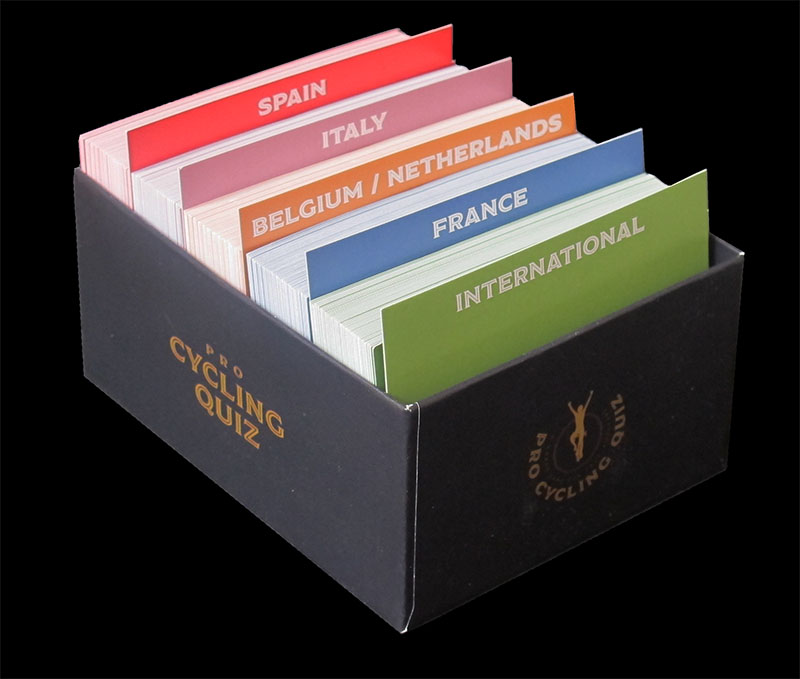 Here is the core of the game. A lot of cards with a lot of questions.
(Of course, the game is language-dependent. However, there are two versions of the game, one in English and the other in Danish.)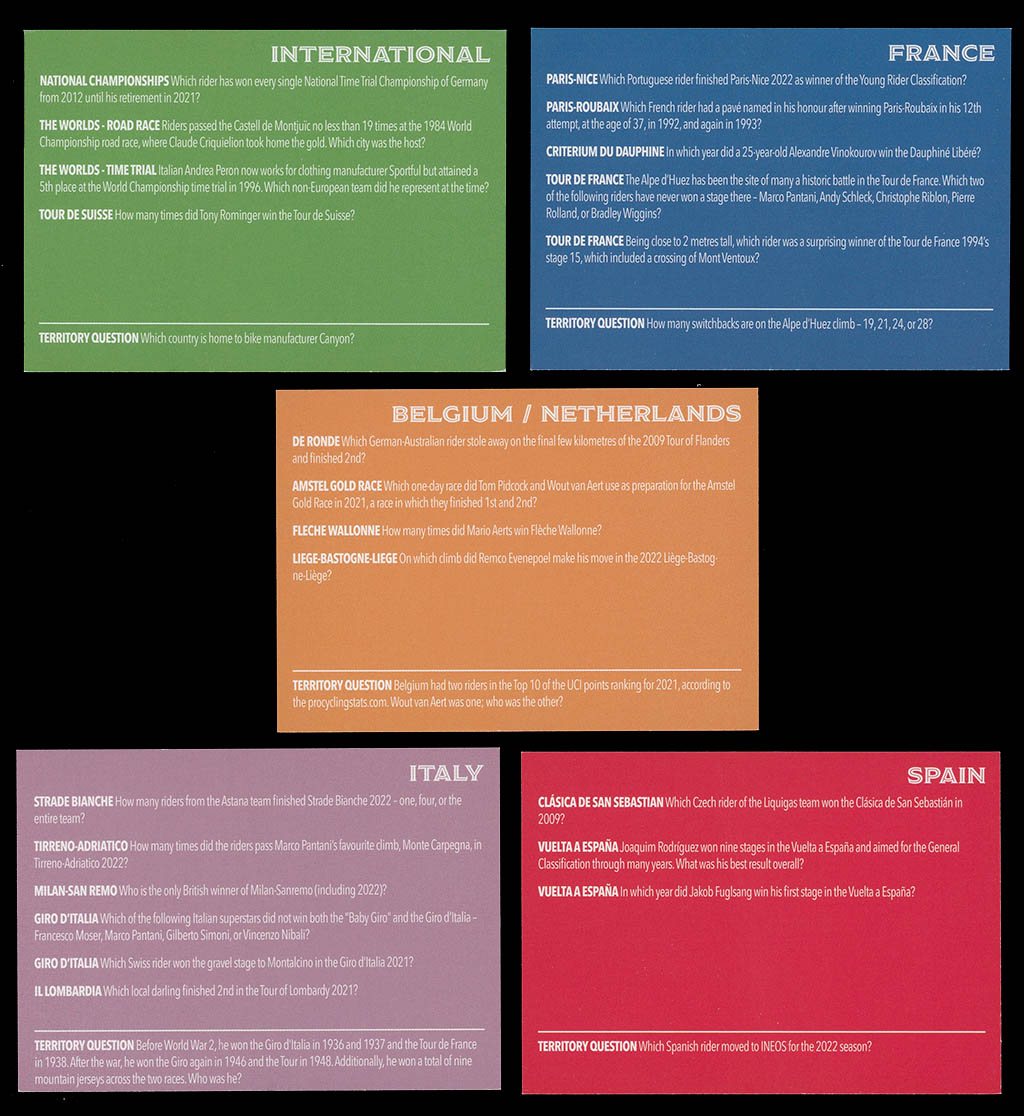 How many of these can you answer without checking them on the web?
The answers are on the back of the cards, of course, but I did not want to spoil the fun.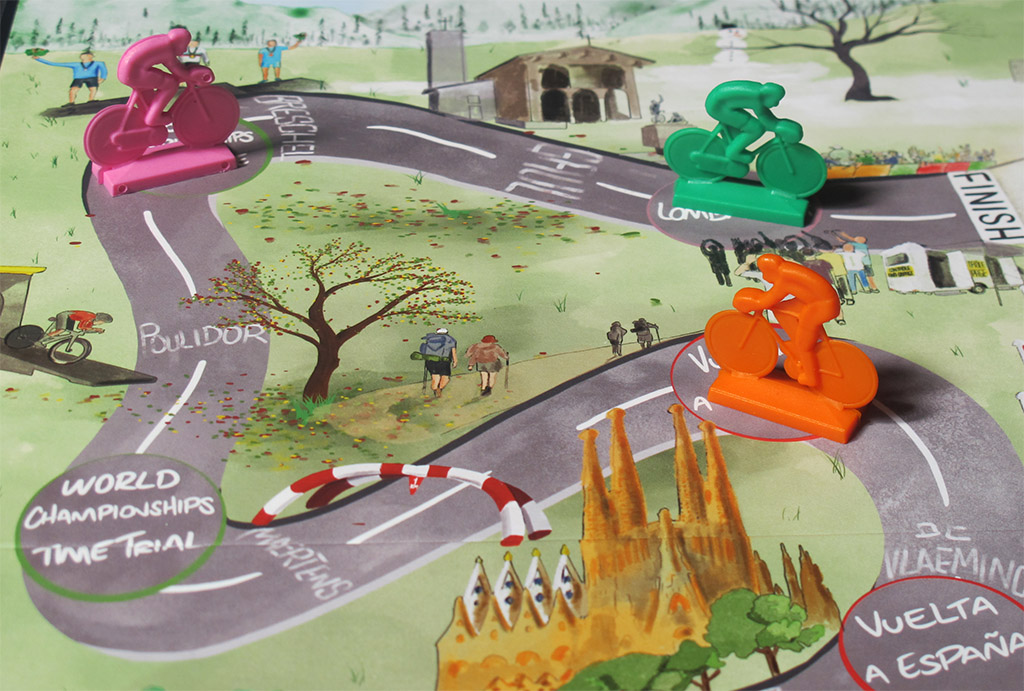 The major problem with this game is that it does not include the Volta a Catalunya, one of the oldest races in the racing season (first held in 1911) and, of course, my home race. As compensation, it features Gaudi's Sagrada Familia, which is a couple of blocks away from where I live ;-)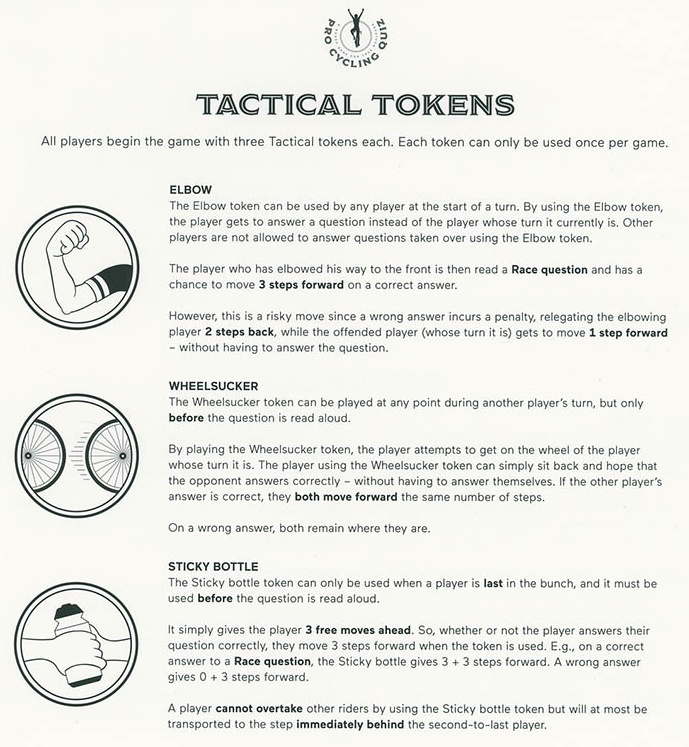 Three tactical tokens to spice up the game.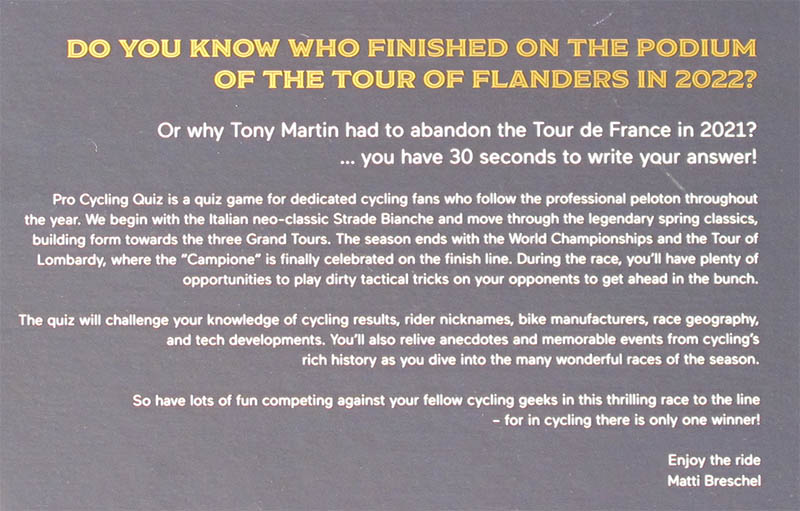 The words on the back of the box say it all.
If you belong to the "cycling geek" category, do not miss this game. But if you don't, I would advise you to look somewhere else.
Thanks, Mikkel, for sending this one.
Description written in October 2023
| | | | | |
| --- | --- | --- | --- | --- |
| | | | | |
| INDEX (MAIN) | ALL THE GAMES | ALPHABETICAL | CATEGORIES | WHAT'S NEW |