TOUR DE FRANCE CYCLISTE / GRAND RALLYE TOURISTIQUE
Saussine, France, until ca. 1950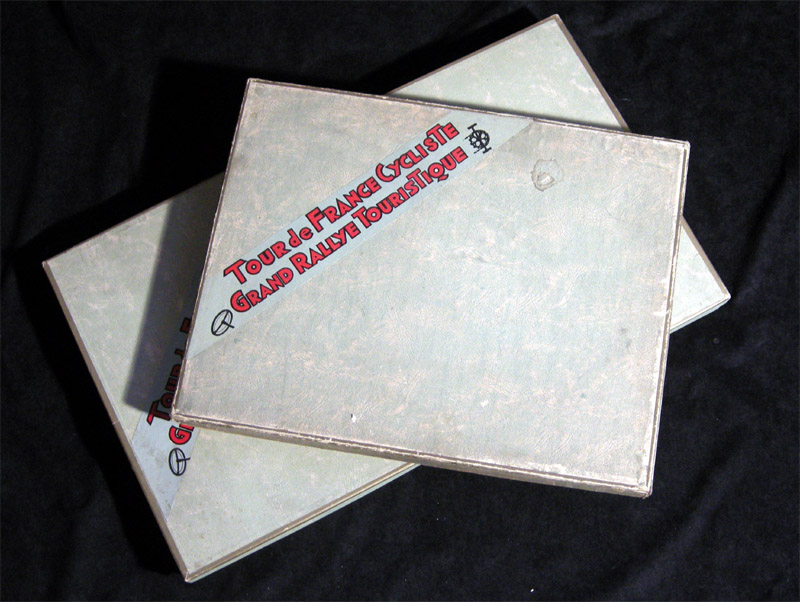 Later version of the old Jeu des Cyclistes, also known as Jeu des Touristes, and previously known as Nos Cyclistes à Travers la France et la Belgique. Saussine are probably the longest-running French game makers (they started in 1860 and made games until 1968) and in many cases they revised their games to adapt them to modern generations.

In this case, the map has been redrawn (since French borders changed after the first World War), and one of the games has become a car rally. The rules of both games have been rewritten. The cycling game is played on the outer circuit (while the "grand rallye" is played on the map of France). It's just another Game Of Goose (no strategy at all), where players receive bonus points if they pass first through fields marked with blue circles (supposed to be the towns at the end of the stages, though you do not stop on them). A couple of stages (Bordeaux-La Rochelle and Nantes-Caen, both six squares long) must be completed in a maximum of two throws of the die.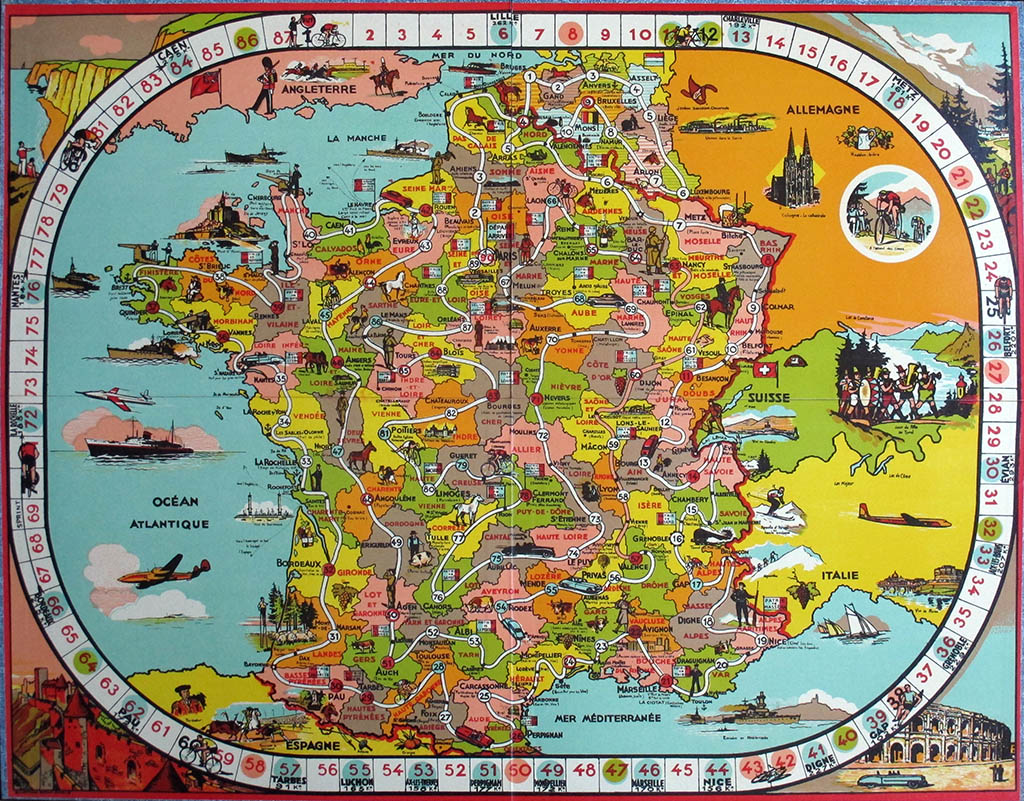 There are at least two editions of this modern version of the game. The longer box is the "deluxe" version, featuring painted riders. Notice that there are 6 riders and only 5 cars, but that the way the game is. No car is missing here!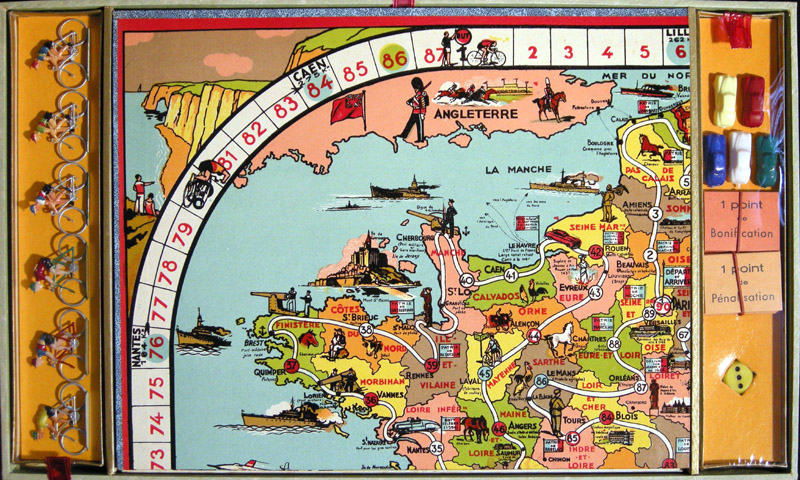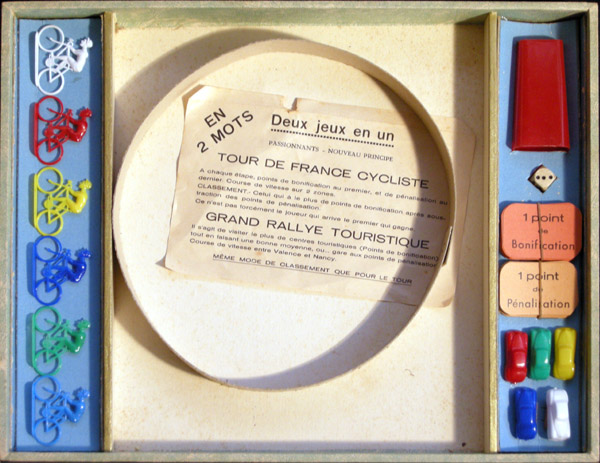 By the way, the leader of the race is supposed to take the yellow cyclist.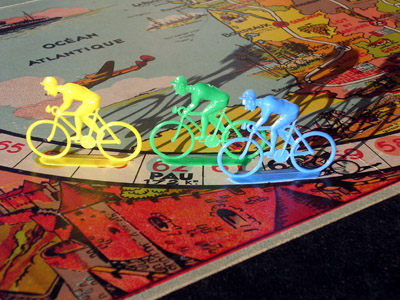 Compare the old and modern boards.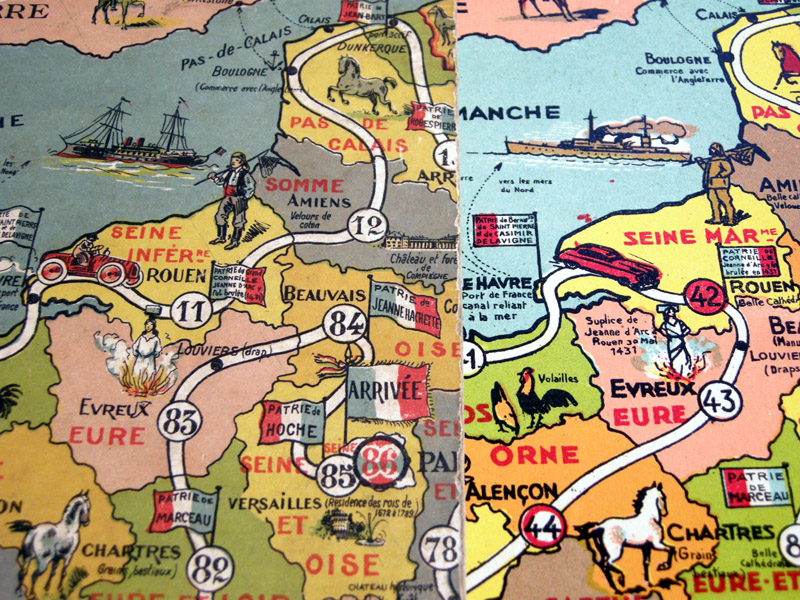 Now, compare the intermediate and modern boards: Colour marks and distances in kilometres have been added to the "velodrome" track. Some elements (for instance, the blue car) have been redrawn and (slightly) modernized.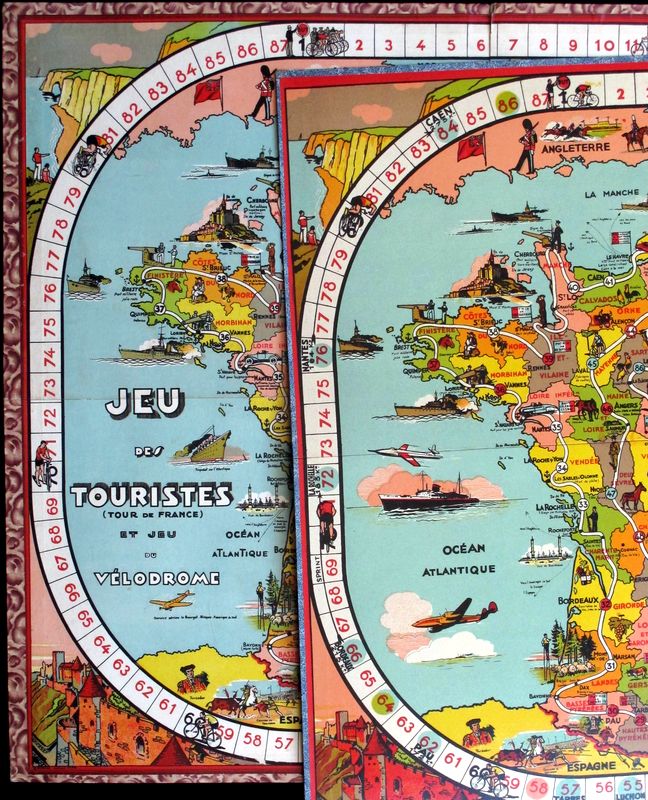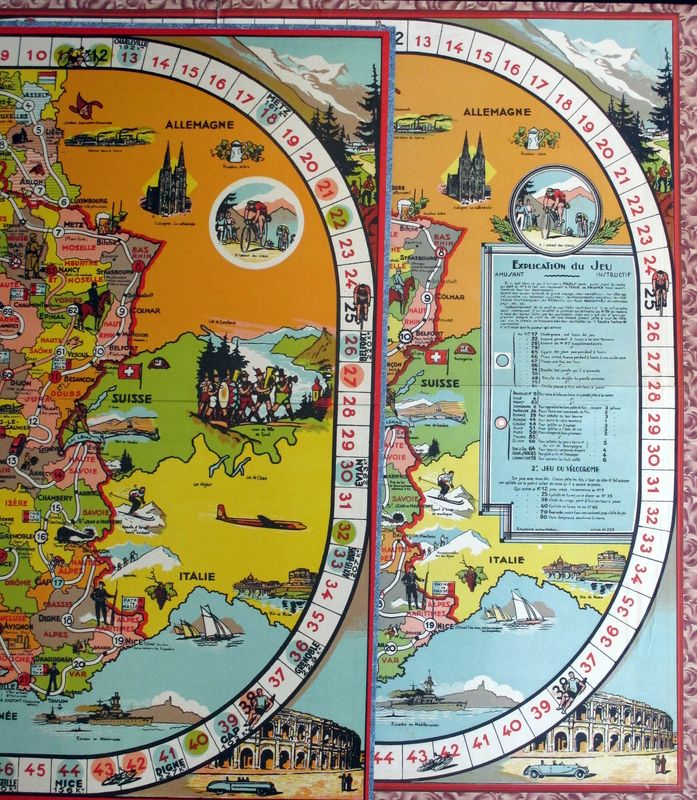 Of course, the rules have also changed. The outer board is no longer supposed to be a velodrome. Now the game represents the Tour de France, with different stages (blue circles with kilometer marks), and a maillot jaune for the leader. However, I still list it in the Games Of Goose category.

By the way, the two older versions of this game are also listed in the Cylo Touring category, though it is debatable whether they are cycling or rather car touring games. Let's admit that the Jeu des Cyclistes is a cycling game, and let's consider that the Jeu des Touristes does not make clear it is not (specially if we consider that in the twenties there were more people cycling than riding cars). Of course, this last version of the game is not a cycling game.
| | | | | |
| --- | --- | --- | --- | --- |
| | | | | |
| INDEX (MAIN) | ALL THE GAMES | ALPHABETICAL | CATEGORIES | WHAT'S NEW |