CYCLING-RELATED CARD GAMES
In this section we feature cycling themed card games which do not represent a cycling race. Card games that represent a cycling race like Échappée (Der Ausreisser), First To The Line, Attack The Pack or even Stap Op are in the main section, as well as Il Campionissimo (which does not look like a card game, but may be considered one). Of course board games which happen to be played on a board made of cards (Giro Binaca, Windschatten, Giro d'Italia card game...), are in the main section too. Even a game like Le Tour de France sur un tapis is on the main section, though it probably should not.

What's left here is:

(a) "Happy Families" games (aka quartet, "go fish!" or jeu des sept familles).

(b) "Highest values" games (sometimes called "trumps games") in which cards feature different elements which can be compared by a series of values. These games are very popular in Germany, where they are called "quartett", in a quite misleading manner. In fact, some these games may be played as Happy Families (generally, German ones can)

(c) regular card decks with a cycling theme or related to cycling in some way.

If you are looking for cycling-related cards in otherwise non-cycling card games, check this list on The Card Tower.

The games in this section used to be all together in a list. Since the section has grown, I am starting to make a page for each game, as in the main section of the site,. However, it might take some time. For now we have a mixed version of this section.
ASES DEL CICLISMO
Ciclismo a Fondo/Heraclio Fournier, Spain, 1986

A "highest values" game from Spain's better known card manufacturer, in which you compare the weight, height and other features of the cyclists.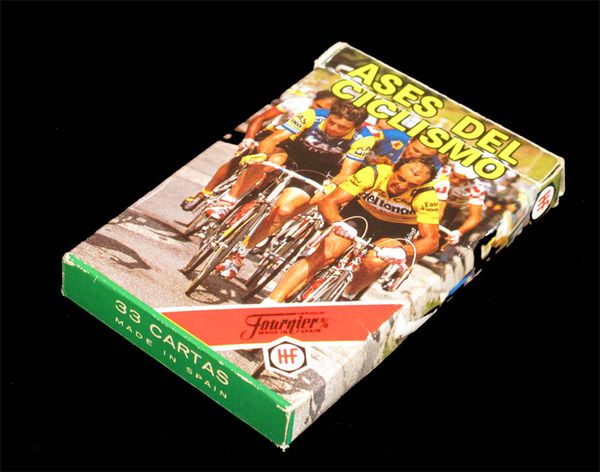 CICLISMO 92
Ciclismo a Fondo/Heraclio Fournier, Spain, 1992

Another "highest values" game from Spain, this one with the riders of the 1992 season.

CYCLING STARS

Magma/Laurence King (illustrated by Rupert Smissen), United Kingdom, 2014

A "highest values" game from the UK. This one features 30 riders "from the long and illustrious history of cycle racing", according to the maker.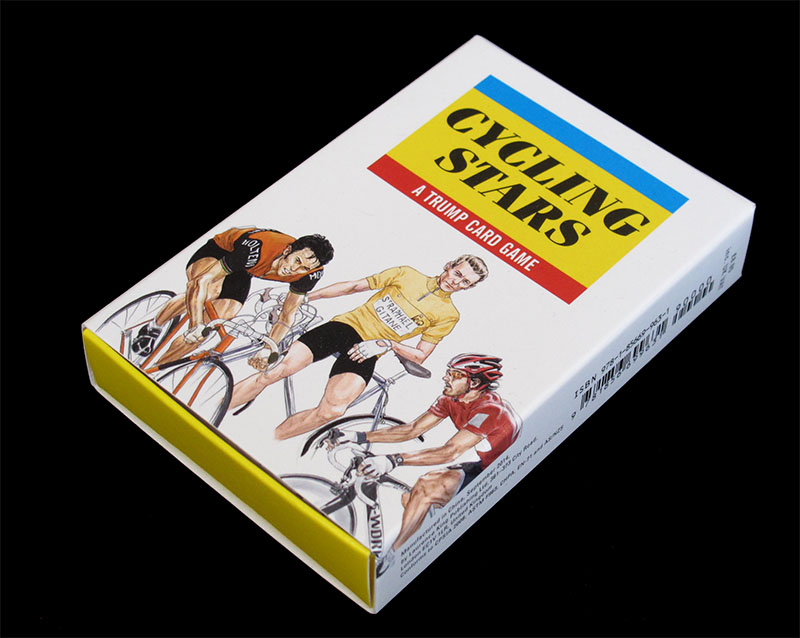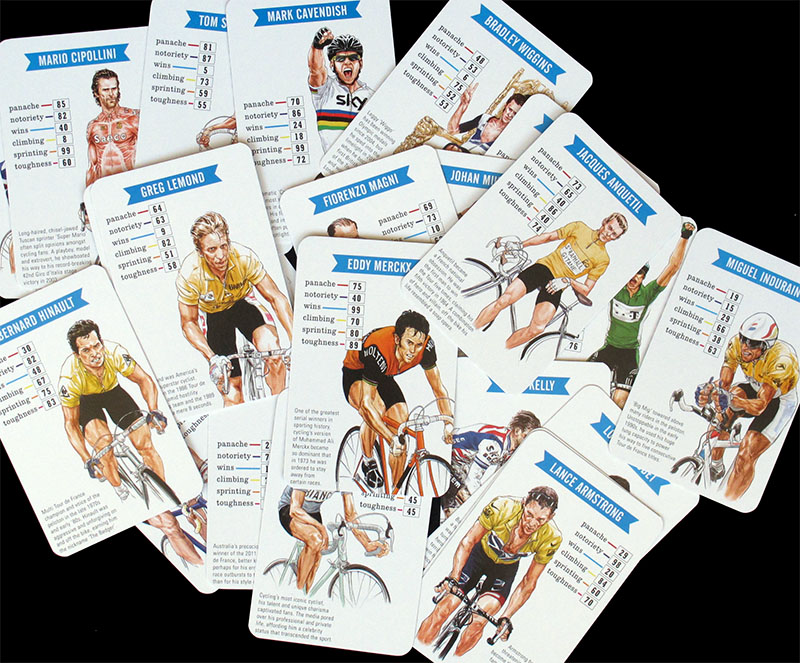 BATTLE OF THE BIKES


Magma/Laurence King (illustrated by David Sparshhott), United Kingdom, 2013

Another nicely illustrated "highest values" game from Laurence King. This one features 30 iconic bikes.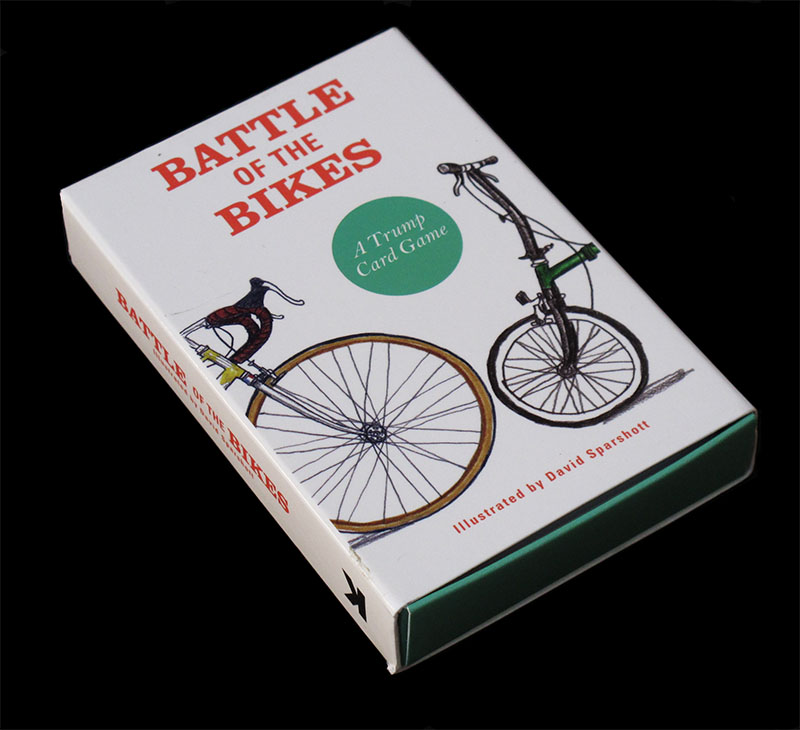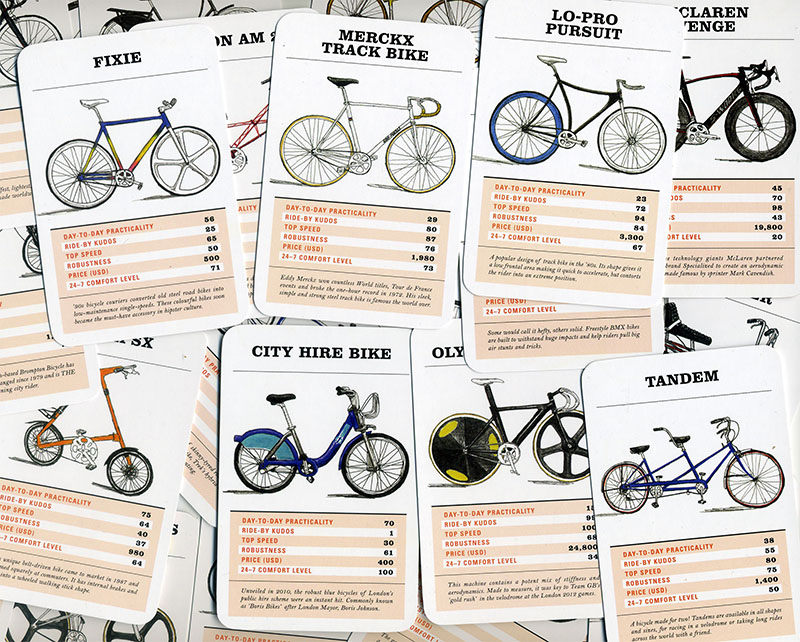 CYCLING HEROES. WHO IS THE FASTEST?
Winning Moves, UK, 2015
Here is another British "high values" game, in this case a poorly designed one (that's the least I can say about it) in which we find a weird mix of retired cycling aces, and modern male and female road and BMX riders (how can a BMX rider score in the "Tour de France wins" category? - so we add two indeterminate categories "Inspriration" -?- and "Top Trupmps Rating" -???- to compensate). I am not even sure if the firm behind should be called "Winning Moves" or "Top Trumps". However, they even have a website, which you can check in case you need to know more.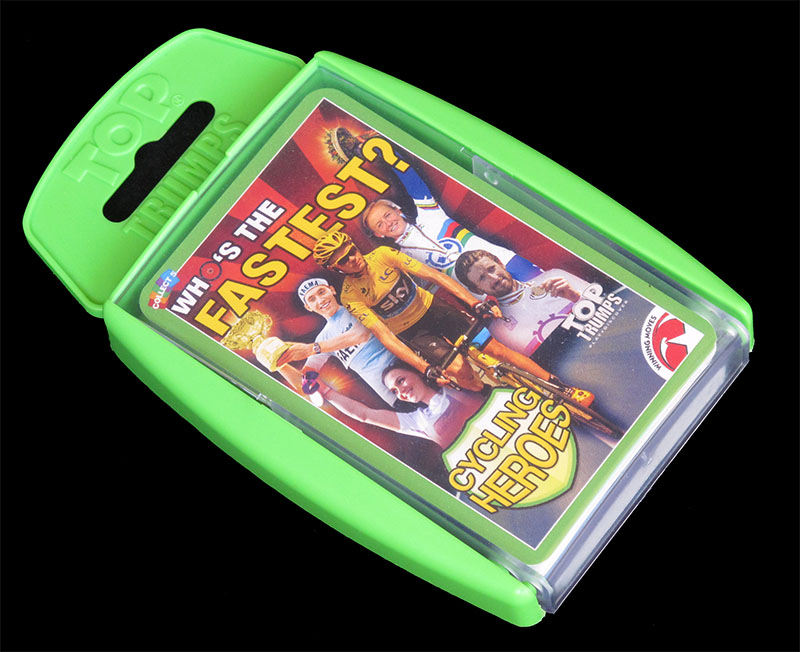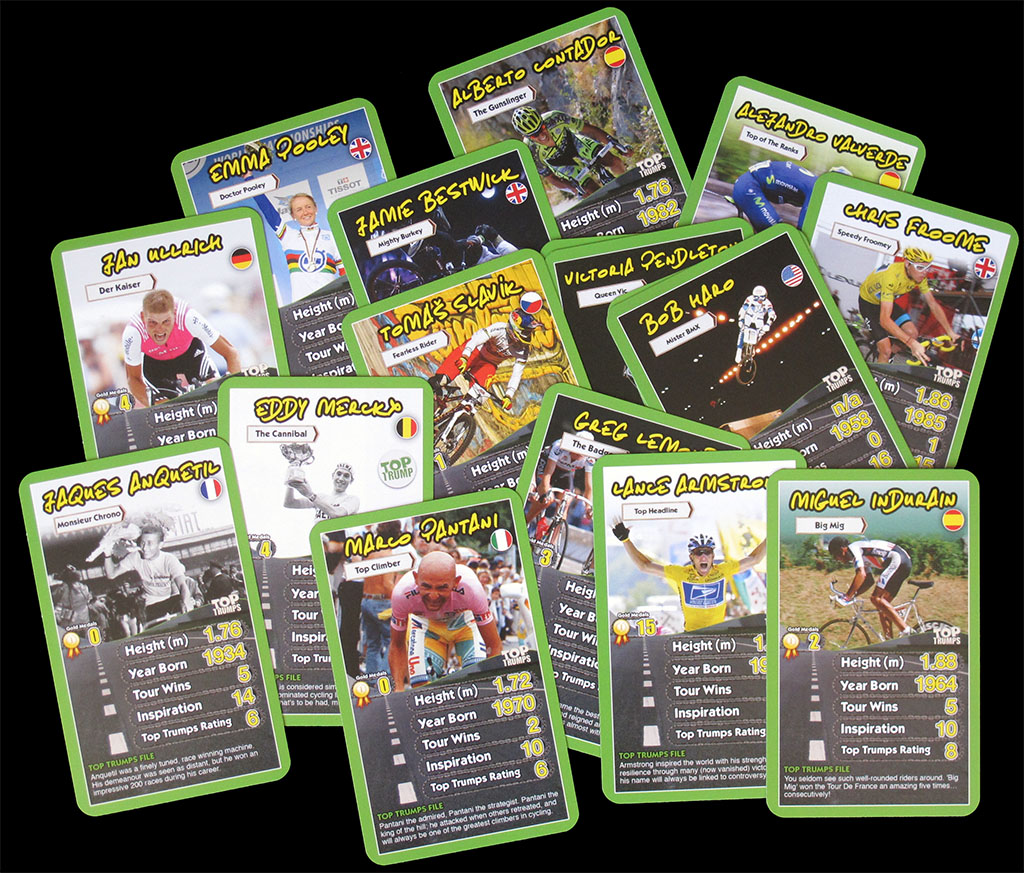 BIKES
Top Ass, Germany, 1996

German "highest values" game of which there are two versions (thanks Eamon for sending the second). Both games are almost identical, except for slight differences in the card design, and the cards C2 and D3, which are different between the two games.

Only the game in the bluish box is dated. My guess is that the undated game in the red box might be the older one, but it is just a guess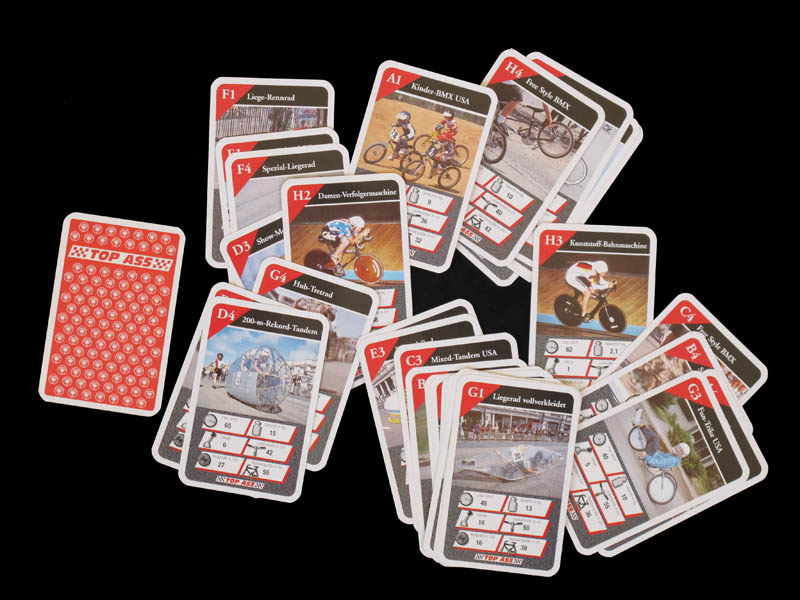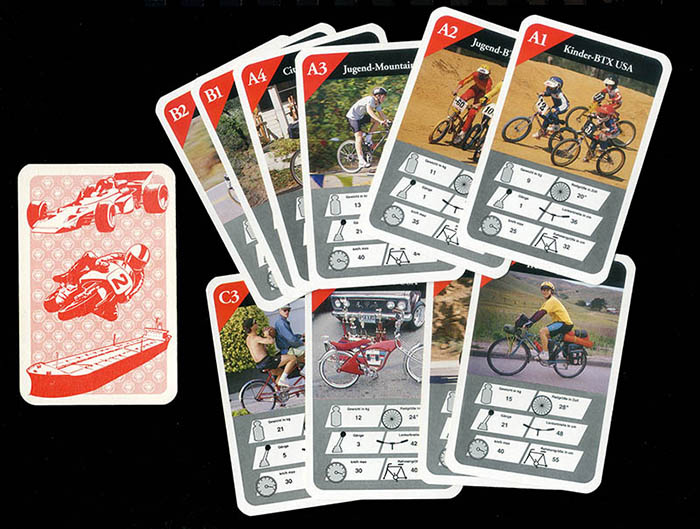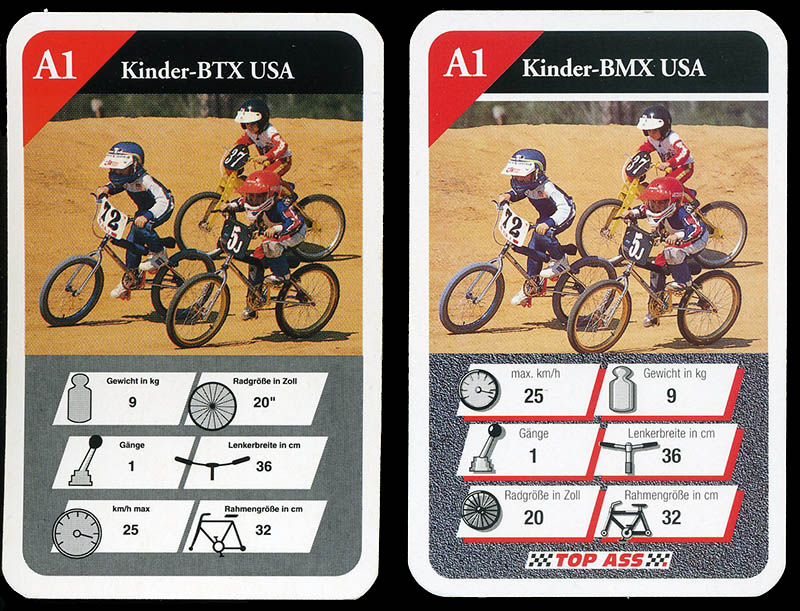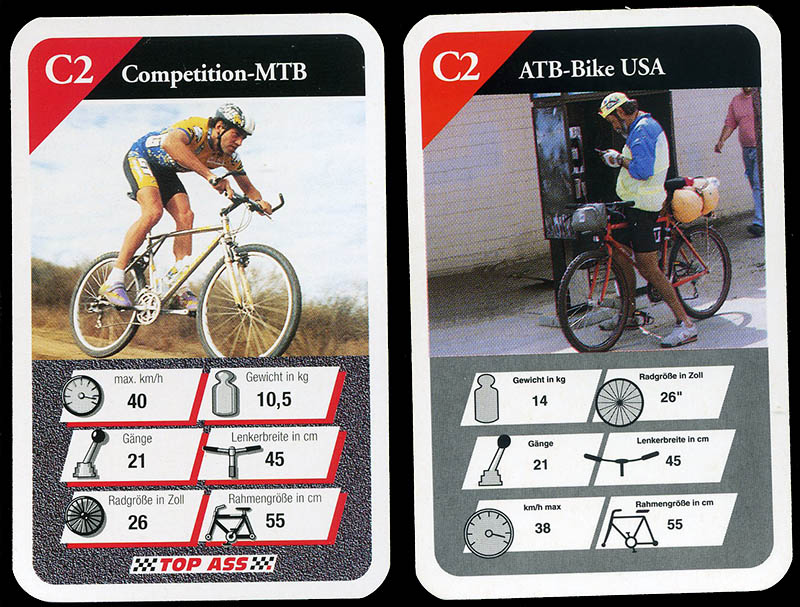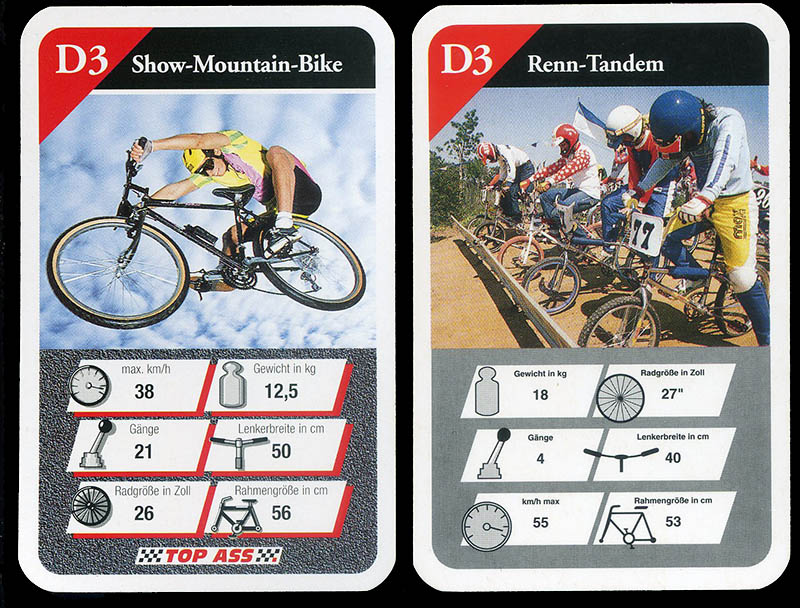 MOUNTAIN BIKES /BIKES


F.X. Schmidt, Germany, 199

3-1995

Another German "highest values" game. It was rerleased as "Bikes" in 1993 and then changed its name to "Mountain Bikes" for the 1994 and 1995 reissues.
From left to right: the 1993, 1994 and 1995 games.
Apart from the front card (and the shade of the plastic box), the 32 cards which compose the game are exactly the same. Even the back is the same. The different front card, then, is just an attempt to fool customers.
This is the only difference between the three decks. A shame.
LE JEU DES 7 FAMILLES DU PELOTON
Pif Gadget, France, 1989

A French "Happy Families" game that was given as a bonus with the kids' magazine Pif Gadget sometime in 1989. The cards are very small (42 x 25 mm) since they were included in a pre-cut double sheet in the magazine.

The teams (families) are composed of six members (French-style): in this case, a Leader, a Grimpeur (climber), a Rouleur, a Sprinter, an Équipier (domestique) and a Directeur Sportif, This last feature is quite unusual.

I have not been able to find the exact issue of the magazine this game was included with, but it must have been 1989 judging by the riders and the teams present. For instance, one of the cards features Pascal Simon as a member of the team Fagor, which only was the case in 1989.).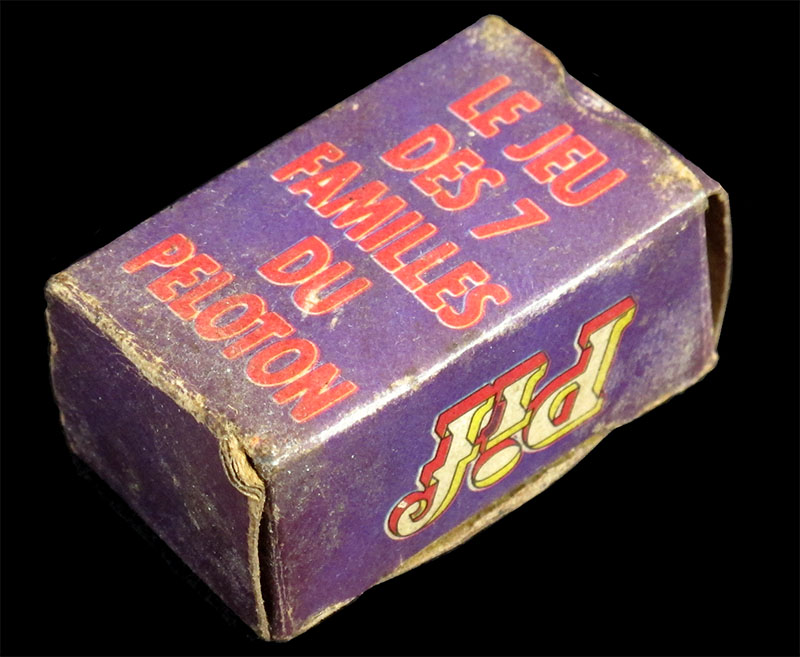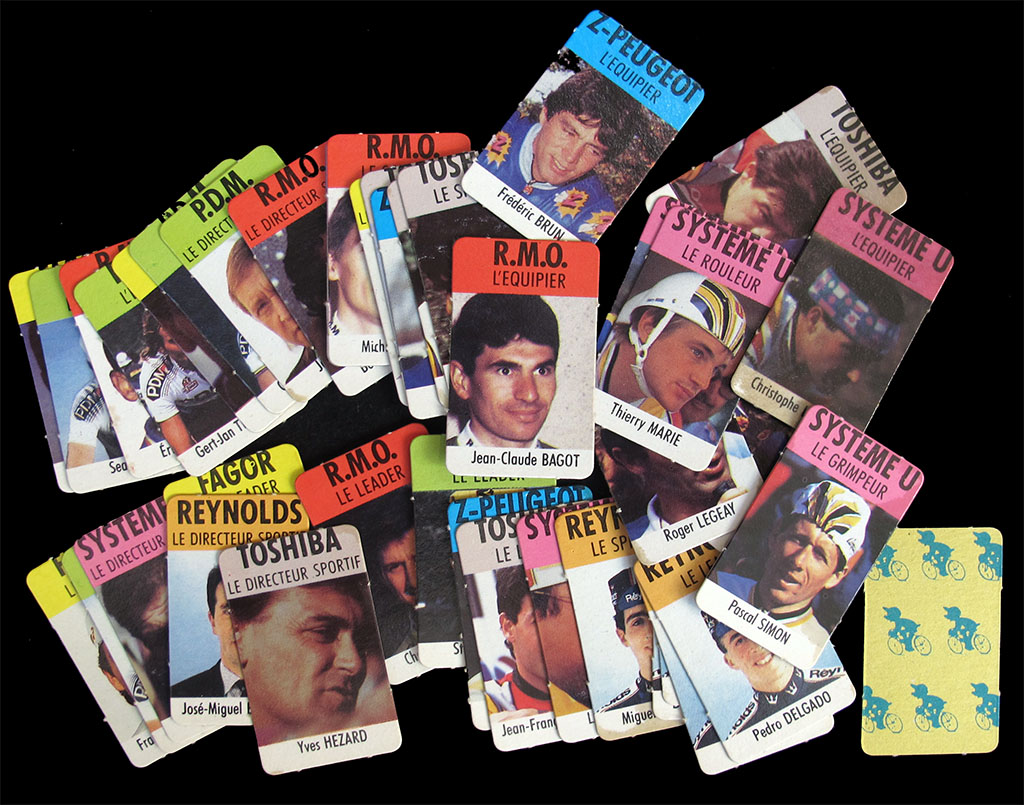 LE JEU DES 7 EQUIPES
Hutchinson, France, 2001

A promotional "Happy Families" game. As is tradition in France in these games, families are of six cards (unlike Anglo-Saxon countries, where families are of 4 cards). In this case each team has a leader, a rouleur, a climber, an attacker, a sprinter and a domestique.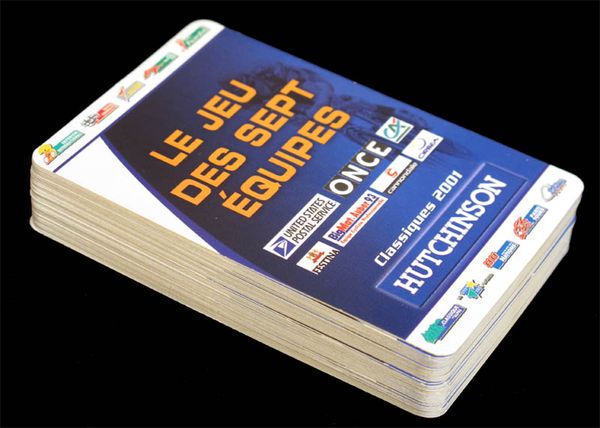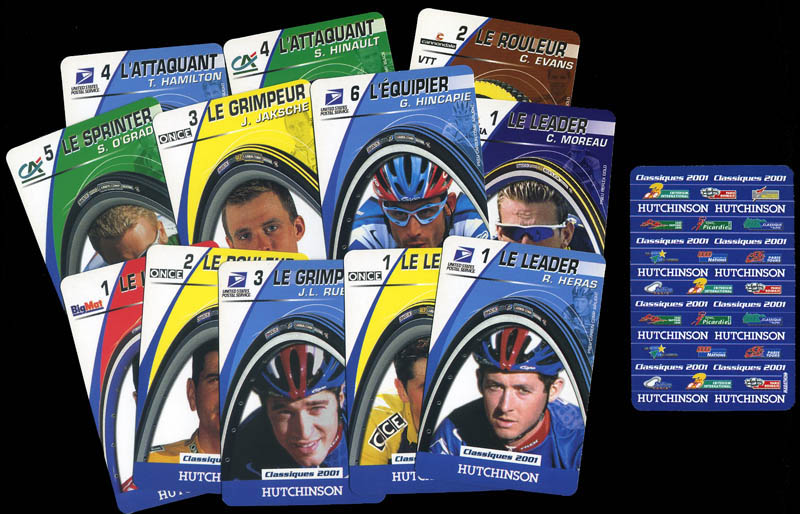 ONE CLAN OF ROMANCE
AAA, China, 2000s

Elusive Chinese vintage cycling posters poker deck. I wonder why they mean by "one clan of romance".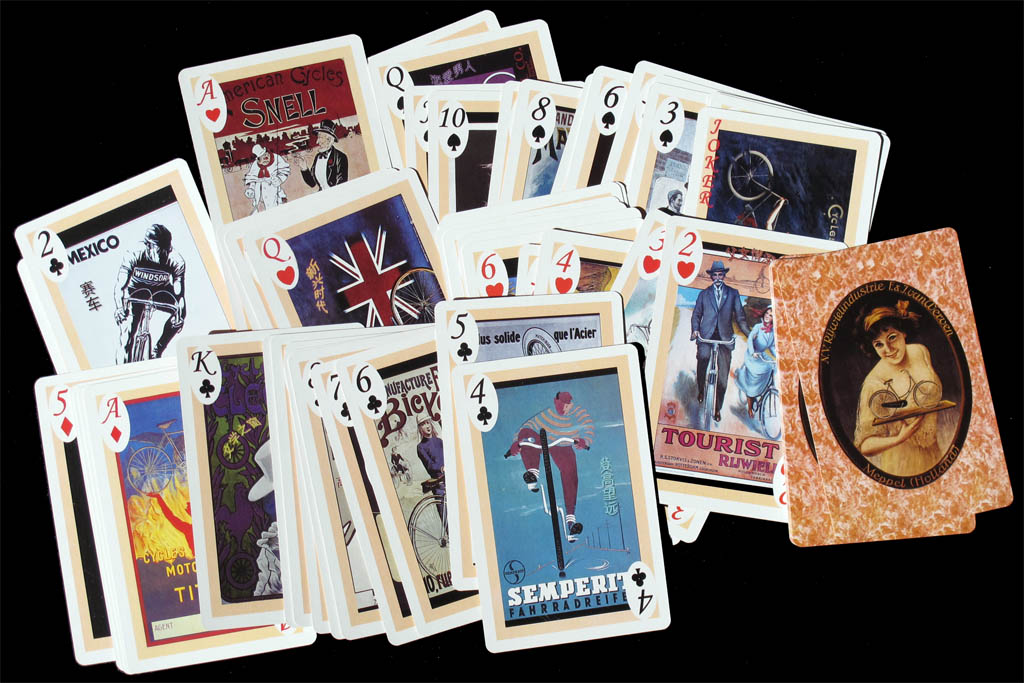 BICYCLE ART PLAYING CARDS
Nicky Bird/Piatnik, Austria, 2014

Another card deck portraying vintage cycling posters. This high quality deck includes 4 cycling aces as Kings.
Thanks to my brother and his family for this nice Christmas present.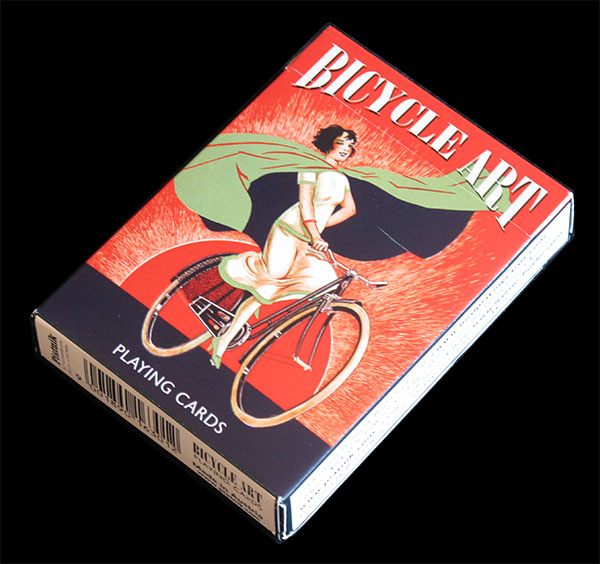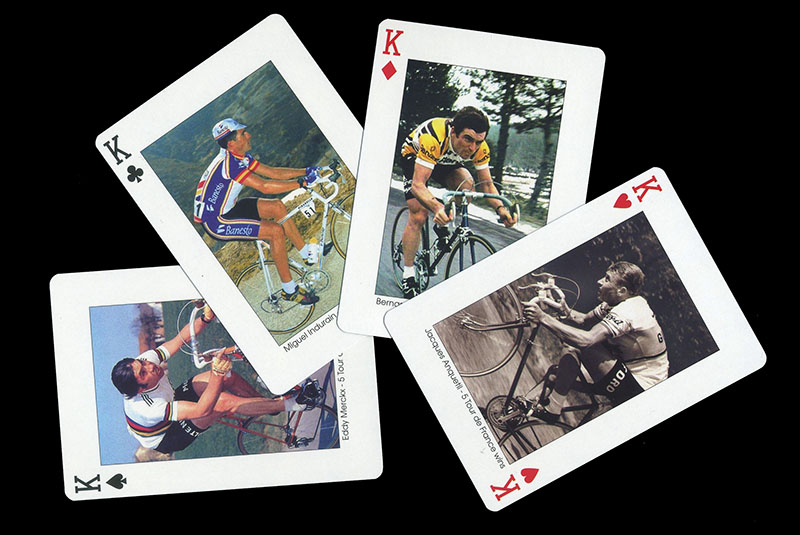 JEU DE CARTES 2002 DE LA FRANÇAISE DES JEUX
Fdjeux, France, 2002

Since the sponsor of the FdJ team is related to games, one can expect some kind of game-related memorabilia. In this case not cycling games but a poker decks with some bonus cards featuring the FdJ riders.

I am not sure if they make it every year, or just when the wind blows in the right direction. I am sure that they made a deck in the years 2000, and of course also in the years featured here, 2002 and 2005.
JEU DE CARTES 2005 DE LA FRANÇAISE DES JEUX
Fdjeux, France, 2005

Here is the 2005 deck.
ELFI PROMOTIONAL CARD DECK
Elfi, France, 2001

Promotional card deck for Elfi. As you can see below, jokers are made specially for this game. It was given as a freebie by the Tour de France caravan.

CRAZY 8'S CARD GAME
Wendy's/Schwinn, USA, 2000

44-card playing deck illustrated with professional BMX athletes performing stunts. However, the included rules are not related to cycling whatsoever, but are those of the card game Crazy 8's, which is generally played with a standard 52-card deck.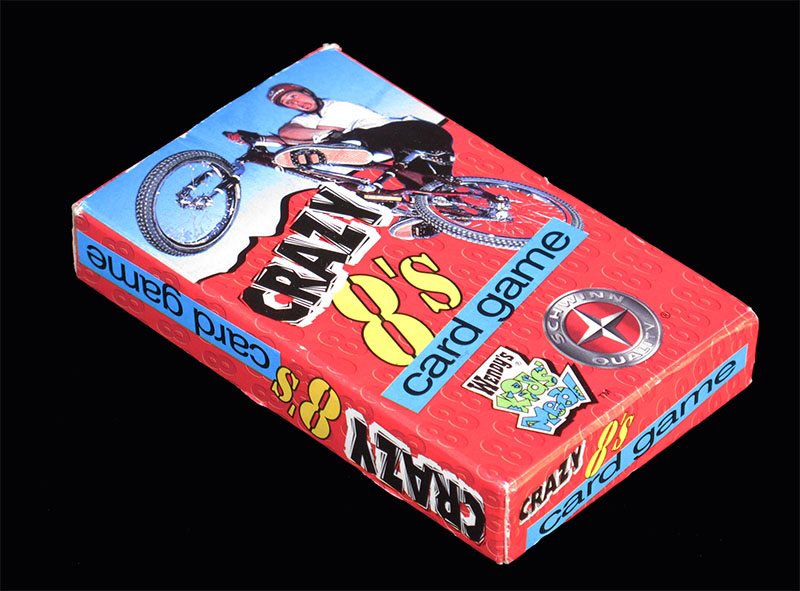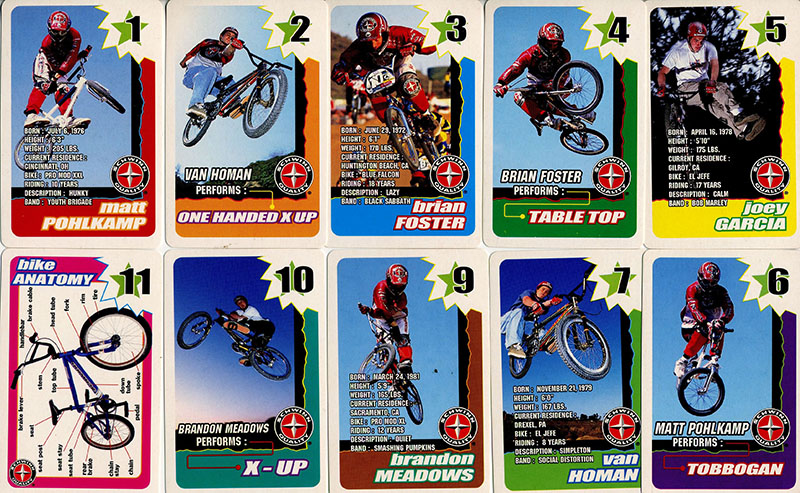 BENJAMIN BLÜMCHEN SICHER MIT DEM FAHRRAD


Schmidt Spiele, Germany, 1998 & 2000

Here are a couple of simple kids' games made in Germany. They are very similar (same title, same editor, almost same rules, even same back of the cards), but I guess you can assume they are different games. Or maybe not (anyway who cares?). Of course Benjamin Blümchen is an animated children's television show very popular in Germany (though quite unknown in the rest of the world), and is used here to teach safety rules.

The 2000 game on the left and the 1998 game on the right.
The 1998 game cards.
The 2000 game cards.
Thanks to Eamon for sending these.
| | | | | |
| --- | --- | --- | --- | --- |
| | | | | |
| INDEX (MAIN) | ALL THE GAMES | ALPHABETICAL | CATEGORIES | WHAT'S NEW |